Welcome to our culinary journey! Today, we're going to explore the vibrant flavors of Mexico with a classic recipe Tortilla Soup. This hearty and comforting dish is a staple in Mexican cuisine, known for its rich broth, tender chicken, crispy tortilla strips, and an array of vibrant toppings.
Get ready to indulge in this flavorful delight that will transport you straight to the streets of Mexico.
Ingredients
2 tablespoons olive oil

1 onion, diced

3 cloves garlic, minced

1 jalapeno, seeded and diced

1 teaspoon ground cumin

1 teaspoon chili powder

1 can (14 ounces) diced tomatoes

4 cups chicken broth

2 cups shredded cooked chicken

Salt and pepper to taste

4 corn tortillas, cut into thin strips

Vegetable oil, for frying tortilla strips

Toppings: diced avocado, shredded cheese, sour cream, chopped cilantro, lime wedges
Instructions
Step 1
Heat olive oil in a large pot over medium heat. Add diced onion, minced garlic, and diced jalapeno. Sauté until the onion is translucent and fragrant.
Step 2
Stir in ground cumin and chili powder, and cook for an additional minute to release their flavors.
Step 3
Add diced tomatoes and their juice to the pot. Stir well to combine.
Step 4
Pour in chicken broth and bring the soup to a boil. Reduce the heat to low and let it simmer for about 15 minutes to allow the flavors to meld together.
Step 5
Add shredded cooked chicken to the soup and season with salt and pepper to taste. Simmer for an additional 5 minutes.
Step 6
Meanwhile, fry the tortilla strips. Heat vegetable oil in a skillet over medium-high heat. Fry the tortilla strips in batches until golden brown and crispy. Transfer them to a paper towel-lined plate to drain excess oil. Season with salt.
Step 7
Ladle the hot soup into bowls and garnish with the crispy tortilla strips, diced avocado, shredded cheese, sour cream, and chopped cilantro. Serve with lime wedges on the side.
The Origins of Tortilla Soup
Tortilla Soup, also known as Sopa de Tortilla, is a traditional Mexican dish that traces its roots back to the ancient Aztecs. It is believed to have originated in central Mexico, where corn tortillas were a dietary staple. 
The dish evolved over time, incorporating various ingredients and flavors to create the delicious version we know today. It has become a popular comfort food, enjoyed not only in Mexico but also across the globe.
The Secrets to a Perfect Tortilla Soup
Creating an exceptional Tortilla Soup requires attention to detail and a few secret techniques. Here are some tips to make your soup truly outstanding:
1. Broth is the Key 
A flavorful broth forms the foundation of a delicious Tortilla Soup. Make your own by simmering chicken or vegetable stock with aromatic ingredients like onions, garlic, and spices. Alternatively, you can use store-bought broth for convenience, but homemade broth will elevate the flavors.
2. Tortilla Strips 
Crispy tortilla strips add a delightful crunch to the soup. Fry them in hot oil until golden brown, or bake them in the oven for a healthier alternative. Don't forget to season them with a pinch of salt for extra flavor.
3. Seasonings and Spices
The right blend of seasonings and spices can take your Tortilla Soup to the next level. Cumin, chili powder, oregano, and cilantro are common ingredients that infuse the soup with authentic Mexican flavors. Adjust the spice levels to suit your taste preferences.
4. Toppings Galore
The toppings are what truly make Tortilla Soup special. Traditional options include diced avocado, shredded cheese, sour cream, chopped cilantro, and lime wedges. Feel free to get creative and add your own twist with ingredients like diced tomatoes, green onions, or even a dollop of Mexican crema.
Accompaniments and Pairings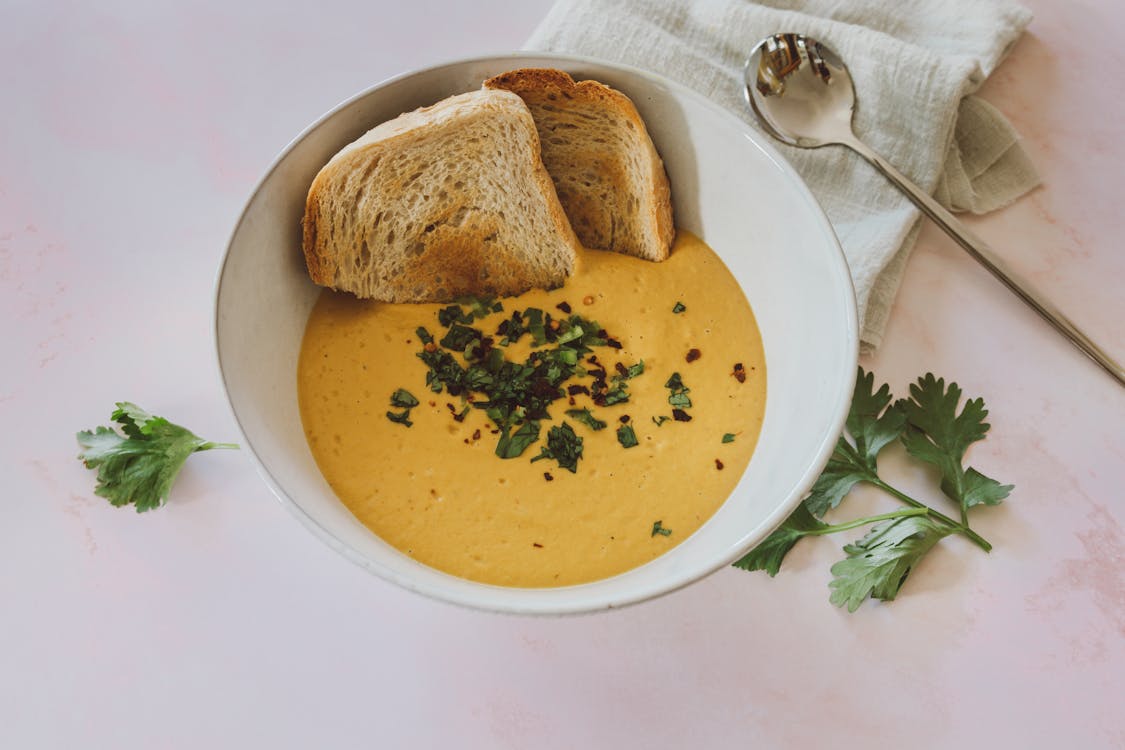 a). Mexican Rice: To complete your Mexican feast, serve the Tortilla Soup alongside a side of flavorful Mexican rice. Minute Rice offers a fantastic recipe for Mexican Rice that complements the soup perfectly. You can find the recipe at minuterice.com/recipes/mexican-rice/. The fluffy rice with a medley of spices and vegetables will enhance the flavors of the soup and satisfy your taste buds.
b). Quesadillas: Crispy quesadillas filled with melted cheese and your favorite ingredients make a delightful accompaniment to Tortilla Soup. Serve them alongside the soup for a hearty and satisfying meal.
c). Tres Leches Cake: For a sweet ending to your Mexican feast, indulge in a slice of Tres Leches Cake. This moist and rich cake soaked in a trio of milks is the perfect dessert to balance the savory flavors of the soup.
Storing Tortilla Soup
If you have any leftovers, store the Tortilla Soup in an airtight container in the refrigerator. It will keep well for up to three days. Reheat the soup on the stovetop over low heat until heated through. The toppings and tortilla strips are best added just before serving to maintain their freshness and crunch.
Nutritional Benefits of Tortilla Soup
1. Fiber-Rich Ingredients: The inclusion of corn tortillas and various vegetables makes Tortilla Soup a good source of dietary fiber. Fiber aids digestion, helps regulate blood sugar levels, and promotes a feeling of fullness, which can be beneficial for weight management.
2. Protein Power: Adding shredded chicken to the soup not only enhances the flavor but also increases the protein content. Protein is vital for muscle growth and repair, supports immune function, and keeps us feeling satisfied after a meal.
3. Low-Calorie Option: Tortilla Soup can be a lighter alternative to heavy, cream-based soups. By using lean proteins, reducing added fats, and focusing on wholesome ingredients, you can enjoy a flavorful and satisfying meal without excessive calorie intake.
4. Hydration: Soups are an excellent way to increase hydration, especially if you struggle to drink enough water throughout the day. The broth in Tortilla Soup helps to keep you hydrated while delivering nourishment to your body.
You have successfully prepared a delicious Tortilla Soup that brings the flavors of Mexico to your table. The combination of rich broth, tender chicken, crispy tortilla strips, and vibrant toppings creates a culinary experience that will delight your taste buds.