Mojito, the classic Cuban cocktail, is an exclusive rookie in the universe of rum cocktails. The beverage, which is made up of rum, lime, mint, sugar, and soda water, is best known for its refreshing and fragrant qualities. Aside from these essential ingredients, some people like to add sugar for extra sweetness.
The power ingredient, rum, can make or break the deal in year-round mojitos. Therefore, selecting the right rum for your elite Mojito is a must. Here are the 10 best rums for mojitos to make your cocktail unforgettable.
1. Mount Gay Eclipse
Mount Gay Eclipse is a white rum that pairs perfectly with the mint and sugars found in classic mojitos. The cocktail appears mellow and soft with banana, citrus, and vanilla flavor. Aside from that, it's mildly syrupy with hints of mint and citrus towards the end of the palate as well as the mouthfeel.
When composed in a Mojito, the mint notes are amplified, uplifting the drink to a new level of enjoyment.
2. Rum Barbancourt White
If you're in search of a great flavor profile, then look no further than Rum Barbacourt White. With 43% alcohol content, this rum is from a Haitian rum company. It is the best white rum, with flavors like banana, baking spices, and caramel. All the sugarcane of the Barbancourt land is used to prepare the rum.
This means the rum is prepared from fresh sugarcane juice rather than molasses. Aside from this, Rum Barbancourt White has a peppery finish and a spicy, intense note of fresh sugar cane and eucalyptus.
3. Street Pumas Rum
If you're seeking to whip up a strawberry-flavored mojito, Street Puma's rum is the most appropriate choice. Additionally, it compromises the vanilla flavor. Its roots can be traced back to Brooklyn PM Spirits, an entity renowned for being the best spirits' source.
It has citrus and flavored spices that remain soft and elegant. This profile enables the rum to blend flawlessly in a cocktail, such as a mojito.
4. Probitas Blended White Rum
One of the best rums for mojitos, Probitas Blended White Rum hails from Barbados and Jamaica. In Barbados, this rum is a blend of column still and pot still rums. It is an ode to post-prohibition era rums, which are distinguished by their elite and tricky flavor. The taste of custard and molasses notes are present, which pair well with a mint mojito.
Not only this, the aroma of this blend is fruity, with flavors reminiscent of freshly harvested sugarcane, lime peel, coconut, and spices on the palate.
5. Bacardi Superior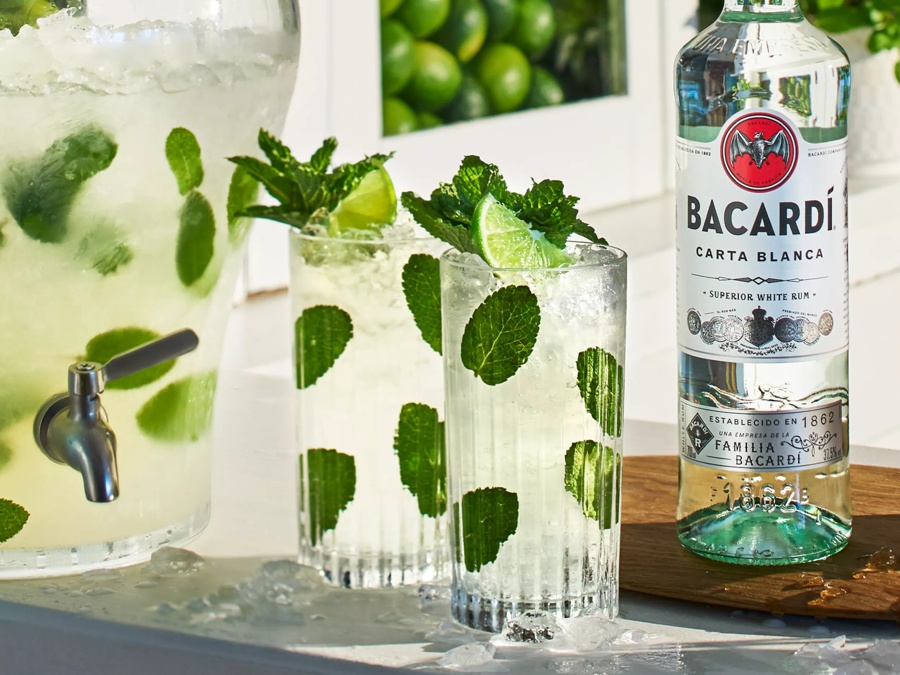 Well, a Mojito rum list is incomplete without Bacardi, which is a staple on bar shelves across the country. Bacardi Superior, also known as Carta Blanca, when mixed with a Mojito, is not overly sweet and contains floral notes, which makes it the ideal rum for Mojitos. On top of this, the essence of vanilla, cooked sugar, and extremely light oak complement the cocktail without overpowering it.
However, it can also let the mixer shine as if it's meant to be a supporting player. It's also very popular in Daiquiri.
6. Cruzan Aged Light Rum
Cruzan Aged Light Rum is drinkable on its own but also works well as the base for a mojito. It is filtered after aging in American oak barrels and is made from a blend of rums aged between one and four years. As such the rum has a dry taste with a pinch of vanilla flavor and a pleasant clean finish.
However, the flavor culminates into coconut and pineapple notes (which is similar to a good Pia Colada).
7. Havana Rum
Havana rum and mojito cocktails originated in Cuba, making the two inextricably linked. Havana Club is well-known for its citrusy and salty flavors. It imparts oak flavors of sugarcane, molasses, and vanilla when added to a mojito.
The one drawback for anybody residing in the United States is that it is a Cuban product that is illegal in the United States. To enjoy this rum, you must travel abroad to places such as Mexico and the Bahamas.
8. The Real McCoy
The Real McCoy rum company is named after the famous rum runner Bill McCoy, who supplied rum to thirsty New Yorkers during Prohibition. It takes pride in producing pure and authentic Barbadian rum. Because of its fresh mint and lime juice, the Real McCoy is the best rum for mojitos.
It has a 46% alcohol content, which means that even a small amount of McCoy is enough to give the mojito an incredible flavor. Well, it has all the characteristics you'll desire in a good rum, which renders it one of your best options.
9. Caña Brava Rum
Cana Brava is a drier Panamanian rum made by "Don Pancho," a master distiller with 45 years of expertise in rum distillation. It uses copper stills and bourbon and oak barrels for aging. Their classic white rum is crisp and contains more alcohol than the other brands.
The floral notes and honey on the nose with a silky palate rich in dark chocolate, cacao butter, vanilla, and sugar cane give the drink a prolonged, partially fruity finish.
10. Banks 5 Island Rum
This rum is a blend of more than 20 rums from five different islands, hence the name. The five islands whose rums are distilled to create the Banks 5 island rum are well-known for producing some of the best rums. This rum has a framework and a high level of complexity with some spice and sweetness.
All of its qualities are attained by blending individual rums to create this one signature rum. When the rum combines with the other mojito ingredients, you will enjoy the overall flavor.
Wrap Up
Employing the best rum for mojitos ensures that your drink has an equal balance of complexities and flavor. Well, this doesn't mean an expensive brand can only do the magic. Instead, a good and balanced amount of rum in a mojito always results in happy guests and a delicious drink.
The rums listed above are some of the best for mojitos and should be considered the next time you make one.