No one wants to see the dentist because all they do is point out the foods you're eating that are bad for your teeth. But did you know that some of those same food choices can hurt your gums too?
With all the information out there, it's tough to figure out what's actually healthy and what isn't. Knowing which foods could directly lead to gum disease (and even tooth decay) might just help you dodge a few future dental bills!
In this article, I'm going to look at common food items that people think of as healthful, but are actually bad for your gums. I'll give tips on healthier alternatives and discuss ways to protect your gums from damage.
Foods to Avoid to Protect Your Gums
1. Sticky/Chewy Candies
Sticky and chewy candies are the worst food when it comes to being harmless for your gums. These types of candy can stick to your teeth, making them difficult to brush off and giving bacteria more time to wreak havoc on your gums. Plus, you're actually only introducing sugars that help accelerate the process of gum disease.
To really be safe while eating sugary treats, opt instead for something else with less sugar – like totally sugar-free gum or breath mints – which can help reduce plaque bacteria while helping freshen up your breath! Or better yet, try snacking on fresh fruits and vegetables to get your sweet fix without putting your gums and overall oral health at risk.
2. Sugar
Sugar or sugary foods are one of the biggest culprits when it comes to gum damage. That's because oral harmful bacteria thrive on sugars, which can create an extremely acidic environment in your mouth. When that happens, your gums are more likely to become red, tender, and swollen – a condition known as gingivitis.
Sugary treats like candy bars and soda should especially be avoided if you want to help protect your gums. But even healthy items like fruit juices and honey can have a negative impact on your oral health if consumed too frequently. Consider limiting them or substituting them with unsweetened options where possible. You'll also need to brush your teeth carefully and floss daily in order to keep sugar levels under control.
3. White Bread
White bread is made from refined flour, which contains a high amount of simple carbohydrates. These carbohydrates quickly convert to sugar and can lead to tooth decay, receding gums, and worse in extreme cases.
In addition to its low nutritional value, white bread also has a sticky texture that provides a perfect breeding ground for bacteria in your mouth. The bacteria attach themselves to the sticky particles in the bread, allowing them to proliferate without being washed away. This excess bacteria leads to plaque buildup, gum inflammation, and eventual tooth loss if left unchecked.
Stick with whole wheat bread instead. Whole wheat bread is made from whole grain flour, meaning it still contains all of its nutrients and minerals like iron, magnesium, and zinc that help keep your teeth strong and healthy. Plus, whole wheat bread won't stick as easily as white bread so it won't attract as much bacteria in your mouth!
4. Soda
One of the worst things you can do for your gum health is to drink soda. Soda contains a lot of sugar, which can cause bacteria in your mouth to form plaque and then tartar buildup around the gums. Not only that, but the acidity in soda also damages tooth enamel and irritates your gums. So if you want to protect your gums, reducing or eliminating soda from your diet is one of the easiest steps you can take!
Even if you cannot cut out soda altogether, it's still important to monitor how much you're consuming and make sure it doesn't become a habit. Sugary sodas should be reserved for special occasions or consumed sparingly as an occasional treat. Swapping out regular sodas for healthier alternatives such as sparkling water can give you the same bubbly experience without damaging your teeth and gums!
5. Acidic Food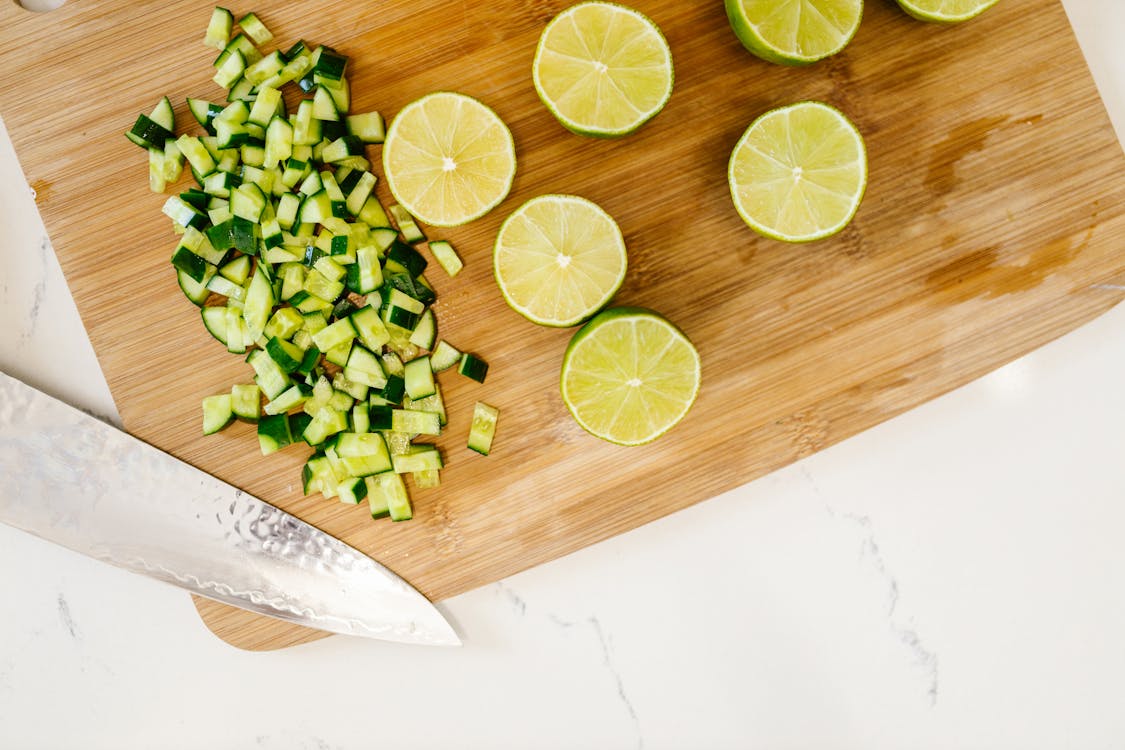 Acidic foods can wreak havoc on your pearly whites and gums! High acid levels can erode the enamel that protects both your teeth and gums, making it easier for food particles to lodge between the teeth. This is especially important to keep in mind if you suffer from gum disease since acids dissolve the protective layer of mucopolysaccharides that hold healthy gingiva together.
The list of acidic foods is pretty extensive, but some standouts include citrus fruits such as lemons and oranges, tomatoes, pickles, vinegar-based dressings, soft drinks and energy drinks, canned fruits, some kinds of fish such as mackerel, herring, and sardines. When eating these foods or drinkable items with high acidity levels, it's best to pair them with cheese or dairy products like yogurt and enjoy them in moderation.
6. Alcohol
Alcohol should be avoided to help protect your gums. This is because alcohol has a tendency to dry out the mouth, leading to an increased risk of gum irritation and ultimately the onset of periodontal disease, or gum disease. Alcohol also increases blood sugar levels which are linked to inflammation and swelling in the gums.
What makes it worse? The higher the alcohol content, the more damaging it can be on your gums as it acts as a vasodilator or promotes the widening of blood vessels resulting in greater blood flow that can lead to irritation and other gum-related issues.
The best way to avoid irritating your gums with alcohol is to minimize consumption; use moderation if you decide to indulge, avoid drinking excessively over long periods of time, and consider alternatives like non-alcoholic beers, no-sugar sodas, and flavored waters.
What food to eat for healthy gums?
Eating the right foods can make a world of difference when it comes to keeping your gums strong and healthy. Foods rich in vitamins, minerals, fiber, and antioxidants are all key to helping protect your gums, as well as nourishing them from the inside out for optimum dental health.
Some of the best foods for healthy gums include leafy greens like spinach and kale, fresh fruits like apples and oranges, cruciferous vegetables like broccoli and cabbage, legumes such as beans and lentils, fatty fish full of omega-3 fatty acids such as salmon and mackerel, whole grains like quinoa and brown rice, nuts with healthy fats such as walnuts and almonds, dairy products full of calcium such as yogurt or milk.
By eating these nutrient-dense foods on a regular basis you can help keep your teeth clean since some of these foods also contain natural abrasives that can help scrub away bacterial plaque in addition to promoting strong gums. Finally, drinking water throughout the day so that you stay hydrated will help wash away plaque from your teeth too!