As parents, finding meals that kids will love and that are also nutritious can be a daunting task. Fortunately, there are some classic dishes that have stood the test of time as beloved options for kids. Macaroni and cheese, tacos, and pancakes are all delicious meals that offer a variety of nutrients and customizable options. These dishes can be made with a variety of ingredients, allowing parents to cater to their children's specific tastes and dietary needs.
In this article, we'll explore why macaroni and cheese, tacos, and pancakes are great options for kids, as well as some creative ideas for preparing and serving these classic dishes and desserts. Whether you're looking for quick and easy meals for busy weeknights or fun and flavorful options for family dinners, these dishes are sure to satisfy even the pickiest eaters. So, let's dive in and discover why macaroni and cheese, tacos, and pancakes are tried-and-true meals that every kid (and parent!) can enjoy.
1. Mac&Cheese
Macaroni and cheese is a beloved dish by many children and for good reason. Not only is it easy to prepare and budget-friendly, but it can also be customized to fit a child's specific tastes. Mac and cheese can be made with a variety of different cheeses, from classic cheddar to more adventurous options like blue cheese or gouda. Additionally, parents can add vegetables like peas or broccoli to make the dish more nutritious.
For picky eaters, mac and cheese is a great way to introduce new flavors and textures in a familiar and comforting way. It's also a versatile dish that can be served as a main meal or a side dish alongside proteins like grilled chicken or roasted vegetables.
Finally, macaroni and cheese can be a fun meal for kids to help prepare, giving them a sense of ownership over their food and teaching them important kitchen skills.
All in all, macaroni and cheese is a tasty and practical option for feeding kids that can be enjoyed by the whole family.
2. Tacos
Tacos are a great meal option for kids because they are customizable, easy to assemble, and offer a variety of food groups. Tacos can be made with a variety of proteins like ground beef, chicken, or fish, as well as vegetarian options like black beans or tofu. This allows kids to choose their favorite protein and experiment with different flavors and textures.
Tacos also offer the opportunity to include a variety of vegetables like lettuce, tomatoes, onions, and avocado, which provide important vitamins and minerals.
Finally, kids can add toppings like cheese, salsa, or sour cream to customize their tacos to their liking. All of these options encourage kids to try new foods and experiment with different flavor combinations. Tacos are also a great meal for busy weeknights, as they can be assembled quickly and easily. Plus, the small size of taco shells makes them perfect for little hands.
Overall, tacos are a fun and healthy option for kids and can be enjoyed by the whole family.
Are You Looking for a Sweet Bite?
When it comes to dessert options for kids, it's important to balance taste with nutrition. Fruit-based desserts like fruit salads, fruit kebabs, or baked apples with cinnamon are great options that provide natural sweetness and important vitamins and nutrients.
Another option is the well-known arroz con leche, which is a very healthy and exquisite option. You can click on mahatmarice.com/recipes/arroz-con-leche/ to learn how to prepare it easily.
In addition, a wise choice is yogurt-based desserts, which can be sweetened with honey or fresh fruit, and offer a good source of protein and calcium.
Kids also tend to love desserts like cookies, brownies, and cupcakes, but these should be consumed in moderation as they are typically high in sugar and calories. Parents can opt for healthier versions of these treats, made with whole-grain flour and natural sweeteners like honey or maple syrup. Homemade popsicles made with fruit juice or pureed fruit are another fun and refreshing option for kids during warmer months.
Finally, pudding or custard-based desserts like rice pudding or chia seed pudding can be a nutritious and flavorful way to satisfy a sweet tooth while also providing important nutrients like calcium and fiber.
Overall, there are many delicious and nutritious dessert options for kids, and parents can get creative in the kitchen to find the perfect sweet treat for their little ones.
Pancakes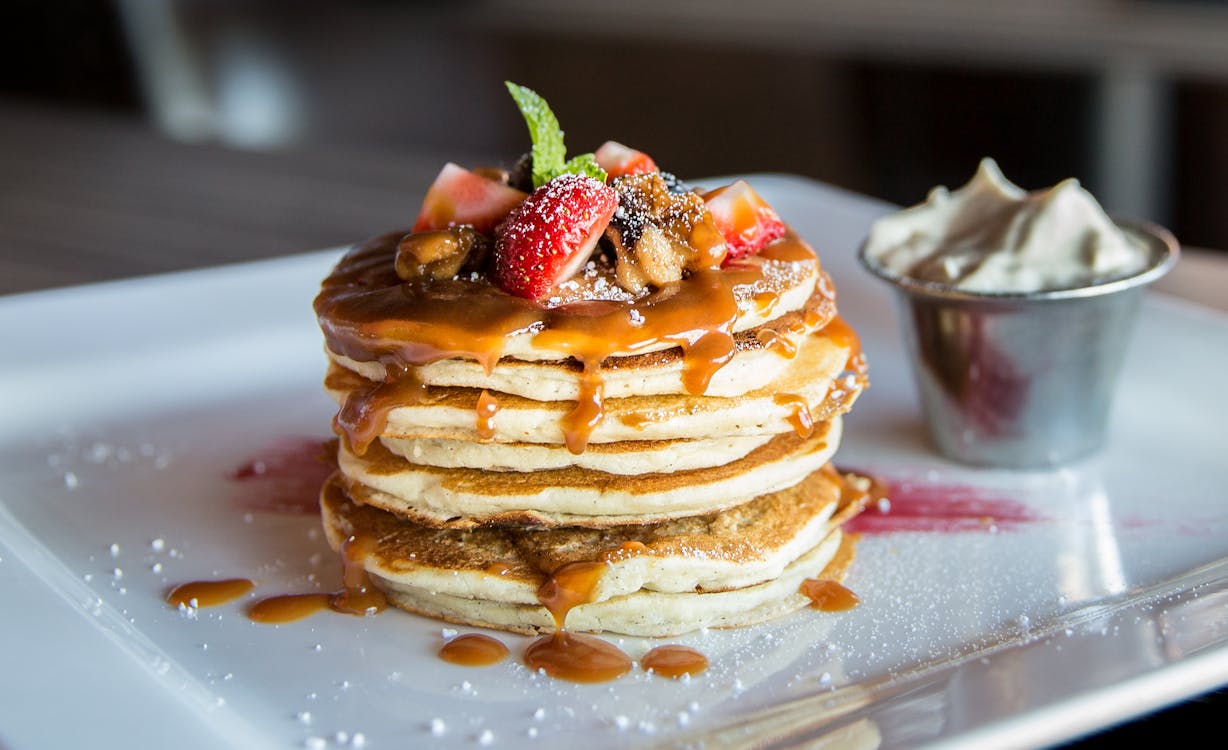 Pancakes are a classic breakfast food that kids love for their sweet and fluffy texture. But did you know that pancakes can also be a healthy and nutritious option for kids?
Whole grain pancake mixes are readily available at most grocery stores and offer important fiber and nutrients that are essential for a balanced diet. Parents can also experiment with adding healthy ingredients like mashed bananas, pumpkin puree, or grated carrots to the pancake batter for added nutrients and flavor.
For picky eaters, pancakes can be a fun and creative way to introduce new foods, like fresh berries or sliced bananas as toppings. And for kids with allergies or dietary restrictions, pancakes can be easily adapted to fit their needs by using alternative flour like almond flour or gluten-free flour blends.
Finally, pancakes are an easy breakfast option for busy mornings, as they can be made ahead of time and reheated in the microwave or toaster.
Conclusion
Macaroni and cheese, tacos, desserts, and pancakes are all great options for kids, offering a balance of flavor and nutrition. These classic dishes have stood the test of time as beloved options for children, and with a little creativity and experimentation, parents can customize these meals to fit their child's tastes and dietary needs.
Macaroni and cheese can be made with whole-grain pasta and a variety of vegetables for added nutrients. Tacos offer a range of protein and vegetable options, allowing kids to experiment with new flavors and textures. Desserts can be made with natural sweeteners and ingredients like fruit and yogurt, providing a healthier alternative to sugary treats. And finally, pancakes can be made with whole-grain flour and nutritious add-ins like mashed bananas or grated carrots for added fiber and vitamins.
By incorporating these meals into your child's diet, you can ensure that they are getting the nutrients they need while still enjoying the foods they love. So, the next time you're struggling to find a meal that your child will enjoy, remember these classic dishes and the endless possibilities they offer for delicious and nutritious meals.