With all of the best intentions in the world, if your salads are boring, you won't find them interesting after a few days. Crunching through waterlogged iceberg lettuce day after day might work in the short term, but you'll soon start craving crunch, spice, texture, and flavor. 
A salad can be so many things, and more specifically, a far cry from the limp lettuce leaves we are used to seeing. So what can you add to your salad to make it a tasty treat rather than a chore? 
1. Crunch 
When you think about many of the lettuce leaves, they are not always too crunchy. So adding some crunch to your bowl adds some more interest. Toasted chickpeas, fried onions, crispy bacon, and air fryer-cooked kale add crunch and flavor! 
If you are eating carbs, then toasted bread, crushed toasted tortillas, or raw cabbage can add the crispy crunch that you need. 
2. Grilled 
It might take a little bit more preparation, but adding grilled vegetables to lettuce leaves is delightful. Grill your vegetables in a little oil, salt, and some herbs, and you have a rich, delicious, and healthy bowl of veg. 
Some of the best vegetables for grilling are onions, bell peppers, mushrooms, aubergine, zucchini, carrots, and broccoli. 
For an extra layer of charred flavor, consider carefully holding the veggies over a hob flame until they get a little bit bubbly. 
And, if you are into experimentation with foods, then you can even grill or char your lettuce! 
3. Fresh 
Dried herbs are great because they are cheap and last a long time. However, if you can, then grab a handful of fresh herbs. Mint is one of the herbs that will quickly lift a salad and leave you feeling fresh! 
Parsley is another great option. You can switch it up depending on what type of protein you are adding too. Thyme and rosemary go wonderfully with chicken, parsley, and dill are fresh and flavourful with fish. 
If you want to start adding a lot of fresh herbs to your salads, then starting to grow a small herb garden is a great idea. 
4. Fruit 
The sweet crunch of fruit in a salad is ideal for the summertime! Pears, apples, grapefruit, melons, and more make great additions to a salad. The reason they work so well is that they bring a sweet sugary burst of flavor. 
5. Dressings 
For those who are looking to keep calories low but aren't willing to forgo flavors, the best solution is to make your own dressings. 
Almost all store-bought salad dressings will have a high level of sugar, salt, and other ingredients that you might be happier to avoid. 
Citrus juices, vinegar, pesto, tahini, herbs, and oils are all ingredients you can use to create a juicy and delicious dressing. 
Dressings get progressively easier to make after you have made your first one or two. And, if you want to keep that experimentation, try using warm dressing on thicker, crunchier vegetables. 
6. Proteins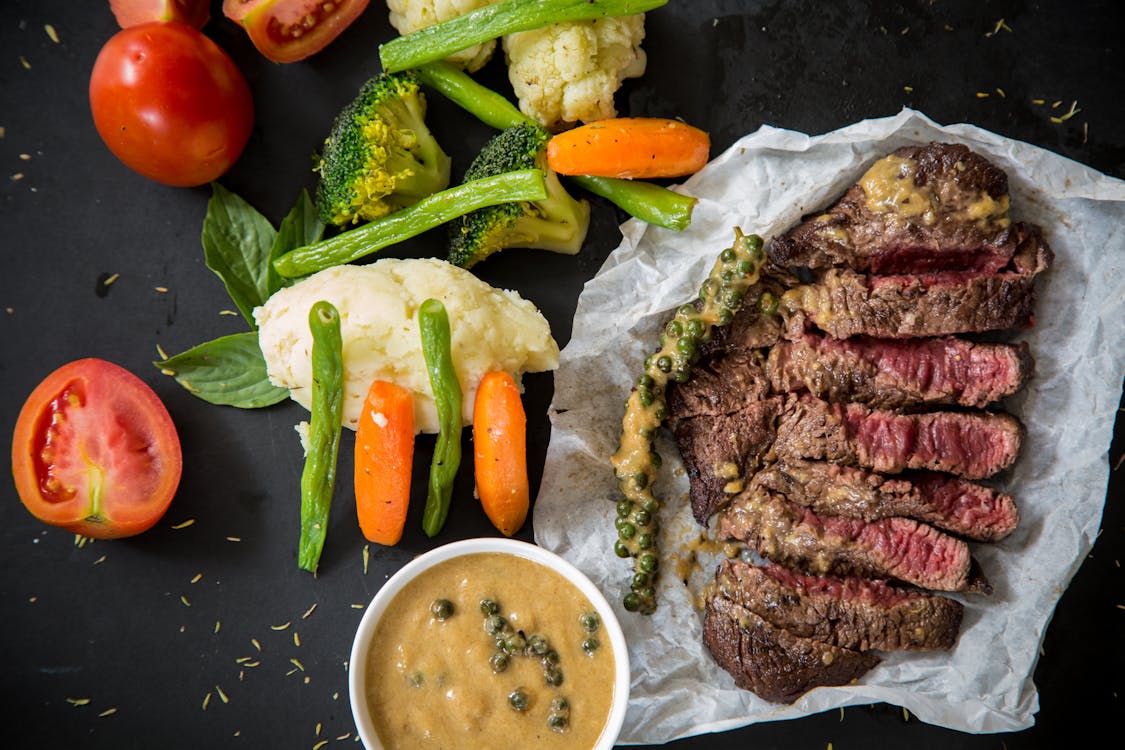 Chicken is one of the most commonly added proteins when it comes to salads. But there is a whole world of other options. For an Asian-inspired salad with pak choi, broccoli, and rice noodles – top it with seasoned allspice pork. 
For a salad that will leave you feeling light, full, refreshed, and full of good energy, salmon, plenty of greens, pine nuts, and a bright citrus dressing! 
Shrimp and steak are also great options when it comes to adding protein to your salad. Steak goes with almost anything, so you could opt for a salsa verde or a blue cheese dressing. Swap the steak for beef and check out this big mac salad recipe.
With shrimp, you get a light crunch and a morish juicy middle, and it works perfectly with lemon, avocado, and cucumber. 
Changing your protein will change the texture of the salad and can help you feel fuller for longer. 
For those who are vegan or vegetarian, tofu has a huge amount of protein, and the best part is that it is a master at soaking up a lot of different sauces. Be sure to get all of the liquid out of the tofu and then marinate it for a while. 
7. Grains
Grains can either be the star of the show, or they can be a bit of a topping. Grains like farro, quinoa, mung beans, or pearl barley are ideal. Grains 'beef' up a salad because they make it feel more substantial and give you the energy that you need to tackle the rest of the day. 
Has the idea of a shrimp salad got your mouth watering and licking your lips? Check out this; Flavorful Garlic Shrimp: A Delightful Recipe That You Should Try.