In the world of culinary delights, there are certain recipes that capture our taste buds and transport us to a realm of exquisite flavors. One such recipe is the mouthwatering Garlic Shrimp.
Originating from the coastal regions of Spain, this delectable dish has gained popularity worldwide for its simplicity and incredible taste. 
1. Ingredients
1 pound (450 g) of shrimp, peeled and deveined

4 cloves of garlic, finely chopped

1/4 cup (60 ml) of extra virgin olive oil

1/4 teaspoon of red pepper flakes (optional)

1 tablespoon of fresh lemon juice

Salt and pepper to taste

Fresh chopped parsley, for garnish
2. Instructions
Step 1
Rinse the shrimp under cold water and pat them dry with paper towels. If desired, you can leave the tails on for a more appealing presentation.
Step 2
In a large skillet over medium heat, heat the olive oil. Add the chopped garlic and red pepper flakes (if you want a spicy kick). Cook for about 1 minute, stirring constantly, until the garlic is golden and fragrant.
Step 3
Add the shrimp to the skillet and season them with salt and pepper to taste. Cook the shrimp for approximately 2-3 minutes per side until they turn pink and are fully cooked.
Step 4
Once the shrimp are cooked, remove the skillet from the heat and squeeze fresh lemon juice over them. Gently stir to ensure that the shrimp are well coated with the garlic-infused oil and lemon juice.
Step 5
Transfer the garlic shrimp to a serving plate and sprinkle fresh chopped parsley on top as garnish. This will add a pop of color and a fresh aroma to the dish.
Step 6
Serve the garlic shrimp hot as a main course or as part of a larger meal. You can pair them with white rice, crusty bread, or a refreshing salad.
3. The Origins of Garlic Shrimp
Garlic Shrimp, also known as Gambas al ajillo, hails from the coastal regions of Spain, where fresh seafood is a culinary staple. This dish has been enjoyed for centuries in traditional Spanish cuisine. 
The recipe has made its way into the hearts and palates of people around the globe due to its simplicity and remarkable taste. Its popularity has spread to Latin America and various other regions, becoming a beloved dish that delights seafood enthusiasts everywhere.
4. The Incredible Properties of Garlic
Garlic, the star of the show in Garlic Shrimp, not only adds a distinctive flavor but also offers numerous health benefits. This pungent bulb is rich in vitamins, minerals, and antioxidants. 
It has been used for centuries for its medicinal properties, such as boosting the immune system, reducing blood pressure, and improving cardiovascular health. The unique combination of flavor and health benefits makes garlic a valuable addition to any recipe, including our beloved garlic shrimp.
5. The Perfect Blend of Flavors
Fresh Ingredients: Start with the freshest shrimp you can find. Look for plump, firm shrimp with a sweet aroma.
Sautéing Technique: Heat a generous amount of olive oil in a skillet and sauté the garlic until golden and fragrant. Be cautious not to burn the garlic, as it can turn bitter.
Spice it Up: Add a pinch of red pepper flakes for a subtle kick. Adjust the amount according to your desired level of heat.
Don't Overcook: Shrimp cooks quickly, so be vigilant to avoid overcooking. They should be tender and juicy, not rubbery.
6. Perfect Pairings for Garlic Shrimp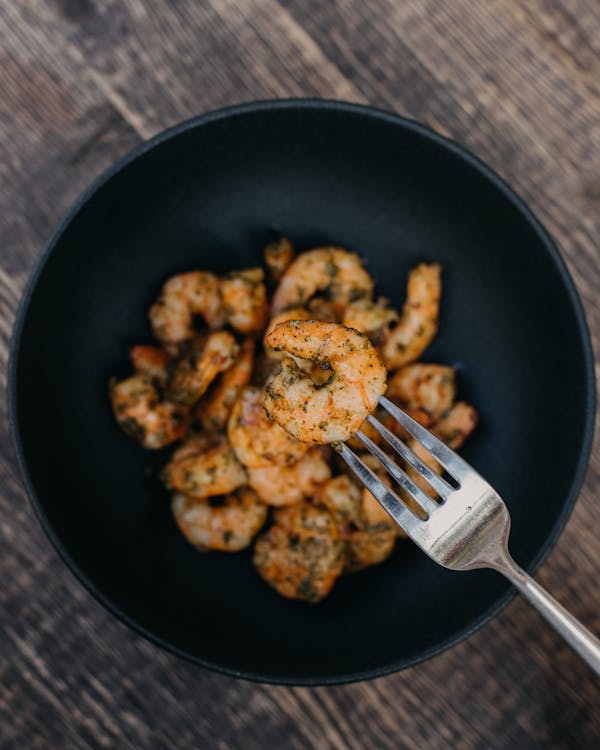 Garlic Shrimp pairs wonderfully with a variety of accompaniments, enhancing the overall dining experience. Here are some delectable options to consider:
a). Arroz Chaufa: For a delicious touch, try serving the garlic shrimp with fantastic chaufa rice. The combination of flavors will tempt your senses. If you have not tried this recipe you can find it here: what is arroz chaufa
b). Crusty Bread: Savor every drop of the flavorful sauce by dipping a crusty baguette into it. The crispy exterior and soft interior of the bread provide the perfect contrast to the succulent shrimp.
c). Fresh Garden Salad: Balance the richness of the garlic shrimp with a light and refreshing garden salad. Toss together crisp lettuce, juicy tomatoes, and tangy vinaigrette for a vibrant side dish.
Feel free to explore these accompaniments and discover your favorite pairing to complement the garlic shrimp.
7. The Health Benefits of Garlic Shrimp
Garlic Shrimp not only satisfies your taste buds but also offers several health benefits. Shrimp is a low-calorie source of protein, essential vitamins, and minerals. It is also rich in omega-3 fatty acids, which promote heart health and reduce inflammation. 
Garlic, as mentioned earlier, provides a range of health benefits, including boosting the immune system and reducing the risk of certain diseases. When combined, these ingredients create a dish that is both nutritious and delicious, making it a fantastic choice for a well-rounded meal.
8. Maintaining Freshness and Flavor
To ensure the longevity and quality of your garlic shrimp, proper storage is crucial. Here are some tips to keep in mind:
Refrigeration: Store any leftover garlic shrimp in an airtight container and refrigerate promptly. Consume within two days to retain the flavors and textures.
Freezing: If you have a large batch of garlic shrimp, you can freeze it for future enjoyment. Place the cooled shrimp in a freezer-safe container or bag, removing as much air as possible. It can be stored for up to three months. Thaw in the refrigerator before reheating.
By following these storage tips, you can savor the freshness of the garlic shrimp even after it has been prepared.
Garlic Shrimp is a culinary masterpiece that transports us to the sunny shores of Spain with its remarkable flavors. By understanding the origins, exploring the properties of garlic, and applying the secrets to perfecting the dish, you can create a memorable dining experience. 
Pair it with delightful accompaniments, embrace the health benefits it offers, and store it properly to enjoy the flavors for longer. So, grab your apron, gather the ingredients, and embark on a journey to savor the irresistible delight of garlic shrimp.