Oh, Milan…a heaven on earth for art, design, fashion, food, tourism, and entertainment. This city's impact on the region of Lombardy, and hence, Italy, dates back to late antiquity. Even from the 12th century, Milan was considered one of the most prominent cities in Europe and a prestigious center of politics, arts, and fashion during the Renaissance. But, how about today? What has Milan to offer to this date visitor and why should you go to Milan? Here are 3 of our reasons.
First things first. Take some days off of work and book your airplane tickets for the Milan Malpensa Airport. When you land, you cannot wait to go to the city, so a private, comfortable, and affordable airport transfer is the perfect solution for you. Don't think twice, visit the AtoB website (atobtransfer.com/italy/milan-airport-transfers/) and book your own private airport taxi to the city. You'll arrive on time and in style using Milan airport transfer. After all, this is why you are visiting Milan, right?
So, without further ado, let's dive into Milan's streets and alleys!
1. Shopping
Ask anyone. Anyone who is capable of shopping on their own, that is. Milan hosts the most reputable and distinguished fashion shows in the world. All of these are accessible with AtoB airport transfer.
If you are lucky enough and travel to Milan in September or in February, you will be able to attend the Milan Fashion Week (MFW). During this fashion show, you will witness a glamorous spectacle that showcases and promotes Italian fashion through "sfilate", exhibitions, and showrooms.
Did you know that Milan offers some of the best fashion schools in the world? Well, if you have a passion for fashion and a zeal for the surreal, these schools can teach you some interesting visions of contemporary fashion, and the latest trends. 
Is it time for shopping? For some, it always is, hands down. For those people, the quadrilatero della moda (or fashion quadrilateral), is the most elegant and famous shopping street in Milan. If you are in search of brands like Gucci, Bulgari, Prada, Versace, and Moschino, this is the place. Keep in mind to pay a visit to Via Montenapoleone and Via della Spiga as well, so you complete the high-end boutique tour. Keep in mind though, that the stores on these streets are high-class. So, if you're visiting Milan on a budget, well, you can walk there, but just walk and admire the window displays. You are not going to find any low-cost shops, in contrast with AtoB's affordable airport taxi services.
Don't worry though. We know that you visited Milan for shopping and you are determined to find affordable options. Just for you, we've created a list with some of the best streets and their fashion stores where the average Joe can serve their wardrobe.
Corso Vittorio Emanuele II: Diesel, Zara, Replay, and H&M.

Corso di Porta Ticinese: Diesel, Custo, and Miss Sixty.

Via Torino: Zara, Pimkie, H&M, Calzedonia, Pull and Bear, and Foot Locker.

Corso Buenos Aires: Shops similar to Via Torino.
We hope we got you covered and you don't spend all your money on fashion (unless you want to) as there are other destinations in Milan too. So, keep reading for the next ones!
2. Monuments
There are many fascinating monuments and attractions in Milan waiting for you to discover. If you have limited time, and you want to visit those worth visiting, check our comprehensive list with our suggestions below. Remember that you can visit all by booking a chauffeur service with AtoB's airport taxi.
3. Milan Cathedral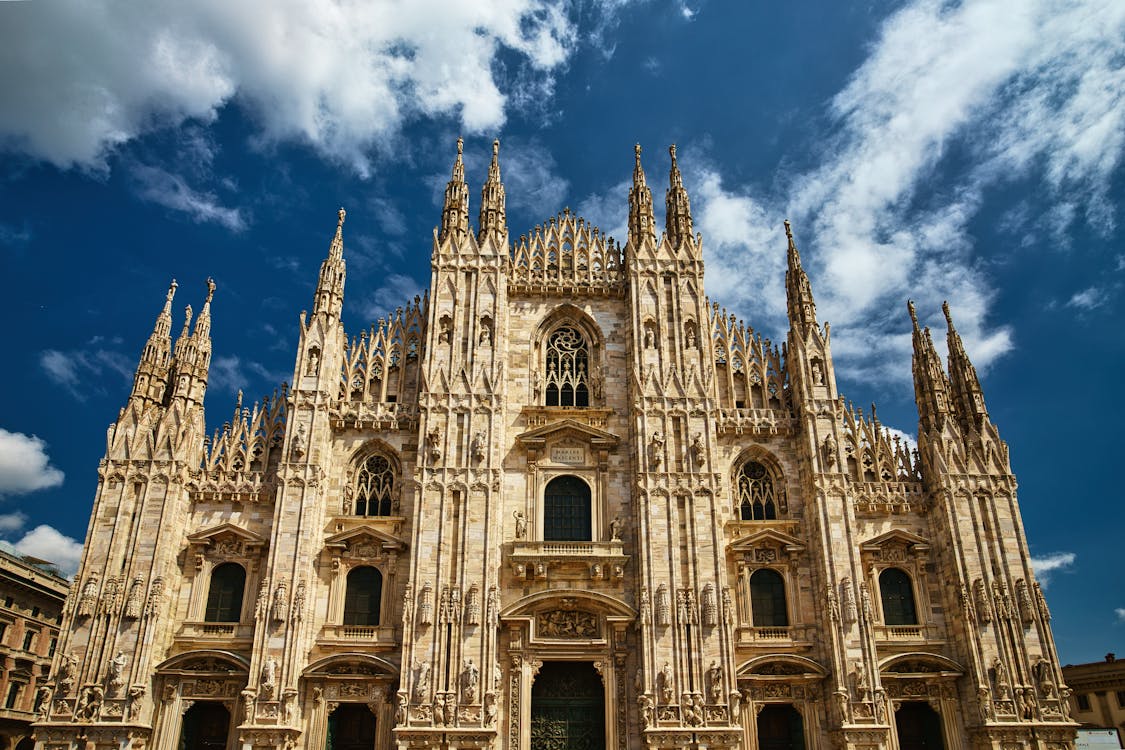 It's called Duomo di Milano in Italian. This is an enormous Gothic-style cathedral, one of the largest in the world. It took 5 centuries for this marvelous landmark to complete and many sculptors, architects, and artists contributed to its construction.
As breathtaking as it is the outside of the cathedral is equally breathtaking as the inside. Large marble columns, glass caskets containing skeletons of various saints, the statue of Bartholomew the Apostle, and one of the nails used in the Crucifixion of Christ are the must-see attractions. Finally, since you are there, explore its rooftop terrace, Crypt, Treasure, and Baptistery. What a day!
4. Pinacoteca di Brera
It houses one of the biggest art collections in Italy. Here you can find works-masterpieces by Raphael and Caravaggio. You can find countless paintings hung in chronological order and grouped based on the school they belong to. Some of the most famous masterpieces are Finding of the Body of St. Mark by Tintoretto, The Marriage of the Virgin by Raphael, The Kiss by Francesco Hayez, Holy Conversion by Piero della Francesca, and Andrea Mantegna's Lamentation of Christ.
5. Teatro alla Scala
Do you like operas? Well, you are about to enter one of the most famous in the world. Built in 1778, this world-renowned opera house hosted works of great composers such as Puccini, Toscanini, Rossini, and Verdi.
6. Castello Sforzesco
A 14th-century fortress that now houses one of the best museums in Milan. It was built in 1368 but throughout history, it underwent many destructions and reconstructions. Now, you can find several museums on its premises. Here are some of them:
The Museum of Ancient Art,

The Pinacoteca del Castello Sforzesco,

The Museum of Musical Instruments,

The Egyptian Museum,

The Archaeological Museum of Milan,

The Applied Arts Collection, and

The Antique Furniture and Wooden Sculpture Museum.
Take a pick or two. You won't be disappointed. This art castle is truly interesting!
7. The Last Supper
Image source: sightseeingtoursitaly.com
"Cenacolo Vinciano" or "The Last Supper". Is there a person on earth unaware of the existence of one of the most famous paintings in the world? The Last Supper was created by Leonardo da Vinci between 1495 and 1497. 
It is an enormous painting (640 cm x 880 cm) that was painted with the use of tempera and oil on a base of plaster.
You can witness the greatness of the painting in the dining room of the Convent of Santa Maria delle Grazie.
Here are two interesting facts about the painting.
The painting portrays the moment when Jesus states that one of His apostles will betray Him. It is such a realism of the painting that you can see the horror, astonishment, and surprise of His 12 disciples.

Some of the painting figures are controversial. For example, the person sitting next to Jesus is feminine, therefore, some argue that this is Mary Magdalene and not the apostle John.
We have to inform you that since this is a very famous attraction, you have to book your tickets in advance. The tours rotate every 15 minutes and you are not allowed to take photos!