The oak kitchen worktop, an enduring symbol of elegance and sophistication, has been gracing homes for centuries with its unmatched durability and timeless appeal. Oak, the classic choice for a high-quality wooden worktop, is renowned for its exceptional strength, resilience and distinctive grain patterns.
In this article, we delve into the top tips for styling an oak kitchen worktop, providing you with expert advice and insights on how to accentuate this stunning centrepiece in your kitchen. Discover how to bring out the best in your oak worktop while maintaining its natural beauty and charm.
Enhancing the Natural Beauty of Oak: Selecting the Perfect Finish
To preserve and accentuate the inherent charm of your oak kitchen worktop, selecting the optimal finish is of paramount importance. When choosing a finish, consider the following factors: durability, maintenance, and aesthetic appeal. An oil-based finish is highly recommended for oak worktops, as it penetrates deep into the wood, providing long-lasting protection and nourishment. One such popular option is Danish oil, which imparts a natural satin finish while enhancing the oak's grain patterns and warm hues.
For those seeking an eco-friendly alternative, hard wax oil offers excellent resistance to water and stains, as well as a low odour profile. This finish contains natural waxes and oils, preserving the oak's texture whilst adding a subtle lustre. Moreover, regular maintenance with these finishes is relatively straightforward, requiring light sanding and reapplication every 12-18 months to maintain their protective qualities and visual appeal.
Harmonising Your Oak Worktop with Kitchen Décor: Colour Schemes and Materials
An oak worktop's natural warmth and versatility allow it to harmoniously blend with a multitude of kitchen styles, ranging from rustic to contemporary. To achieve visual balance and cohesion, consider the following colour schemes and materials.
For a classic, timeless look, pair your oak worktop with neutral-toned cabinetry, such as cream or off-white. This combination exudes a sense of warmth and sophistication, further amplified by the addition of brass or copper fixtures. Alternatively, a striking contrast can be achieved by juxtaposing the oak's rich hues with dark cabinetry, creating a bold, contemporary aesthetic.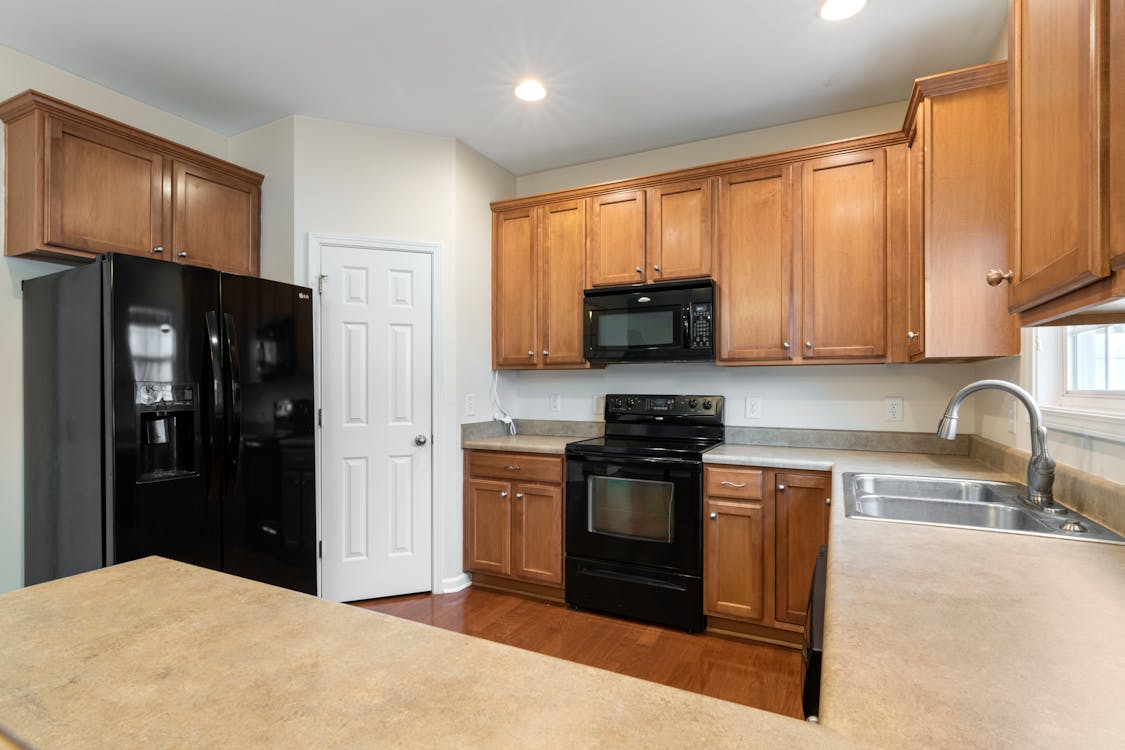 In terms of materials, oak worktops complement an array of options, from sleek stainless steel appliances to traditional ceramic tiles. For a rustic, farmhouse-inspired kitchen, consider incorporating a Belfast sink and reclaimed wood elements to evoke a sense of history and charm. Conversely, combining the oak worktop with modern, high-gloss finishes and sleek lines can produce a stunning fusion of classic and contemporary styles.
In conclusion, an oak kitchen worktop is an exquisite centrepiece that can be effortlessly styled to suit any design aesthetic. By selecting the ideal finish and thoughtfully integrating complementary colours and materials, you can achieve a harmonious and visually appealing kitchen space that showcases the oak's natural beauty. Whether you desire a rustic, farmhouse-inspired ambience or a sleek, contemporary kitchen, the versatility and warmth of an oak worktop can elevate your space, providing a foundation for years of culinary memories and enjoyment.