When building your internal network for your workstations, servers, and other devices, there will come a point in every enterprise where a switch will improve the efficiency of your internal communications.
In this article, we'll be going over some of the best juniper switches that your enterprise can use, highlighting switches that are suitable for entry-level enterprises as well as well-established expanding enterprises.
What Is A Switch?
In its simplest terms, a switch is a device that allows machines to send and receive packets to one another directly. They are ideal for enterprises with various machines that need to transfer data quickly, easily, and safely.
Some benefits of switches include:
Increased security. A switch keeps the transfer of data internal and partitioned from potentially unsecured networks (such as the internet).

Increased transfer speeds. A switch wired into your internal network allows data to be transferred quickly and efficiently via LAN cable.

Are versatile. Most switches can be configured to tailor to specific data switching needs.
1. Juniper EX2200-48P-4G Switch
For enterprises that haven't owned a switch before and are looking to upscale their data-switching capabilities, the EX2200 Juniper Networks switch is a great entry-level switch option to consider.
The EX2200-48P-4G switch is capable of providing the following:
48 x 1Gb RJ-45 ports

1 GB SFP Uplink port

48 + 4 links licensed

Power Over Ethernet (PoE)

104 Gbps switching capacity

Junos OS
Including impressive features such as a 1U rack-mountable chassis, fixed PSU, and a side-to-rear airflow design.
For an EX2200 model like this, you'll be looking to spend around £120 – £150.
2. Juniper EX3300-48P Switch
Another entry-level switch, the EX3300 unit from Juniper Networking, is ideal for SMEs needing more functionality than the EX2200 at a competitive price point.
For the Juniper EX3300-48P switch, you can expect features such as:
48 x 1 Gb RJ-45 ports

4 x 1/10Gb SFP+ Uplink ports

Power Over Ethernet (PoE)

48 + 4 licensed ports

176 Gbps switching capacity
This switch uses the Junos operating system and features a front-to-back airflow for more efficient cooling. That isn't mentioning its fixed PSU and 1U rack-mountable chassis type.
For a switch to this grade, you'll need to spend around £250 – £300.
3.

Juniper EX4300-24T-AFO Switch
If your enterprise needs a mid-level solution for your internal network, the EX4300 switch from Juniper is a solid choice for various reasons. It balances impressive specifications with a great price point and can provide the following:
24 x 1Gb RJ-45 ports (all licensed)

2 x Redundant PSUs (350W)

224 Gbps switching capacity

Juno Operating System
With additional functionality such as one module expansion slot and a 1U rack-mountable chassis. This includes a front-to-back airflow design to ensure sufficient cool air reaches the internal chipsets for cooling.
The EX4300-24T-AFO switch comes in at a very decent £600 – £750 price range.
4. Juniper QFX5100-48S-3AFI Switch
For those SMEs that require a more high-end solution to their data switching, we have the Juniper Networks QFX5100 switch. This exceptional, powerful piece of technology is designed for huge internal networks that need to handle a large flow of data.
A switch of this standard can provide your business with the following:
48 x 1/10Gb SFP+ ports

6 x QSFP+ uplink ports

Licensed ports (48 + 6)

Base licence installed

1.44 Tbps switching capacity
And all that includes features such as the Juno operating system, a back-to-front airflow design, 1U rack-mountable chassis type, and two redundant 650W power supply units.
Invest in a switch that can handle everything a growing SME could need. For the QFX5100-48S-3AFI switch, you can expect to spend around £2500 – £3000.
5. Juniper QFX5100-48T-AFI Switch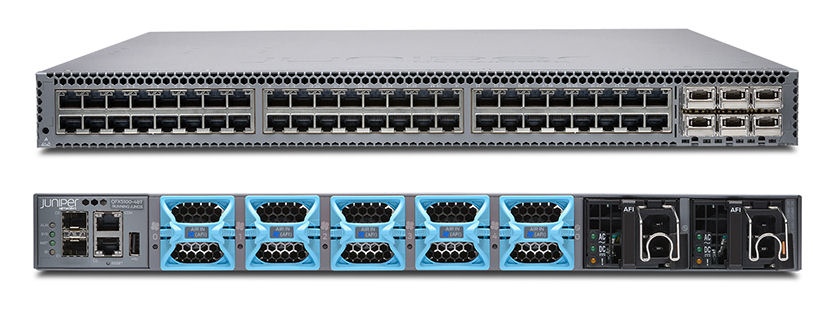 Image source: https://www.kvmchoice.com/
The Juniper QFX5100-48T-AFI switch is one of the best on the market and is designed for SMEs requiring large data transfers during their day-to-day operations. Businesses such as data centers would benefit greatly from a switch such as this, as it lists impressive specifications such as:
48 x 1/10Gb RJ-45 ports

6 x 40Gb QSFP+ uplink ports

All ports licensed (48 + 6)

1.44 Tbps switching capacity

Base OS licence installed

2 x redundant PSUs (650W)
Using Juno operating system and designed with a back-to-front airflow for optimal cooling, the QFX5100-48T-AFI will help you stay on top of your operation's data-switching needs. This model also uses a 1U rack-mountable chassis for ease of installation.
A switch such as this has a fair price tag of around £5000 – £6000, depending on your retailer.
Conclusion
A switch is essential for any SME looking to scale its capacity to provide customer services. No matter if you are a huge data centre or a small internet café, a switch can help you keep control of your machines and internal network with ease.