Snapchat is an extremely popular application, especially among millennials. However, if you are new to the application terms like "Snapchat score" and "Snapchat streak" might sound unfamiliar to you. In this article, you're going to learn everything you need to know about the application, as well as ways you can improve your presence there.
What is Snapchat?
Snapchat is an application created by Evan Spiegel, Bobby Murphy, and Reggie Brown, and developed by Snap Inc. It was first released in 2011. At the time of its release, it was a game-changer for social media applications as it offered something entirely different.
The unique element that Snapchat brought was the reminder of the ephemeral nature of memories. The photos or videos uploaded were meant to be temporary, lasting for just a few seconds. Users welcomed this feature and it quickly became one of the most-used apps.
Users and overworked social media moderation workers welcomed this feature and it quickly became one of the most-used apps.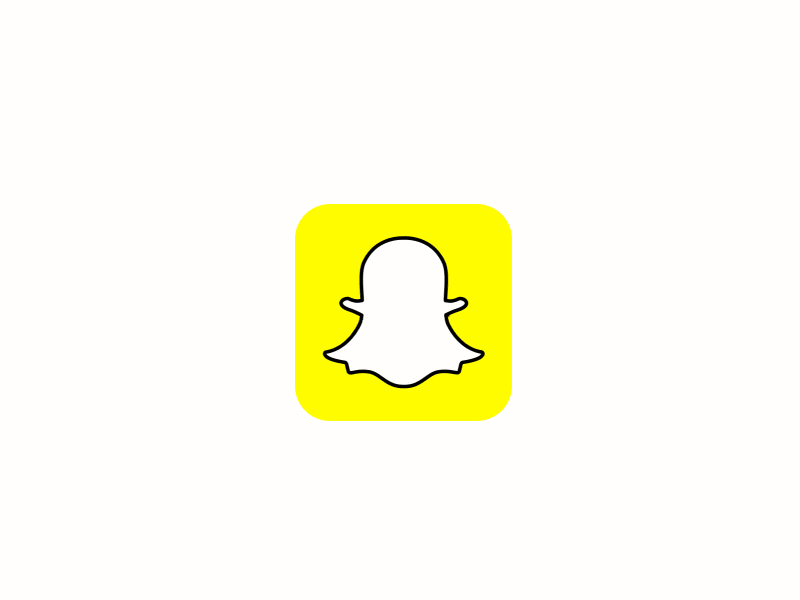 Image source: dribbble.com
When a user uploads a photo or video on their profile, this is only available for a brief period of time – only ten seconds. Of course, later on, Snapchat added the Stories feature, where the photo or video is accessible for the following 24 hours. Users can interact with each other with stickers and various filters.
Today, Snapchat continues to remain as popular as ever. More specifically, Snapchat has more than 186 million daily active users. Users tend to spend about 30 minutes in total in the app and more than 3 billion snaps are created each day.
What is a Snapchat Streak?
A Snapchat streak, or Snapstreak, is when you snap back and forth in 24 hours with another Snapchat user for at least three days in a row. After this happens, a fire emoji will appear beside this particular user's name, as well as a number that represents the number of days that you have consecutively snapped each other.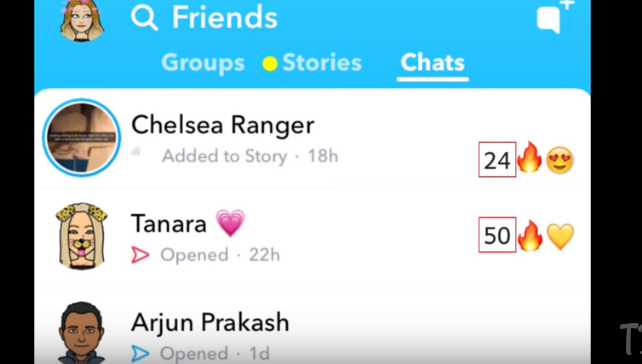 From the introduction of this feature, users loved it and they are now competing for the longest Snapchat strike.
How to Begin a Snapchat Streak
This is the easiest part of Snapstreak. All you need to do is send a snap to all the people that might be interested and wait for them to answer your snap within 24 hours. However, make sure that you approach the right people – the ones that are willing to send you a snap every single day. These people might be the ones that you usually interact with.
With the right people, you are one step closer to get the longest Snapchat streak! 
The below video explains how to get a Snapchat Streak:
Rules of Snapchat Streak
Beginning a Snapchat Streak is easy, however maintaining it might be a little challenging, as not every interaction counts. So, here is a list of all the interactions that will not count for your Snapchat streak and might ruin it for you:
Chat: Your text conversations with your friends will not count for your Snapchat streak. So, even if you interact this way, keep in mind to also snap him/her.
Group Chat: It would be so easy to snap a great number of your friends, in order to keep your streak count with all of them. Unfortunately, Snapchat doesn't allow it.
Stories: Like chatting, stories will not count for your streak, as they should be sent to only one particular user.
Memories: When you want to relive certain moments, you can share them once more like memories. However, remember that these don't count for your Snapchat streak.
Spectacles: Snaps shared on Spectacles do not count for your Snapchat streak.
Snapchat Streak Emojis
When you start a Snapchat streak with someone, you'll soon notice a fire emoji next to his/her username. However, this is not the only emoji connecter to Snapstreak. The emojis that might appear next to the username of the person you have a snapping streak with are: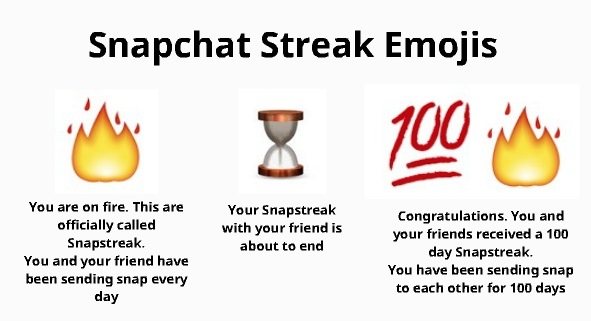 Image Source: mymediasocial.com
Fire emoji: This emoji indicates that you're on a Snapchat streak with this person.
Hourglass emoji: when you see this emoji be extra careful, as it means that your streak expires soon.
100 emoji: This emoji indicates that you and your Snapchat partner are on a roll, sending snaps for 100 or more consecutive days.
Mountain emoji: this is a truly rare emoji to appear and it's used to indicate really long streaks.
What is the Longest Snapchat Streak?
Your Snapchat streak score is indicated with a number next to the user's name and an emoji, according to the number of days you've been sending snaps. It's easy to see how this simple feature became competitive.
With so many daily active users and so many snaps sent every single day, keeping track of the highest score for the Snapchat streak becomes a troublesome business. This would be easily solved by an official scoreboard within the app, but until then users all over the world keep their own track.
The Snapchat streak feature was introduced on April 6th, 2015 and the longest Snapchat streak is 2200+, as of May 2021, which is recorded till today.
Until this very moment, the longest Snapchat streak belongs to these people according to techjunkie website as well as the screenshots we have received from the people. 
Georgia & Eleanor, 2200 (May, 31th 2021)

Reece & Ava, 1681 (May, 31th 2021)
Dave Owen and Dan Churchley, 1769 (May, 30th 2021)
Felix Wissing and Fredrik Nilsson, 2131 (May, 29th 2021)
Stephanie & Josh, 1696 (May, 29th 2021)
Arman & Shahebaaz, 1975 (May, 29th 2021)
Brooke Lothian and Rachel Cuma, 2164 (May, 29th 2021)
Frances Venditte and Chrissy Williams, 1762 (May, 29th 2021)
Sebastian Finér and Romario Hulea, 1981 (May, 29th 2021)
Marquel Gibson and Amber Bliss, 1821 (May, 29th 2021)
Luis Sanchez and Samuel Salinas, 1627 (May, 28th 2021)
Zach & Jim, 1334 (May, 28th 2021)
Palak & Maushmi, 1169 (May, 28th 2021)
Akshay Chopra and Mayank Gupta, 2020 (May, 27th 2021)
Brittany & Jordan, 2200 (May, 27th 2021)
Peyton & Melissa, 1716 (May, 27th 2021)
Kate & Nathan, 1793 (May, 27th 2021)
Bonnie Cooke and Amy Funke, 1825 (May, 26th 2021)
Izzy Staiano and Ryan LaTourette, 2048 (May, 26th 2021)
Claire Davies and Yoosuf Ibrahim, 1614 (May, 26th 2021)
Hannah & Zachary, 1400 (May, 26th 2021)
Kevin Garcia and Andres Sandoval, 1700 (May, 26th 2021)
Megan & Cameron, 1947 (May, 25th 2021)
Thomas de Jager & Rick Gier, 1600 (May, 25th 2021)
Kell Sampson and Tayla Applebee, 1927 (May, 25th 2021)
Jack Pye and Amy Lock, 1934 (May, 25th 2021)
Mattison & Andrew, 2166 (May, 25th 2021)
Rayni Kovacs and Ally Peddie, 1888 (May, 24th 2021)
Tim Murphy and Jazzmyng Jones, 1944 (May, 24th 2021)
Tara Lawrence & Tylan Hagan, 1601 (May, 23th 2021)
Alena Q and Celeste N, 2101 (May, 22th 2021)
Morgan Shepard and Sydnee Shepard, 1708 (May, 22th 2021)
Hjspeer & Mandalyn, 1938 (May, 22th 2021)
Niel & Jenna, 1507 (May, 22th 2021)
Audrey & Kearstin, 1241 (May, 21th 2021)
Wade Simmons and Nathan Fairley, 1507 (May, 21th 2021)
Julie Kim & Danik, 1758 (May, 20th 2021)
Jacey Super and Sam Symynkywicz, 1913 (May, 19th 2021)
Justin & Brandon, 1801 (May, 19th 2021)
Kimberly & Scott, 1687 (May, 19th 2021)
Taylor & Mary, 2,199 (May, 19th 2021)
Che Wylie and Zach McKee, 1880 (May, 18th 2021)
Robert & Samuel, 2188 (May, 18th 2021)
Abraham & Will, 1571 (May, 18th 2021)
Adam & Humzah, 2118 (May, 18th 2021)
Hannah Staten and Taylor Vargas, 1617 (May, 17th 2021)
Cory & Paige, 1924 (May, 16th 2021)
Ricky & Dennis, 2000 (May, 15th 2021)
Jesse Kulpakko and Viivi Soppela, 1843 (May, 15th 2021)
Ally Zaino and Kait Bruneau, 2165 (May, 13th 2021)
Breanna & Shannon, 1940 (May, 13th 2021)
Chris Prout and Leanne Casey, 1836 (May, 12th 2021)
Makayla & Jessie, 1747 (May, 12th 2021)
Karina Hernandez and Kevin Barker, 1900 (May, 12th 2021)
Karina Hernandez and Barker Kevin, 1900 (May, 11th 2021)
Rafaela Munhoz and Émerson Fermiano, 1176 (May, 11th 2021)
Henley Castleman and Amelia Henderson, 2000 (May, 11th 2021)
Noah Davidovitch and Timothy Edwards, 2051 (May, 11th 2021)
Alyssa Collins and Caitie McArthur, 2120 (May, 11th 2021)
Misty & Timothy Johnson, 1200 (May, 10th 2021)
James Richardson and Barry, 1994 (May, 10th 2021)
Maddie & Gabrielle, 1835 (May, 10th 2021)
Jesus Ruiz and Ashton Yoder, 1801 (May, 10th 2021)
Sneha & Michelle, 2109, (May, 9th 2021)
Sam Malley and Nicky Q, 2068 (May, 9th 2021)
Shey Chumney and Tali Svoboda, 1737 (May, 8th 2021)
Samantha & Kierra, 1997 (May, 8th 2021)
Estephany Trejo and Sarah Olipane, 1963 (May, 7th 2021)
John Fritz and Ben Bezems, 1999 (May, 7th 2021)
Cidney & Ashtyn Brae, 1754 (May, 7th 2021)
Bella & Kenz, 2019 (May, 7th 2021)
Troy Frazier and Chris Radinsky, 2000 (May, 7th 2021)
Ian Blaine and Elizabeth, 1791 (May, 7th 2021)
Zahida Hall and Hunter Hall, 1991 (May, 5th 2021)
Abeera Choudhry and Khalid Abu Iqab, 1,881 (May, 5th 2021)
Mohammed Nassier and Albaraa Al-Zamzami, 1833 (May, 4th 2021)
Joyce Owen and Cheryl, 1955 (May, 4th 2021)
Samantha Price & Trinity Carson, 2000 (May, 4th 2021)
Merve Kaptan and Merve Beşiktaş, 1799 (May, 4th 2021)
Bryan and Kaitlyn, 1953 (May, 3rd 2021)
Sufyan Iqbal and Mikey Dunwoody, 1830 (Apr, 20th 2021)
Elijah & Amee, 1993 (Apr, 16th 2021)
JD & Evan, 1964 (Apr, 15th 2021)
Thomas & Paula, 2107 (Apr, 13th 2021)
Flanklin & Meli Sue, 1734 (Apr, 13th 2021)
Joseph & Gabriel, 2080 (Apr, 12th 2021)
Caitlyn Wooffitt and Bethany Marshall, 1969 (Apr, 6th 2021)
Abigail Heyworth and Lilymay Hassall, 2165 (Apr, 4th 2021)
Isabel and Alexandra, 2005 (Apr, 4th 2021)
Ephraim & Brian 2,000 (Apr, 2nd 2021)
Hunter Willis and Evan Smith, 2068 (Apr, 1st 2021) 
Taylor & Tori, 1810 (Mar, 30th 2021)
Shelly Fitzgerald & Mallory Shipley, 2089 (Mar, 29th 2021)
Lucia Penido & Rafaela Ganzer, 1900 (Mar, 26th 2021)
James and Georgia Tilyard, 2051 (Mar, 24th 2021)
Antonina Barry & Isabelle Najah, 2,052 (Mar, 20th 2021)
William and Steven, 2001 (Mar, 18th 2021)
Daniel and Robin, 1,985 (Feb, 5th 2021)
Sophia and Vanessa, 1900 (Jan 18th, 2021)
Vismit and Ankita, 1912 (Jan 15th, 2021)
However, with each passing day, it is very possible that the longest Snapchat streak will go to someone else.
If you want to add your Snapchat streak to this list then, please send us a screenshot of your streak with your and your's partner name to our email id: [email protected]
We update the list at the end of the month. 
How to get your Snapchat Streak Back
Maintaining a Snapchat streak is hard work, especially when the streak is going on for some time. However, it is frustrating when you lose it for no reason. If you ever notice that your streak number is gone, relax, take a big breathe, and visit Snapchat Support.
From all the options given there, choose "My Snapstreak Disappeared" and fill out the form. They will ask you to note your username, email address, mobile number, your friend's username, and the last counted number of streaks. After you file your complaint, Snapchat will review your Snapchat streak and will get back to you.
Check out the above steps in the video here to know how to get back your lost Snapchat Streak
What is the Snapchat Score?
The Snapchat Score calculating system is quite elusive. It basically indicates your in-app activity, however, no one really knows what the algorithm is looking for in order to determine the number that you see. The Snapchat score doesn't have any particular use, however, who doesn't like seeing themselves scoring higher than their friends?
Factors that Influence the Snapchat Score
The Snapchat algorithm takes into consideration various data, in order to determine each individual score. All the data considered have to do with the amount of interaction that each user has within the application interface. So, the factors that influence that Snapchat score are the following:
Snaps sent and received

Number of stories sent

Number of users added

Days of Snapchat streak with another user
Moreover, in special cases, bonus points are awarded. For example, if you haven't used the app for a while, Snapchat will award you extra points when you use the app once again.
How to Improve your Snapchat Score
From the factors mentioned above, it is easy to see that the only way to improve your Snapchat score is to use the application. If you are dedicated and make sure to post snaps and stories every day, you'll quickly see that your score increase.
As with the Snapchat streak, chat messages that you send with your friends don't count for the improvement of your Snapchat score. What you have to do is send snaps to your friends.
Another thing that you need to keep in mind is that these snaps have to be unique for each user. So, group messaging won't be able to help you once again.
Trophies you can Unlock with your Snapchat Score
In a similar manner with the Snapchat streak emojis, you can unlock various trophies when your Snapchat score gets higher.
Namely, the seven trophies you can unlock by increasing your Snapchat score are the following:
Baby Emoji – score of 10
Glowing Star Emoji – score of 100
Sparkles Emoji – score of 1,000
Circled Star Emoji – score of 10,000
Explosion Emoji – score of 50,000
Rocket Emoji – score of 100,000
Ghost Emoji – score of 500,000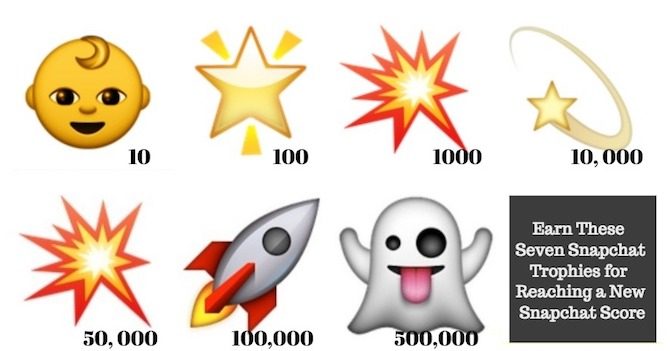 Find your Snapchat Score
If you want to find what your Snapchat score is, all you need to do is tap the Bitmoji icon in the top left of your screen. Your profile will pop up and you will see your username and your Snapchat score. It's as simple as that!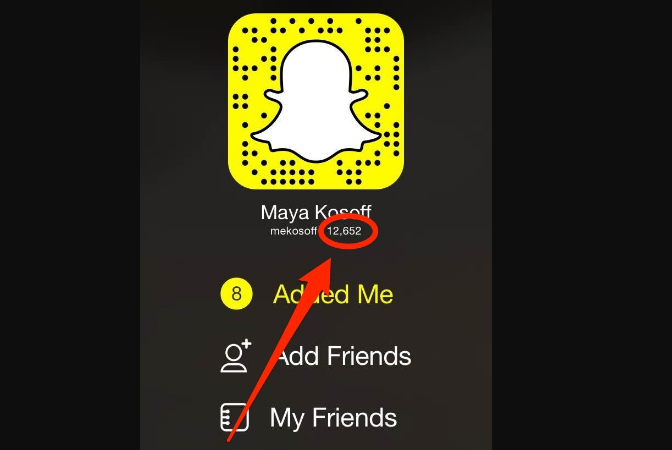 Image Source: businessinsider.com
If you want to see further information, as how many snaps you have sent and how many you have received, you can tap on your score and see two different numbers appear. The one on the left represents the snaps you have sent, while the one on the right represents the snaps you have received.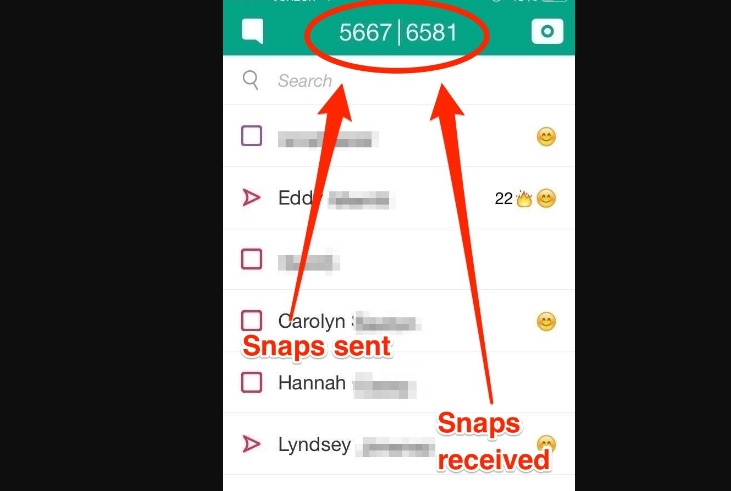 Image Source: businessinsider.com
In the case you want to see where your friends stand in the Snapchat score, you can just as easily find their score. Open a chat window and press the three lines on top. This will open a new window with various information about your friend. One of those is their Snapchat score. However, you cannot see the snaps sent and received for your friends.
When your Snapchat Score isn't Updating
If your Snapchat score isn't getting any higher, even though it should be, don't panic. There is always a simple solution.
First of all, make sure that you use the latest update of the application. While older versions are useable, there might have some bugs.
If you use the latest update, just wait for a few hours. Your score might not be increased due to a glitch, something that will quickly get fixed.
Lastly, if the problem continues, get in touch with the Snapchat support. They will look into your individual case and they will find a solution for you.