If you're looking for an ID card printer, it's important that you take the time to consider which ID card printer you'd like to purchase. While some ID card printers are good for smaller organizations, others are well-suited to larger organizations.
Here, we'll provide you with an overview of everything that you need to know about ID card printers and more.
1. ID card printers for entry-level businesses
If you've got a small organization, then an entry-level ID card printer is all you need to get started. Not only can this printer provide you with a small number of cards with ease, but most ID card printers can also print a range of cards such as employee ID cards and more.

While these ID card printers will not be able to print cards quickly and also don't have extra features, they still offer the basic features you need to print great ID cards. In addition, these ID card printers are also typically smaller so you'd be able to store them with ease.

These printers are also great for beginners – especially if you're not quite familiar with how to use an ID card printer. 
2. ID card printers for mid-range businesses
These ID card printers are great for medium-sized companies as they can print a good amount of ID cards a year.
Not only can these ID card printers come with a good amount of features, but you'll also be able to print double-sided cards, and choose a range of encoding options along with additional security. In terms of size, these printers are not relatively average in size but are larger than entry-level ID card printers. 
3. ID card printers for enterprises
If you've got a large organization then you definitely want to consider an enterprise-level ID card printer. Not only can these ID card printers print a few thousand cards each year with ease, but it's also got a sturdy design along with the ability to print quickly and efficiently.
What's great about these ID card printers is also the fact that it not only comes with fantastic print quality but also a range of features such as card lamination, visual security features, large capacity feeders, and more. If you're looking for a printer that has both capacity and functionality, this will be the printer for you.
Some of the best enterprise-level printers not only have multiple encoding options but also fast print speeds, high-capacity full-color ribbons, efficiency, and more.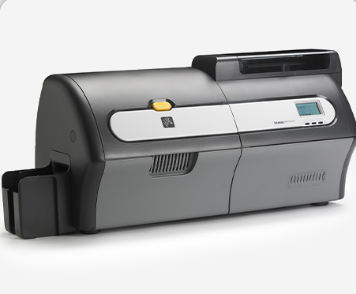 Photo: PPC ID Card Solutions
Choosing the best ID card printer

It's important to ensure that you're looking for the right ID card printer as ID card printers can be a considerable investment. ID card printers also come in a wide range of sizes from a smaller printer to a larger one.
If you're not sure which printer to choose from, take the time to check out each of the printer's features from its print capacity to its size, price, and more.