What Is Bioidentical Hormone Replacement Therapy (BHRT)?
BHRT is used for treating women and men whose hormone levels have dropped or became unbalanced. It is most regularly used for easing the symptoms of menopause and perimenopause.
It can also be utilized for improving symptoms of cancer or treating conditions such as:
Thyroid and adrenal disorders.

Insulin resistance.

Fibromyalgia.

Osteoporosis.
Bioidentical hormones are hormones taken from plant estrogens, which are chemically identical to the ones produced by the human body. Progesterone, estrogen, and testosterone are among the ones most commonly simulated and used for treatment. Bioidentical hormones come in several forms, which include:
Gels

Pills

Injections

Patches

Creams
Bioidentical Versus Traditional
Bioidentical hormones are not the same from those that are used in HRT (traditional hormone replacement therapy). Bioidentical hormones are chemically exact to those our bodies naturally produce but are made from plant estrogens. Hormones utilized in conventional HRT are produced from the urine of pregnant horses as well as other synthetic hormones. Check out coloradomedicalsolutions.com for the services they provide with regard to BHRT. Most medical experts believe the risks of HRT and BHRT are similar. Compounded bioidentical hormones may be carrying more risk. There is no authenticated evidence so far that BHRT is more efficient than HRT.
Benefits Associated With BHRT
BHRT is generally used when people age, and their hormone levels drop, especially for women who are undergoing menopause or perimenopause. It is utilized for increasing the hormone levels that have fallen and improving moderate to severe symptoms of menopause, including:
Hot flashes

Mood fluctuations

Night sweats

Memory loss

Weight gain

Sleep problems

Pain during intercourse
Loss of libido
Besides providing relief for symptoms, hormone replacement therapy can also reduce the risk of tooth loss, diabetes, and cataracts. Some evidence suggests that it can also assist with improving skin thickness, elasticity, and hydration, as well as reducing wrinkles. In a particular study, people with cancer who have had BHRT found relief from treatment-related symptoms that include incontinence, migraines, insomnia, and low libido.
Here Are Some Other Benefits Of BHRT For Men And Women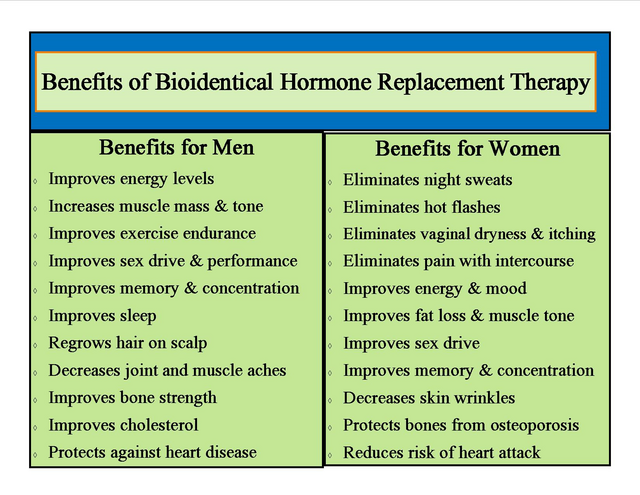 Image Source: https://i.pinimg.com/
Risks and side effects of BHRT
While the FDA has approved some of the preparations of progesterone and bioidentical estradiol, no compounded bioidentical hormones have been approved. Some claims exist that bioidentical hormones are more effective and safer than traditional HRT due to them being identical in structure to the ones produced in the body. However, these claims are not substantiated through studies. Research has revealed that hormone replacement therapy overall can might increase the risk of specific diseases and conditions, including:
Stroke

Blood clots

Heart disease

Breast cancer

Gallbladder disease
BHRT may also have accompanied side effects, especially in the beginning, once your body is adjusting to the hormones. Regular side effects of BHRT might include:
Bloating

Weight gain

Acne

Mood swings

Fatigue

More facial hair in women
Numerous individuals cannot take BHRT or any other form of hormone replacement. The potential of side effects and risks may be different among women, contingent on their health history. First, discuss the advantages and disadvantages with your doctor before starting with hormone replacement therapy.
Feature Image source: https://yuniquemedical.com/