Did you know that one-third of strokes result in aphasia? Do you even know what aphasia is? Despite its prevalence, it remains relatively unknown. 
Aphasia is brain damage that affects the ability to process and produce language. It can severely impact the quality of life without treatment. 
The symptoms and severity vary on a case-by-case basis, but regardless there's no cure. Instead, therapy treatment is available to attempt to restore independent living. 
If you or your loved one suffers from aphasia, or if you want to learn more to help those affected, read on. 
What Is Aphasia?
Aphasia is most often caused by a stroke. It can also be caused by a head or brain injury. Other aphasia causes include brain tumors, brain infections, dementia, or other neurological disorders.
No matter the cause, the result is damage to the area of the brain that processes language. This leads to difficulty speaking and understanding as well as reading and writing.
1. Types of Aphasia
Someone with aphasia might have trouble understanding what others are saying. They might also have trouble putting words together into sentences. Another classic symptom is the inability to find words and names for people and places. 
There are several categories of aphasia symptoms. Some people will manifest only one type, others will manifest multiple.
Diagnosticians also categorize aphasia into "expressive" and "receptive". Expressive connotes a difficulty in producing language. Receptive connotes trouble understanding and processing language. Some people can have trouble with both. 
Speech fluency is the ease of producing words. If it requires great effort to speak or write even a few words, speech fluency is affected by aphasia. 
Language comprehension can also be affected, resulting in difficulty understanding spoken or written words. Someone with it might also have difficulty repeating words or phrases. 
2. Diagnosis
An MRI or CT scan is standard for diagnosing aphasia. These scans identify which areas of the brain are damaged as well as the severity of the damage. 
If it is suspected, a speech-language pathologist will perform further tests on basic language skills. These tests might include naming pictures and writing simple sentences. 
Treatment of Aphasia 
The prognosis for someone suffering varies depending on the injury. The outcome depends on the extent of the damage as well as the age and health of the affected. Some individuals return to normal relatively quickly, while others remain affected for the rest of their lives. 
It's important to note that it only affects the ability to communicate, not the inherent intelligence of the individual. Therapy will focus on unlocking the communication skills again.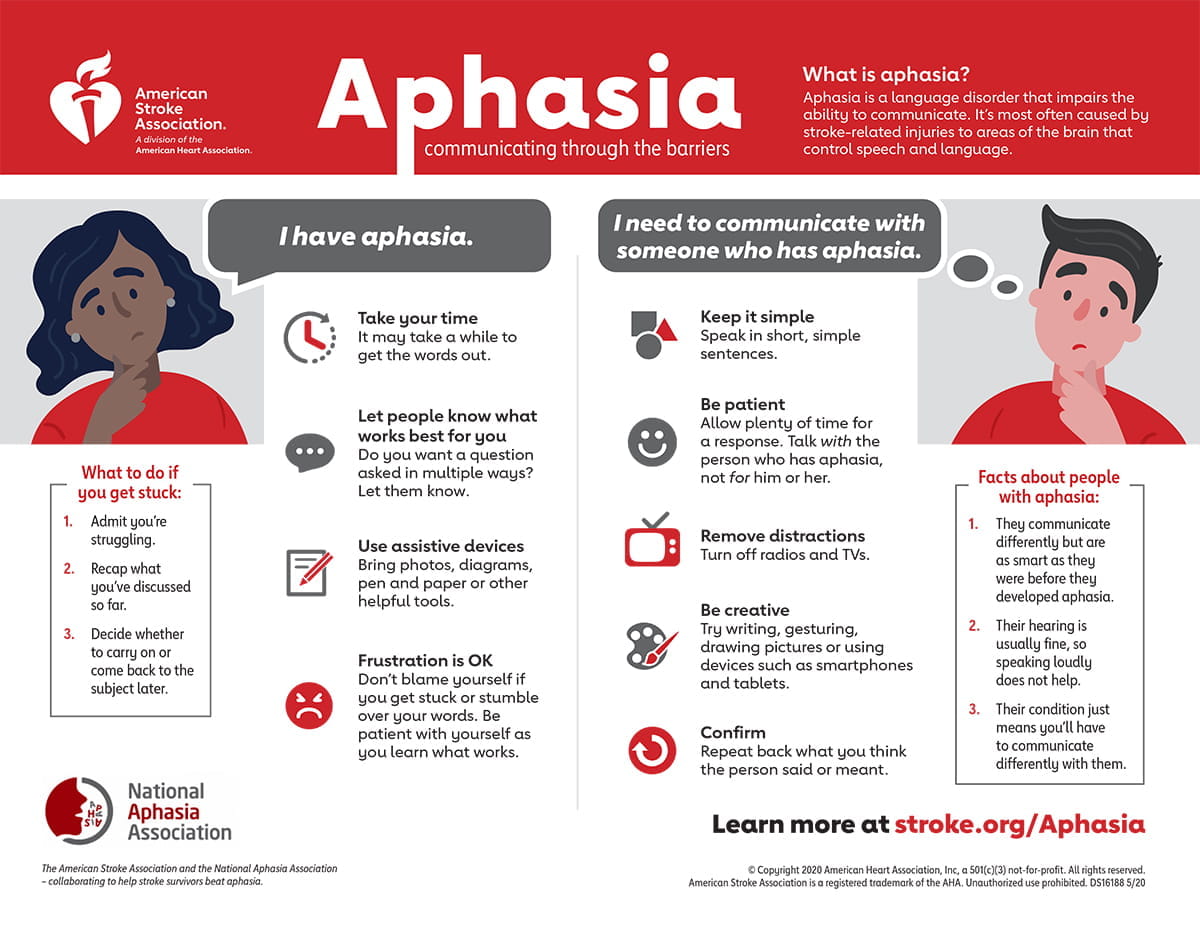 Image Source: https://www.stroke.org/
The individual will work with a pathologist, performing reading, writing, and listening exercises. Some of these exercises will involve practicing following directions, and relearning communication abilities. 
Several organizations including Asphasia Charity Appeal focus on raising awareness and making higher-quality treatment more available for the affected. This allows more people suffering from this to reduce the severity of their symptoms and improve their quality of life. 
Stay Aware
Hopefully, now you'll be more aware of aphasia and its consequences, as well as the great work some charities are doing to make treatment more accessible. 
If you're looking to learn about other health and lifestyle issues, check out our blog for more!