Recently updated on October 25th, 2022 at 11:33 am
According to research, about 13% of the American population uses ATMs on a weekly basis. This equals about 30 million people, which makes an ATM machine business quite viable.
In fact, a lot of factors are currently driving the global ATM industry.
As of 2019, the global ATM industry was valued at $20 billion and is projected to hit $30 billion by 2027. Now that we've got you all psyched up, let's take an in-depth look at how to start an ATM business.
1. Start With a Business Plan
The first thing you have to do is write a very detailed business plan.
You need to outline every single element, starting with your target market. Then, detail how you'll find the business and your advantage over the competition. If you don't have capital, you will need a detailed business plan to get a loan from a bank or help from investors.
An ATM machine business may not require office space or a lot of supplies, but you still have a significant number of things to purchase. The total amount of money you intend to invest will be dependent on how many machines you want to start with. The style may define the price of each machine.
You will also need an insurance policy, access to phone lines, a computer to check the status of your machines, and cash for withdrawals. The ultimate location could be a mall, a bar, a restaurant, a convenience store, or elsewhere. The trick here is to find a place with incredibly high traffic but of people who are likely to use the ATM.
The next order of business is naming your business. This can be a challenging step because you need a name that will build into a brand.
When researching the best name for a business, check business records in your state, social media platforms, and web domain availability, as well as the state and federal trademark records.
2. Form a Legal Entity
Are you getting into this business by yourself, or do you have a partner? You have several options when it comes to choosing a legal entity. These include sole proprietorship, partnership, limited liability company, as well as corporation.
Some of the best options include limited liability and corporation because they'll protect you from being personally liable if ever your business is sued. Still, it's important for you to do research into all available options because each one comes with its pros and cons.
You have to factor in costs, liabilities, as well as administrative requirements for each business structure. It would be wise of you to consult a business lawyer in this regard. You need to factor in everything that will happen now and in the future with your chosen business entity.
3. Register for Taxes
Before you can open your ATM machine business, it's essential that you register for state and federal taxes. The first thing you'll have to do is apply for an EIN, which is free through the IRS website. Depending on your business structure of choice, you're likely to face different options on how the business is taxed.
For instance, some limited liability companies benefit from being taxed as S corporations. It's also vital for you to learn about franchise taxes as well as state sales taxes. This way, he will avoid any trouble with the IRS from the very beginning of your business.
4. Open a Business Bank Account
It's crucial to have a dedicated business banking account so you can protect your personal assets. If you mix your business and personal expenses, your personal assets like your home or car will be at risk in the event that somebody sues your business in the future.
You also need to have a business credit card. It'll be beneficial because you can use its credit history for investments in the future.
Beyond this, you should hire your business accountant right from the word go so you can understand the financial performance of the business. Ensure you have detailed and accurate accounts, which will also simplify filing taxes.
5. Acquire the Right Licenses and Permits
Business permits and licenses are essential when starting an ATM business. Research your local, state, and federal requirements. Apart from the employer identification number or EIN and the sales tax permit, you may also need to get an occupancy permit and several more, depending on your state.
You also need to have the right insurance policies, such as general liability, commercial property, auto, ATM insurance, and workers' compensation, if you intend to hire people.
6. Choose the Right ATM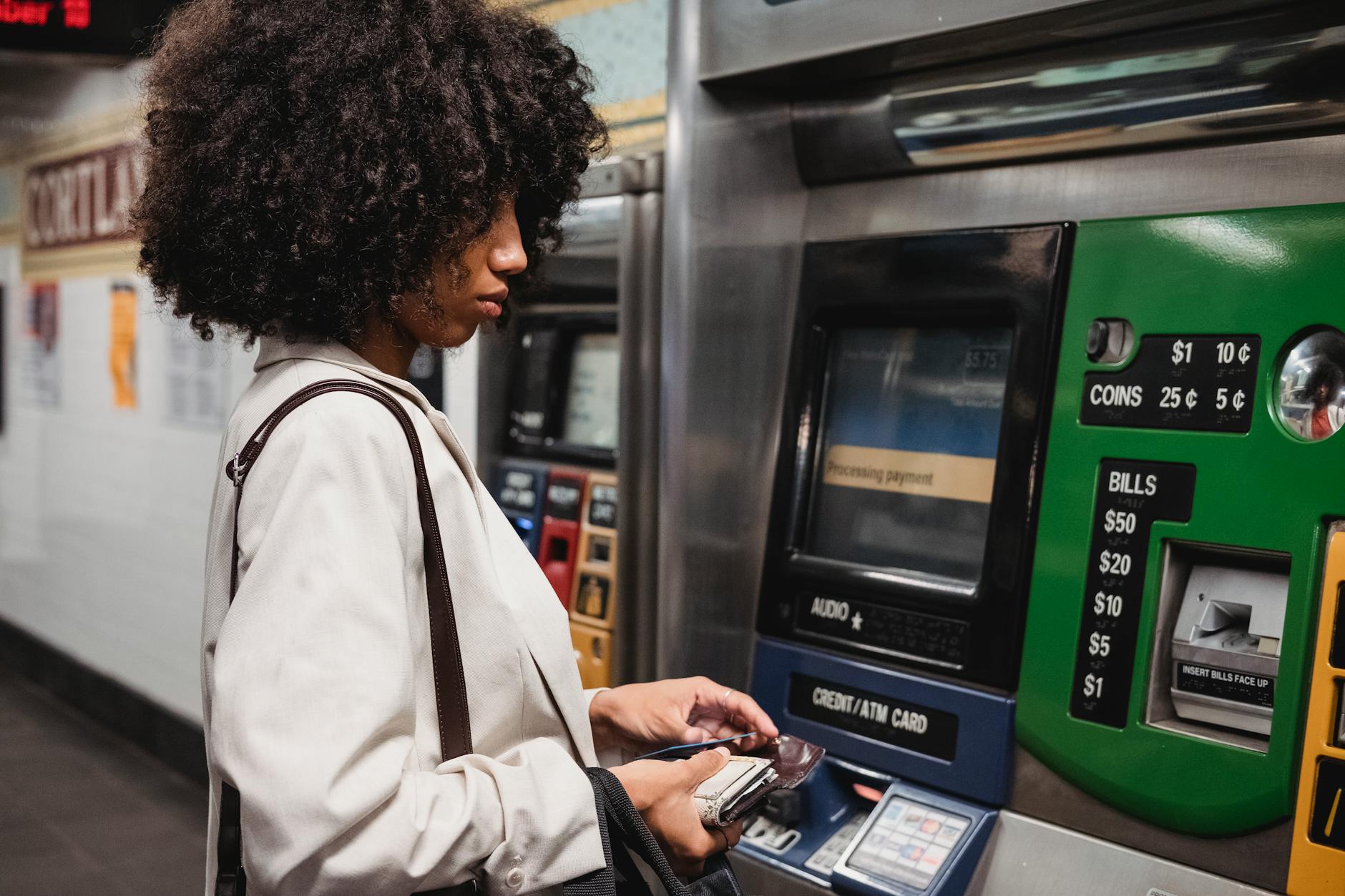 There are several types of ATM machines, including tabletop, stand-alone, and permanent ATMs installed in the wall.
You'll find numerous ATM machines for sale in the market, but the decision will highly depend on the brand and your business location. You'll also find different types of models on the market, so conduct in-depth research on the best possible machine that'll work for you.
7. Decide on Transaction Fees
Now that you're in the process of understanding how to start an ATM business, you need to know that deciding on transaction fees will be a daunting process. If you set your transaction fees too high, you will discourage customers from doing business with you.
However, if you set them too low, then you may compromise your own profits. There are several factors you can consider when making this decision. Start by considering the average transaction fees in your area, what competitor businesses are charging, and your overhead costs.
You should also consider how many people are getting a cut of the profits, in case you have employees or are sharing a percentage with a host business.
8. Consider Security
ATM machines are typically portable and are easy targets for theft. One of the most important things you need to know on how to start an ATM business is that you have to take care of the security aspect. Your ATM machines need to be in areas that you can easily monitor.
They need to be equipped with EMV chip readers and ATM insurance in case of vandalism, liability, and theft. It's also vital for you to purchase ATM machines from reputable brands that sell secure models.
9. Create Your Business Website
In this day and age, every business needs an online presence, and so does your ATM business.
You also need dedicated social media pages so you can start to market and grow your brand. Starting an ATM business is a great way to get passive income, but you need to ensure that your machines always have cash and are in top functioning condition.
How to Start an ATM Business: Everything You Need to Know
There you have it! This covers all the general points you need to know on how to start an ATM business. It's vital to ensure that you take all the necessary steps for your business to thrive.
If you like our article, please head to our blog section, where we have so much more valuable content!