Little ones are often the pickiest eaters in a family, so it can be hard to get them to eat a healthy diet. It's our job as parents, however, to ensure that they have the nutrients they need to grow and thrive. So how do we reconcile these two points? By making healthy eating fun, of course. 
If your children enjoy eating healthy food, their diet will naturally skew towards one that is good for them. With that in mind, we've compiled this list of tips for helping your children enjoy healthy foods:
1. Get Them Involved 
By getting children involved in the preparation process for healthy meals, you'll be greatly increasing the chances that they'll eat them. So, get your hands on the best frying pan in Australia, find some child-friendly recipes (more on that below), and get the family into the kitchen to make dinner a group effort.
Bonus points here if you meal prep and decide on what you'll be eating for the week as a family. This helps children feel even more involved and like they're in control of their diets. 
2. Make It Colourful
Kids love colourful things, no matter how they appear. So healthy recipes with plenty of vibrant hues are a simple way to increase their intake of health-giving foods. The best part is that vegetables are naturally colourful, so it's super easy to jazz up a plate.
3. Create a Pretty Plate
Speaking of jazzing up your plates, try cutting fruits and vegetables into fun shapes and adding them to your little ones' dinners. Even as adults we eat with our eyes first. So by making a meal look delicious, you'll have won the first battle already. You can also do this in other ways such as adding eyes (using chives, sauce, or similar) to eggs or even turning an entire meal into a work of art. 
4. Mix and Match
Another tactic for getting your kids to enjoy healthy foods is to combine their favourite foods with new ones. This way, they've still got something they love on their plate so the meal overall will seem more appealing. Think chicken nuggets with sweet potato fries and peas instead of standard potato chips.
5. Add Sneaky Veggies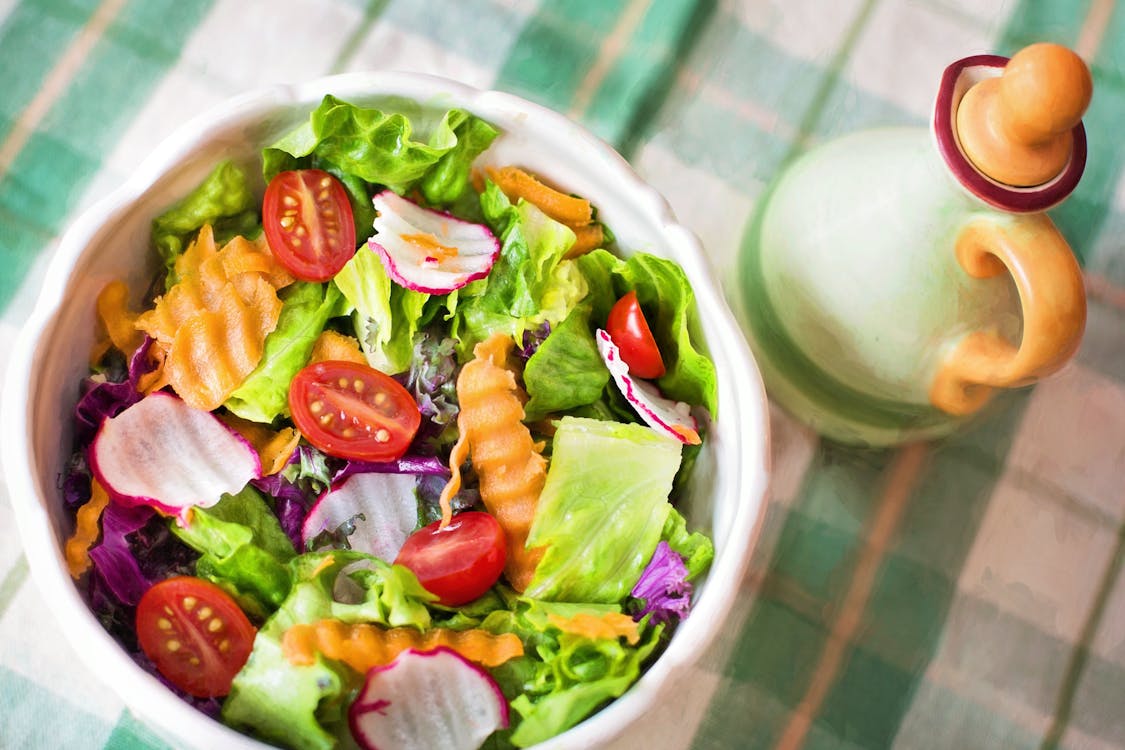 Another quick and easy way to get your kids to eat more healthy foods is to hide vegetables in dishes they already like. Blended pasta sauces are a great way to do this, but you can also sneak veggies into pretty much any baked food, and there are always plenty of other options if you get found out with one dish. 
6. Allow Snacks
Finally, although this might seem counterproductive to getting your kids to eat healthy, it's a good idea to allow them to snack. Snacking isn't inherently bad, it's just that the snack foods we tend to gravitate toward as a society aren't super healthy. To combat this, ensure that you've always got fruit, vegetables, and other healthy items around for your little ones to snack on, and give them free rein over these options. 
Getting kids to eat healthy food can be a struggle, and there are times when getting them to enjoy it can seem impossible. The good news is that this isn't the case. By implementing these tips, you'll be well on your way to getting your little ones to enjoy healthy meals. They might even surprise you with how much they love their new diet.