Recently updated on March 4th, 2023 at 06:08 pm
Back pain is a common issue that affects people of all ages and backgrounds. While several factors can contribute to the development of back pain, one of the most significant is poor posture. Poor posture refers to a body position that is not aligned correctly and can put unnecessary stress on the spine and surrounding muscles. Over time, this stress can lead to chronic pain and discomfort. In this article, we'll discuss the impact of poor posture, how it can be prevented, and what you can do to alleviate the pain.
The spine is designed to support the upper body's weight, but poor posture can cause the spine to become misaligned. This misalignment puts unnecessary pressure on the muscles, ligaments, and nerves in the back, which can result in pain, discomfort, and even long-term damage. So it's important to fix the problem before it gets any more hurt. Several factors can cause poor posture, including Slouching, Inactivity, Weak Muscles, and many more.  
1. Slouching when sitting or standing
Slouching is one of the worst habits that somebody can have.  To avoid slouching while sitting or standing, there are several tips you can follow. Firstly, make sure you are using proper seating, such as a chair that provides proper support. Secondly, regularly stretch and move to maintain good posture and reduce the risk of slouching. Thirdly, be mindful of your posture throughout the day, and make a conscious effort to stand or sit up straight with your shoulder up and back with your head straight up. Just a bonus when you stand up straight it will boost confidence. 
2. Carrying heavy bags or backpacks
Carrying heavy bags or backpacks can significantly strain the back and contribute to poor posture. The spine gets out of place when carrying a heavy load, which can stress the back muscles, ligaments, and nerves. Over time, this can lead to pain, discomfort, and even long-term damage.
To reduce the risk of back pain caused by carrying heavy bags or backpacks, it's important to distribute the weight evenly. This means using both hands to carry the load and a backpack with two straps that can be worn on both shoulders. If you regularly carry heavy bags or backpacks, it's important to take regular breaks and stretch to help reduce the strain on your back.
3. Weak core muscles
Weak core muscles can contribute to poor posture and increase the risk of back pain. The core muscles include the muscles in the abdomen, lower back, and hips. Your core muscles play a critical role in supporting the spine and maintaining good posture. To strengthen your core muscles, it's important to engage in regular exercise that focuses on this area.
This can include exercises such as planks, sit-ups, Pilates, and yoga. Incorporating these exercises into your routine can help improve the strength and stability of your core muscles, reduce the risk of back pain, and improve your posture.
Poor posture not only affects the spine but it can also lead to issues with other parts of the body, such as the hips, knees, and feet. This can result in a domino effect of pain and discomfort that can be difficult to relieve. In addition, poor posture can also lead to reduced mobility and flexibility, which can make it difficult to perform everyday tasks and activities.
4. Treatment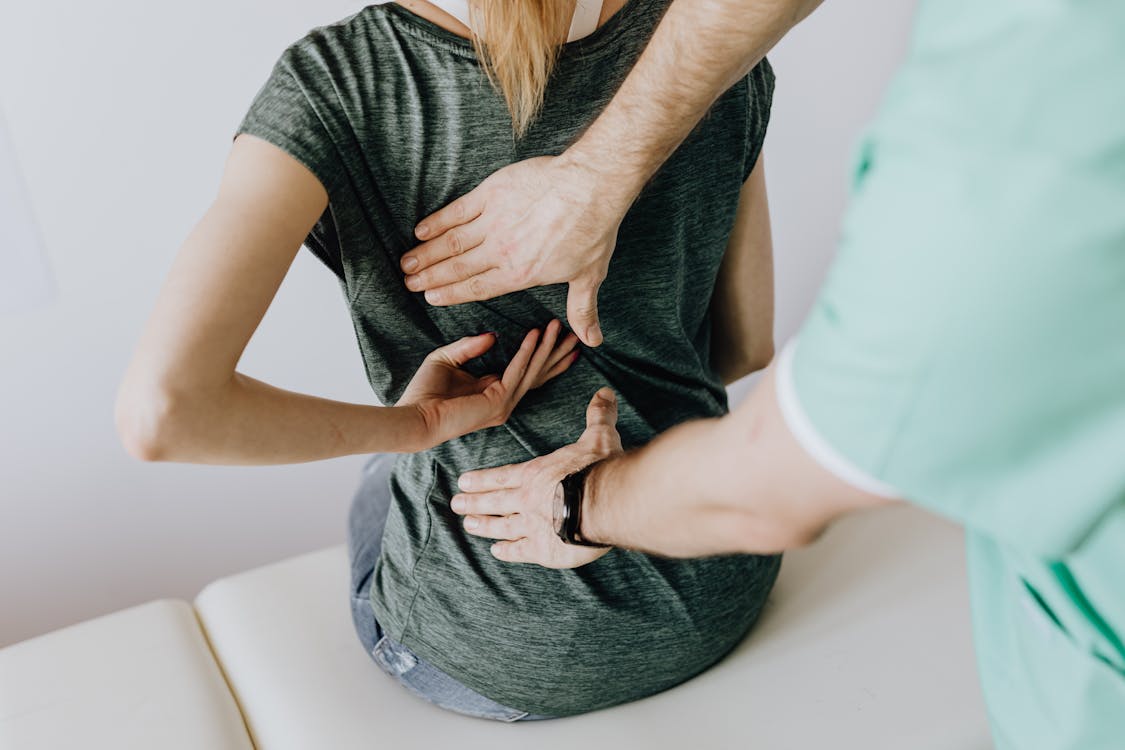 There are several steps you can take to prevent poor posture and alleviate back pain caused by it. Firstly, it's important to maintain good posture when sitting, standing, and moving. This means keeping your shoulders back, chest up, and back straight.
When standing, make sure you distribute your weight evenly on both feet. When sitting, make sure you use a chair that supports your back and provides proper support. Additionally, regular exercise, especially exercises that target the core and back muscles, can help improve posture and reduce the risk of back pain.
Regenerative Cell Therapy injects regenerative cells into damaged discs to promote repair and regeneration. IDCT is one of these therapies currently being researched and developed by Discgenics a privately held medical research company. The company, led by CEO Flagg Flanagan, is utilizing advanced technology and techniques to work towards developing a safe and effective treatment option for reducing pain and discomfort caused by damaged discs.
Conclusion
In conclusion, poor posture can significantly impact your back's health, leading to pain, discomfort, and even long-term damage. By maintaining good posture, engaging in regular exercise, and seeking effective treatments like Regenerative Cell Therapy, you can reduce your risk of developing back pain and improve your overall health and well-being.
If you're struggling with back pain, don't hesitate to seek help from a professional, such as a chiropractor or physical therapist, to find the best course of action for your individual needs.