Recently updated on October 25th, 2022 at 11:43 am
This season, American voters passed a number of exciting and important initiatives all around the country — but one of the most interesting by far was Oregon's legalization of Magic Mushrooms i.e psilocybin for medical use.
Better known by its popular name of magic mushrooms, psilocybin is a psychedelic that most famously causes hallucinations and euphoria, but there is some evidence that the compound could be valuable in helping patients of some medical conditions manage their symptoms and enjoy a better quality of life.
Claims of Psilocybin Supporters
Those who support the legalization of certain substances sometimes make wild claims about the benefits that those substances can have — and the same has been true for all manner of psychedelics, including magic mushrooms.
Unlike marijuana, which has undergone a vast shift in public reputation and is now widely regarded as a useful medical treatment, the broader cultural perception of 'shrooms is that they are a leftover from the psychedelic '60s when substances like LSD, peyote, PCP, ketamine, and others were more commonly available for experimentation. But now, you can order psilocybin mushrooms easily from many online stores or dispensaries.
Only in relatively small circles are the medical applications of psilocybin understood, and in these circles, supporters circulate claims like: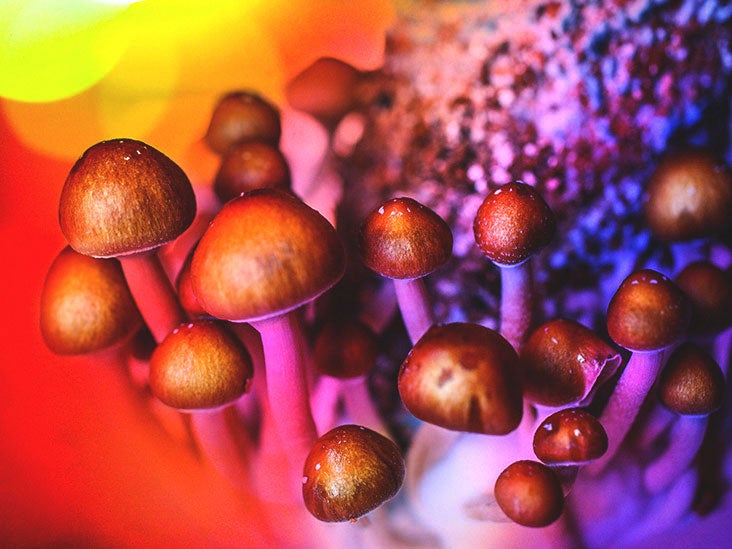 Image source: healthline.com
Psilocybin cures depression. Supporters believe that mushroom therapy can provide "breakthroughs" in depression treatment that all but eliminate depressive symptoms.
Psilocybin facilitates openness. Some mushroom users believe the substance could be beneficial in addressing trauma or managing anxiety disorders because it encourages users to shift their attitude regarding new experiences.
Psilocybin helps users end addictions. Nicotine, cocaine, and other habit-forming drugs are notoriously difficult to quit, and supporters suggest that using psychedelics, psilocybin, in particular, can assist with cessation.
Psilocybin dissolves the ego. Proponents of psilocybin suggest that the ego, the element of the personality that thinks and acts consciously, could be a limiting factor in mental health and performance. Drugs that weaken the ego and provide more power to the subconscious, then, could be beneficial.
Some studies do confirm — or partially confirm — these assertions. For example, the FDA has fast-tracked the study of psilocybin as a depression treatment thanks to astonishing research results, and a paper from Johns Hopkins University shows that psilocybin significantly improved outcomes for those quitting nicotine over a 12-month period. Still, more research is warranted to better understand the drug's applications in the medical space.
The Science of Psilocybin as We Know It
Though research on the medical applications of psilocybin is in their infancy, scientists do know some about how the drug acts inside the human body once ingested. Psilocybin mushrooms produce their famous "magic" because the chemicals within them, psilocybin and psilocin, fall into a class called tryptamines.
The structure of tryptamines is remarkably similar to that of serotonin, a chemical produced by the brain for the transmission of messages between nerve cells. Serotonin has dozens of functions, particularly within the digestive system, but a lack of serotonin can result in mood disorders like depression and anxiety.
Because psilocybin and psilocin have a similar structure, the molecules can bind to receptors in the brain designed for serotonin. This produces a number of interesting effects, most noticeably psychedelic effects like altering the perception of space and time, causing visual distortions and inspiring euphoria.
Will Psilocybin Be Everywhere?
In November, Oregon voters passed Measure 109, which stated that psilocybin mushrooms would become legally available to patients with specific mental health disorders. Currently, the law only permits the use of mushrooms in supervised settings, which typically means during therapy sessions guided by licensed mental health providers. However, this easing of the psychedelics law in Oregon could set the stage for more widespread access to the drug, perhaps through medical dispensaries — following the same route as cannabis.
Oregon was not the only state to make a ruling on psilocybin. In Washington, D.C., voters decriminalized magic mushrooms and all other psychedelics. Though this does not mean that the drugs will become legally available for sale, as weed is in Washington, D.C. through certain providers, it does demonstrate the shifting attitude regarding this class of narcotics. Likely, more states and territories will soon follow suit, either decriminalizing or legalizing mushrooms in the coming years.
The American public has finally begun to accept the safety and efficacy of marijuana as a medical tool after nearly a century of research — but states are moving fast to legalize other drugs, like psilocybin. Increased research in the coming years will indicate how magic mushrooms can be used for medical benefit.