Guess many of you have already known that Apple introduced new Mac devices- MacBook Air, MacBook Pro, and Mac mini. All these Mac models are equipped with Apple's first chip designed specifically for Mac, the M1 chip.
Meanwhile, the default macOS of Macs with M1 chips is the latest macOS 11 Big Sur. While the new Mac definitely brings outstanding features to better improve the user experience, Apple fans who have received the device find their external hard drives read only on the computer.
They are unable to rename, delete, edit, or fulfill other writing functions to the disk. What's new about the latest Mac computers and how to troubleshot external hard drive read-only on M1-equipped Mac? 
Or you didn't get one of the M1 chip Macs and you just bought a new Mac of your own with an Intel chip. This article will work for you as well. 
Let's start.
Methods to fix external hard drive read only on M1-equipped Mac
In brief, here are three possible reasons for a read-only external HD on the Mac:
The drive is NTFS formatted

You only have read permissions

The disk is corrupted
What to do when the disk is NTFS formatted
There are three options you can take into consideration if you want to have NTFS read-write access on Mac. 
1. Use NTFS for Mac software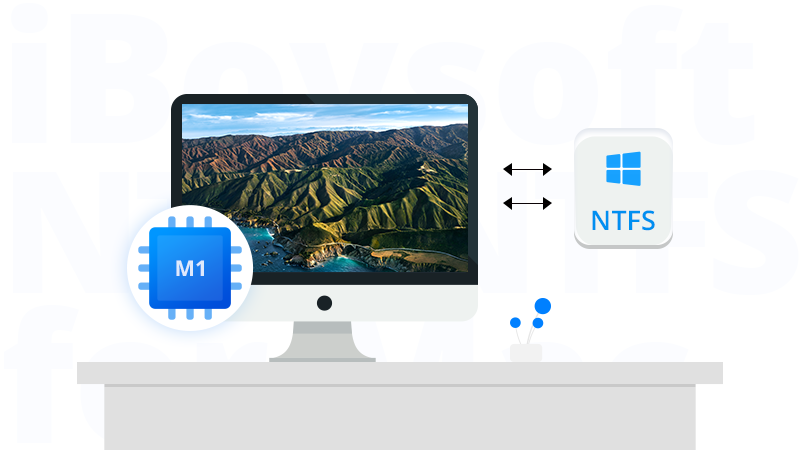 Though there are some free NTFS drivers, they have various downsides and limitations. For example, all free NTFS software now can't solve the issue when users see no files from an NTFS drive on the new Mac, not mention to write to the files. So how to choose the right NTFS software for a Mac? Up to now, iBoysoft NTFS for Mac is fully compatible with macOS Big Sur and can run seamlessly and efficiently on new Macs especially M1-implemented.  It fulfills secure, stable, and fast read-write access to NTFS files effortlessly. 
2. Use the command line in Terminal 
Strictly speaking, Apple actually offers its users a way to have write access to NTFS drives. That is to use the command line in Terminal. However, this experimental function is disabled for instability. Since some users do report that they have lost data using this method, we don't suggest you do so. 
3. Format your drive into file systems compatible with macOS
Before getting started, ask yourself is there any data valuable or important on the disk? Because formatting a drive will erase everything stored before and write a new file system. You can move forward if you have backed up your precious data. Here are the steps to format your drive.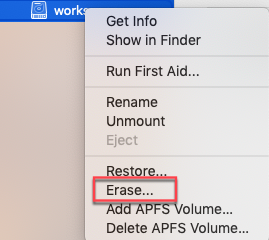 Step 1: Go to Applications > Utilities > Disk Utility.
Step 2: Select the NTFS drive from the sidebar.
Step 3: Right-click it and click Erase.
Step 4: Type in Name and choose a format for your NTFS drive (exFAT or FAT32 is recommend).
Step 5: Click Erase.
What to do when the permission is read-only
It's possible that the disk permissions are changed by mistake. Under this circumstance, you may find you can only read even for a non-NTFS drive. Here's how to change the permission ready only on your Mac: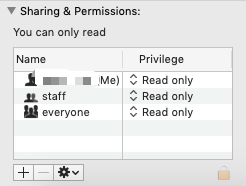 Step 1: Right-click on your drive or volume and choose Get Info, and then scroll down to Sharing & Permissions.
Step 2: Extend this column by clicking on the triangle symbol, and then click on the Lock icon.
Step 3: Input the password of your Mac, and click on Read only, then change your privilege as Read & Write in the right column.
Step 4: Click the gear button (Action menu) at the bottom of the window, choose Apply to enclosed items, and then click OK to confirm the action.
Now you can check your permission again, is it 'you can read and write'?
What to do when the disk is corrupted 
One more reason for your read-only disk is that it's corrupted due to some internal errors. Lucky you, Apple has offered a built-in tool to help you out, First Aid.  Follow the instructions below and get your disk repaired:
Step 1: Click Launchpad > Other, and open Disk Utility.
Step 2: Select the read-only external hard drive on the left window.
Step 3: Click First Aid on the top menu bar and choose Run.
Things you should know about the latest M1-equipped Mac
Apple officially announced the M1 chip on November 10 at the release event, with the first orders of M1-powered Macs arriving on November 17. The M1 chip is claimed to be a breakthrough instead of an upgrade by Apple. Want to know how huge the breakthrough is? Check the following information.
1. New level of integration
Before M1, multiple chips are needed for a Mac computer. The processor, input/output, security, and memory chips. Now, everything is different. The ARM-based M1 combines these chips into a single system on a chip (SoC), making everything much more integrated, simple, and efficient than ever. Just think about one single chip can work as powerfully as the previous four chips, amazing right? 
2. Unified memory architecture
With the feature of unified memory architecture (UMA), the performance and power efficiency of Macs with M1 chips are significantly improved. Users now can run video apps more seamlessly (3.9x faster), process images in lighting speed (7.1x faster), and interact with the device in a much more efficient way. The time an app takes to respond is greatly squeezed.
3. Better CPU performance with less power consumption 
The M1 chip contains the highest-performance CPU built so far. The 8-core CPU is said to perform 3.5 times faster than the previous ones while consuming little power. What does it mean to the users? It means after you modify documents, photoshop images, and even edit short videos, there won't be a big power drop. More likely, it won't drop at all. For those who hate carrying a charger everywhere, this feature undoubtfully makes life easier.
3. The most powerful combination ever 
Apple released a new operating system macOS 11 two days later after the introduction of the M1 chip. And it's designed to take full advantage of the M1 chip. Apple says it's their most powerful software ever running on their most advanced hardware yet. 
Though there are so many unprecedented improvements on the new Mac device, there's one issue that can't be ignored. 
Conclusion
While M1-equipped Mac delivers high performance and efficiency to a new level, it's not flawless after all. If you happen to encounter the external hard drive read only issue on your new Mac hope this post can help to some extent. More importantly, always remember to regularly back up your data.
Author bio: This article is contributed by Ciki Liu. She is a technology enthusiast who believes the power of technology can make people's lives easier. She currently works for iBoysoft and helps thousands of readers solve problems in disk corruption repair, data recovery, and NTFS writing.