When it comes to choosing roofing materials, it is the long-lasting and durable materials that increase the value of your roof. When it comes to top-quality roofing materials, EPDM is among the best options for flat roofs, slightly slanted roofs, and even window seals and car door seals too. It's non-slip coating even makes it the ideal material to be used in playrooms and outdoor decking.  
In the following article, we will take a closer look at this impressive roofing material from https://www.rubberroofingdirect.co.uk/ and understand a little more about what makes it so ideal.   
1. It's Environmentally Friendly 
One of the most important advantages of using EPDM is that it is 100% recyclable. According to ERA, or the EPDM Roofing Association, over 3.5 million pounds of EPDM rubber materials had been successfully salvaged from landfills in the years before 2006.  
 As a building material, EPDM boasts impressive longevity with a service life of well over 50 years as opposed to the 10-20 years offered by the felt roofing alternative. This means that the amount of roofing materials that will end up in landfill is reduced considerably. 
2. Blocks progress of fires 
Another important advantage of EPDM roofing is that, unlike other roofing materials, it is flame-retardant. Because it is made from synthetic rubber membranes and a special flame-retardant compound, EPDM is stable despite the wide range of temperatures to which it is exposed. This makes it the perfect material for application on your home's roof.  
These rubber materials themselves are impossible to set alight and will stop the destruction of fire from consuming the roof from the inside of the building.  
3. EPDM requires little maintenance 
Compared to the rest of the roofing materials, EPDM needs little or no maintenance to perform its function well. The increased thickness of the material also ensures that it is very durable. Better still, EPDM shows no sign of losing its durability or protective properties as it ages, it can even last as long as 50 years. Even when smaller repairs are needed, EPDM is easily repaired with simplistic glues, patches, and sealants.   
EPDM is also especially resistant to the effects of the weather. No matter what the weather is like outside, it still maintains its vital protective qualities that reduce the likelihood of cracks or leaks.  
4. It requires low-impact installation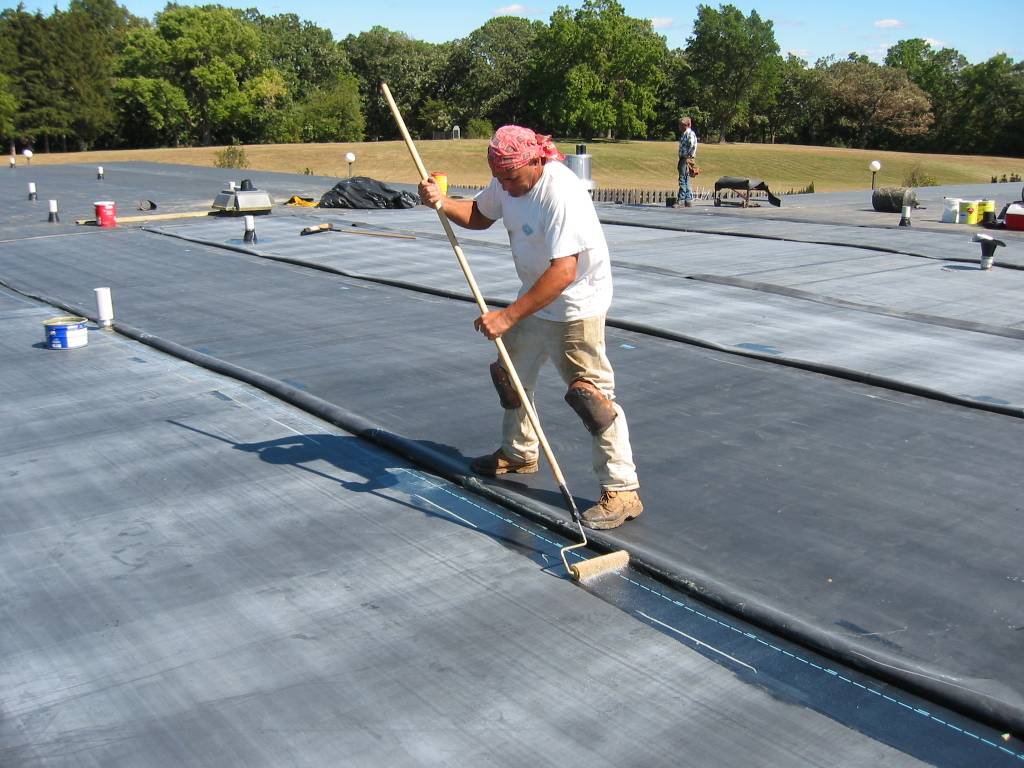 Image source: https://epdmroofs.org/
EPDM is also designed to require easy installation. It is created with fewer seams than you would find in traditional felt roofing. Even better it can be purchased in larger sizes to fit the dimensions of the roof you are covering.  
Contrary to what you may think, this is also the best option to use in occupied houses or buildings as the installation is a simple and quiet process. The simplistic action of laying EPDM means that a quick and simple installation is all that is needed and this will not impact your daily life or activities.