The driveway is an integral part of every home. It speaks volumes about the homeowner, especially their preferred style. Although most people will design their driveway to boost privacy and security, you can still use it to increase the property's overall aesthetic appeal, functionality, and character.
Retail security services can also help you enhance the security of your driveway. The driveway is also the first point of contact for your home and the very first thing visitors will notice on arrival. You thus should consider giving your driveway some character and a memorable one.
There's no better way to make a lasting impression than invest in a driveway gate. Choosing the most appropriate gate for your gateway doesn't have to be an intimidating affair. Here are a few tips and tricks to help you get started.
1. Decide On the Preferred Material (Aluminum, Steel, Wrought Iron, Or Timber)
a). Aluminum:
Aluminum is one of the best materials for driveway gates. This is because aluminum is rust-proof, cost-effective, and virtually maintenance-free. Aluminum gates also have minimal lines, can come in several colors, and often have a clean finish.
Adding a powder coat can make the gate even more durable and resistant to external elements. It is worth noting that aluminum gates really shine in residential areas where the aesthetic appeal comes above everything else. 
b). Steel:
Steel gates are stronger and more durable than aluminum gates. They are almost impossible to break into, a reason they are a preferred choice for both residential and commercial applications. The only disadvantage here is that steel is prone to rusting, considering it will be exposed to all weather elements.
Steel can also be treated to prevent rusting by either painting or powder-coating it. Most manufacturers powder-coat steel gates to improve their durability as well as aesthetic appeal. 
c). Timber:
Timber gates have been around for hundreds of years. Timber gates excel in aesthetic appeal, especially if one wants to tap into their rich and natural appearance. Proper wood selection is, however, crucial when designing your gate.
Australian hardwood is the most recommended and favorable wood material for timber gates – it doesn't warp and is resistant to rotting. 
d). Wrought Iron:
This is also an option for anyone looking for an ornate gate. Wrought iron gates are available in both modern and traditional designs, as well as custom designs.
There are lots of estate driveway gates in the UK to choose from that will complement the style of your home.
2. Choose Between Sliding and Swinging Gate
How do you wish the gate to open? Sliding gates are preferred when one wishes to save on space but maintain class. Swinging gates are also popular, leaving you to make the final decision on your preferred one. Here are some of the advantages of each: 

a). Advantages of sliding gates: 
Open and close horizontally

Are neat, economical, and use space efficiently

It can be easily installed on most surfaces

Best for driveways with an incline

Sliding gates are easier to control remotely with a keypad or remote control

Are an excellent option when looking to save on space
b). Advantages of swinging gates:
It can be designed to swing in or out according to the space available

The best option where there's not enough room for a sliding gate to retract to

It can be remote control or keypad operated

Works best on flat surfaces

Uses more advanced operating mechanisms (sometimes makes them expensive). 
3. Choose The Best Style for Your Home and Neighborhood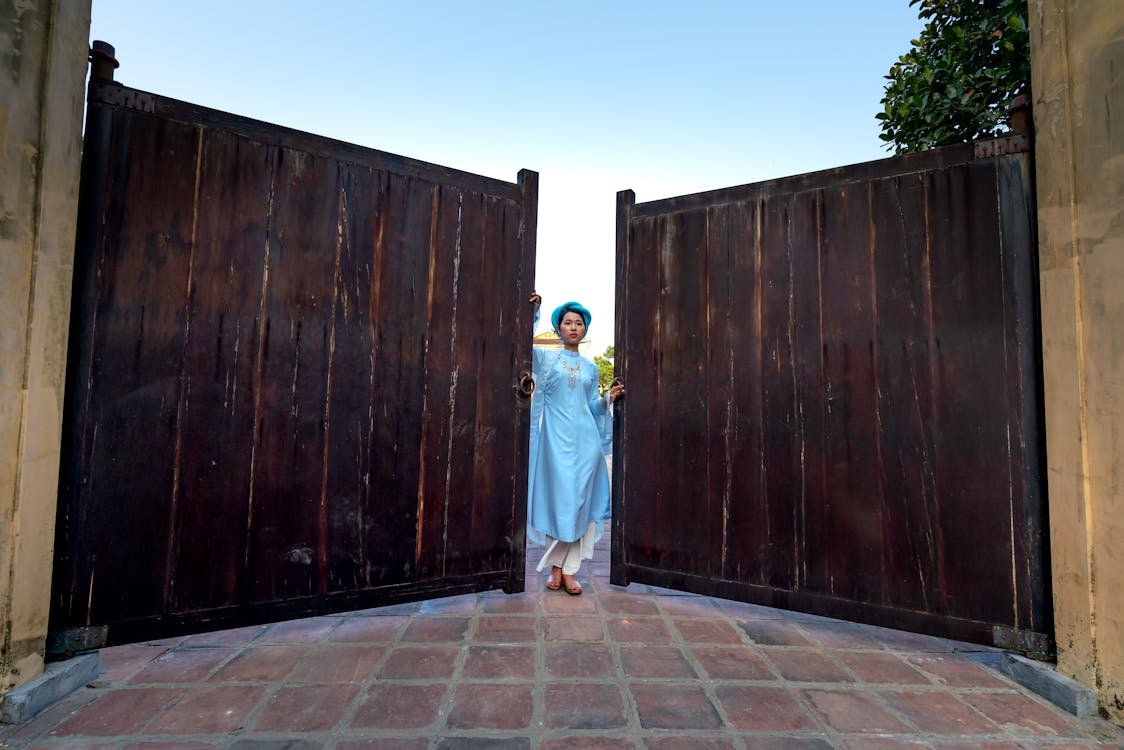 Style is the second most important factor to consider when choosing your driveway gate, after material. You want to choose a style that blends in with your property's theme, design, and surrounding environment in general. Your home's architectural features and style should be the key driving factors to choosing the right style for the gate as well. If possible, pick a design aimed at enhancing your home and landscape's outlook. Some of the styles to consider include: 
Tubular: Tubular gates offer both style and cost-effectiveness. The design can range from a simple version to a more ornate one. It can also include some embellishments and decorative tips.
Picket: Picket gates can be designed to either swing or slide open. They however are usually made of aluminum, hence requiring minimal maintenance.
Slats: Slats offer more privacy compared to tubular gate designs. This is because the posts are horizontal as opposed to vertical in tubular gate designs.
Security gates: Security gates are constructed with galvanized steel for high strength and durability. They can also include sharp embellishments to repel intruders. 
4. Access Methods/Options
A number of factors ought to be considered when choosing access options for your driveway gate, including privacy and security. Some of the access methods commonly used today include: 
Manual: This is the most basic option you can choose. It essentially has to be opened and closed by hand. This option is somewhat less secure as you'd have to step out to open the gate, leaving you vulnerable, especially if along a busy street.
Remotely controlled: A remote-controlled gate uses a powered machine that can be triggered at the touch of a button. The gate can be programmed to close automatically as soon as you drive through.
Pin/Code Lock: A code or access pin is required to open this type of gate. The best thing about gates with access pads installed is that you can enter the code whilst still in the car. The keypad is also powered by your home's power source, hence reducing the risk of being locked out.
Intercom-controlled: An intercom-controlled gate is one of the most secure you can have. One would need a paired swipe card or pin pad access to control the gate. Anyone without the keypad or code would thus have to use the buzzer to be allowed in. The intercom also has a security camera and mic for visual and audio confirmation. 
Solar-powered: Solar-powered gates are slowly growing in popularity today. With the gate powered by solar panels, you'll never have to worry about power cuts or high energy bills. This is an excellent option if you are looking to install an automated driveway gate. 
5. Settle on A Favorable Color
The color of the gate is another key factor to consider too. Although you might want to go with your favorite color, let the style, color, and theme of your home help you decide on the best color for the driveway gate.
Other factors, such as the driveway, material used for the gate fabrication, surrounding landscape, etc., should be considered when deciding on a suitable color. Choosing the right color will be crucial in boosting your home's overall look and appeal and even improving its market value.