Chinese cuisine has always been popular for its bold flavors, unique cooking techniques, and vibrant colors. One dish that perfectly embodies these characteristics is Chinese Fried Rice. This versatile and delicious recipe is loved by people all over the world. 
Today, we will share with you the secrets to preparing mouthwatering Chinese Fried Rice using the finest ingredients, including Mahatma Jasmine White Rice.
Ingredients
2 cups Mahatma Jasmine White Rice

4 cups water

3 tablespoons cooking oil

3 cloves garlic, minced

1 tablespoon fresh ginger, finely chopped

2 eggs, beaten

1 cup diced vegetables (carrots, peas, corn, etc.)

1 cup cooked protein (shrimp, chicken, beef, etc.)

3 tablespoons soy sauce

1 tablespoon oyster sauce

1 teaspoon sesame oil

Salt and pepper to taste

Chopped green onions or cilantro for garnish
Instructions
Step 1
Rinse the Mahatma Jasmine White Rice under cold water until the water runs clear. Drain well.
Step 2
In a medium-sized saucepan, combine the rinsed rice and 4 cups of water. Bring to a boil over high heat.
Step 3
Reduce the heat to low, cover the saucepan, and let the rice simmer for 15-20 minutes or until all the water is absorbed and the rice is tender. Remove from heat and let it cool completely. It's best to refrigerate the cooked rice overnight or for a few hours before using it for fried rice.
Step 4
Heat a wok or large frying pan over high heat. Add the cooking oil and swirl it around to coat the pan evenly.
Step 5
Add the minced garlic and chopped ginger to the hot oil. Stir-fry for about 30 seconds or until fragrant.
Step 6
Push the garlic and ginger to one side of the pan and pour the beaten eggs onto the empty side. Scramble the eggs using a spatula until they are cooked but still slightly runny.
Step 7
Mix the scrambled eggs with the garlic and ginger, breaking them into small pieces.
Step 8
Add the diced vegetables and cooked protein to the pan. Stir-fry for 2-3 minutes until the vegetables are tender-crisp and the protein is heated through.
Step 9
Add the cooled cooked rice to the pan. Use a spatula to break up any clumps and stir-fry everything together, ensuring that the rice is well-coated with the seasonings and ingredients.
Step 10
Drizzle the soy sauce, oyster sauce, and sesame oil over the rice. Mix well to distribute the flavors evenly. Season with salt and pepper to taste.
Step 11
Continue stir-frying for another 2-3 minutes until everything is heated through and the flavors have melded together.
Step 12
Remove from heat and garnish with chopped green onions or cilantro.
Unveiling the Origins of Chinese Fried Rice
Chinese Fried Rice has a rich history dating back thousands of years. It originated in ancient China, where rice was a staple food. As trade routes expanded, this delectable dish spread across different regions and gained popularity worldwide. 
Today, Chinese Fried Rice has become an integral part of Chinese cuisine and is enjoyed in various forms, from street food stalls to high-end restaurants.
The Perfect Rice for Chinese Fried Rice
When it comes to cooking Chinese Fried Rice, using the right type of rice is crucial. Mahatma Jasmine White Rice is the ideal choice for this recipe. Known for its fragrant aroma and fluffy texture, this long-grain rice perfectly complements the flavors of the dish. 
To get the water to rice just right, follow the instructions on the package or visit Mahatma Rice's website at: water rice ratio for more information on preparing the rice to perfection. Using high-quality rice like Mahatma Jasmine White Rice guarantees a delicious outcome every time you cook Chinese Fried Rice.
The Secret to Flavorful Chinese Fried Rice
1. Properly cooked rice: To achieve the best results, it is essential to cook the rice a day in advance. This allows the grains to dry out slightly, ensuring a perfect texture for frying.
2. Hot wok, cold oil: Heat your wok or pan before adding oil. Once the wok is hot, add a generous amount of cooking oil. Swirl the oil to coat the wok evenly before adding any ingredients.
3. Aromatics and seasonings: Start by sautéing finely chopped garlic and ginger in the hot oil until fragrant. This will infuse the oil with delicious flavors. Add other seasonings like soy sauce, oyster sauce, and a touch of sesame oil for an authentic taste.
4. Vegetables and proteins: Add your choice of vegetables and proteins, such as diced carrots, peas, corn, shrimp, chicken, or beef. Stir-fry them quickly to retain their crispness and flavors. Don't be afraid to get creative and experiment with different combinations!
Mouthwatering Accompaniments
Egg Drop Soup: This light and flavorful soup complement the richness of Chinese Fried Rice perfectly. The silky texture of the eggs and the delicate flavors will leave you wanting more.
Spring Rolls: These crispy and savory appetizers are a match made in heaven with Chinese Fried Rice. The combination of textures and flavors will delight your taste buds.
Sweet and Sour Chicken: The tangy and sweet flavors of this classic Chinese dish balance the savory notes of the fried rice. The tender chicken and vibrant vegetables create a harmonious and satisfying meal.
Storing Chinese Fried Rice Correctly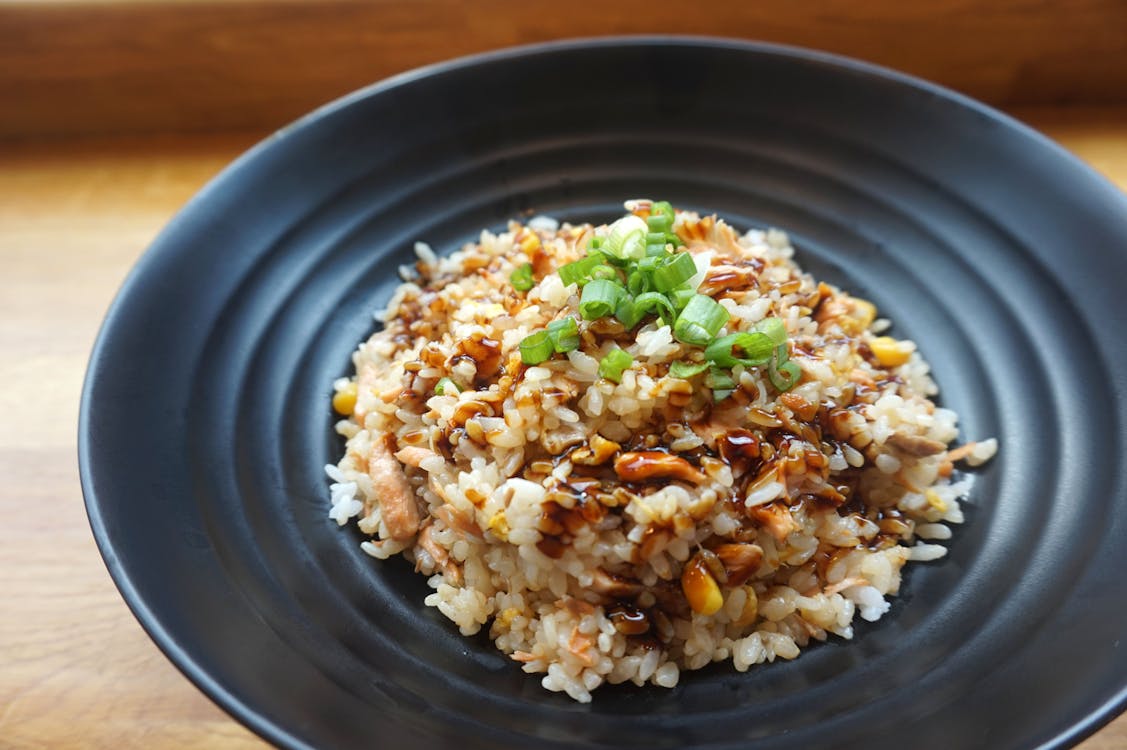 Allow the fried rice to cool completely before storing it in an airtight container.

Refrigerate the rice within two hours of cooking to prevent bacterial growth.

Consume the leftover fried rice within three to four days for the best taste and quality.

When reheating, add a splash of water or broth to the rice to prevent it from drying out. Stir-fry it in a hot pan or microwave it until heated through.
Chinese Fried Rice is a beloved dish that never fails to satisfy. By using Mahatma Jasmine White Rice and following the tips shared here, you can create a delightful and authentic Chinese Fried Rice experience right in your own kitchen.
Enjoy the enticing aromas and the burst of flavors in every mouthful of this classic Chinese delight!