Are you looking for a quick, easy, and healthy meal that bursts with flavor? Look no further than this mouthwatering recipe for Couscous with Vegetables. Packed with nutritious ingredients and customizable variations, this dish is sure to satisfy your taste buds.
Whether you're a seasoned chef or a beginner in the kitchen, 
Ingredients
1 cup of couscous

1 ¼ cups of vegetable broth

1 tablespoon of olive oil

1 red bell pepper, diced

1 zucchini, sliced

2 carrots, peeled and chopped

1 cup of cherry tomatoes, halved

2 tablespoons of chopped fresh parsley

Salt and pepper to taste
Instructions
Step 1
In a medium-sized saucepan, bring the vegetable broth to a boil. Once boiling, remove from heat and stir in the couscous. Cover and let it sit for about 5 minutes until the couscous absorbs the liquid.
Step 2
Meanwhile, heat the olive oil in a large skillet over medium heat. Add the diced bell pepper, sliced zucchini, and chopped carrots. Sauté for about 5 minutes until the vegetables are tender yet still crisp.
Step 3
Add the halved cherry tomatoes to the skillet and cook for an additional 2 minutes, allowing them to soften slightly.
Step 4
Fluff the cooked couscous with a fork and transfer it to the skillet with the vegetables. Mix everything together gently, ensuring that the couscous is evenly distributed.
Step 5
Season with salt and pepper according to your taste preferences. Sprinkle the chopped fresh parsley on top for added freshness and aroma.
Step 6
Serve the Couscous with Vegetables warm as a standalone meal or as a side dish alongside grilled chicken or fish. 
RiceSelect Pearl Couscous
When it comes to preparing couscous with vegetables, using high-quality ingredients can make a significant difference in the end result. That's why we recommend using RiceSelect pearl couscous, available at: https://riceselect.com/product/riceselect-pearl-couscous Try it and you'll know how it enhances the overall culinary experience.
This brand takes couscous to a whole new level. Known for its exceptional quality, RiceSelect pearl couscous offers a delicious texture and rich flavor that perfectly complements the vegetables in this recipe. 
Its unique pearl shape provides a satisfying bite and ensures that the couscous absorbs the flavors of the dish, creating a harmonious blend of taste and texture.
Nutritional Benefits of Couscous with Vegetables
Couscous with Vegetables offers a wide range of nutritional benefits, making it an excellent choice for those seeking a balanced diet. The main ingredient, couscous, is a grain made from semolina wheat. It is a great source of complex carbohydrates, which provide long-lasting energy and promote satiety. 
The addition of fresh vegetables in this recipe enhances its nutritional value even further. Vegetables like bell peppers, zucchini, carrots, and tomatoes bring a vibrant array of vitamins, minerals, and antioxidants to the dish. 
They are rich in fiber, which aids digestion and helps maintain a healthy weight. Furthermore, the colorful assortment of vegetables adds visual appeal, making this dish as pleasing to the eye as it is to the palate.
Variations of this dish
The beauty of Couscous with Vegetables lies in its versatility. Feel free to experiment with different ingredients to create your own unique twist on this classic recipe. Here are a few variations to inspire you:
1. Mediterranean Delight: Add Kalamata olives, feta cheese, and a squeeze of lemon juice for a Mediterranean flavor explosion.
2. Spicy Sensation: Incorporate diced jalapeños or red chili flakes for a fiery kick. Pair it with a cooling cucumber and yogurt sauce to balance the heat.
3. Protein Boost: Boost the protein content of the dish by adding cooked chickpeas, grilled tofu, or shredded rotisserie chicken.
Tips for a perfect couscous with vegetables
Fluffing is Key: When preparing the couscous, make sure to fluff it with a fork after cooking to separate the grains and prevent clumping.
Customize the Texture: If you prefer a lighter texture, use a fork to break up the couscous gently. For a fluffier result, add a small pat of butter or a drizzle of olive oil before fluffing.
Enhance the Flavor: Experiment with different herbs and spices to elevate the taste. Basil, cilantro, cumin, and paprika are excellent options to explore.
Accompaniments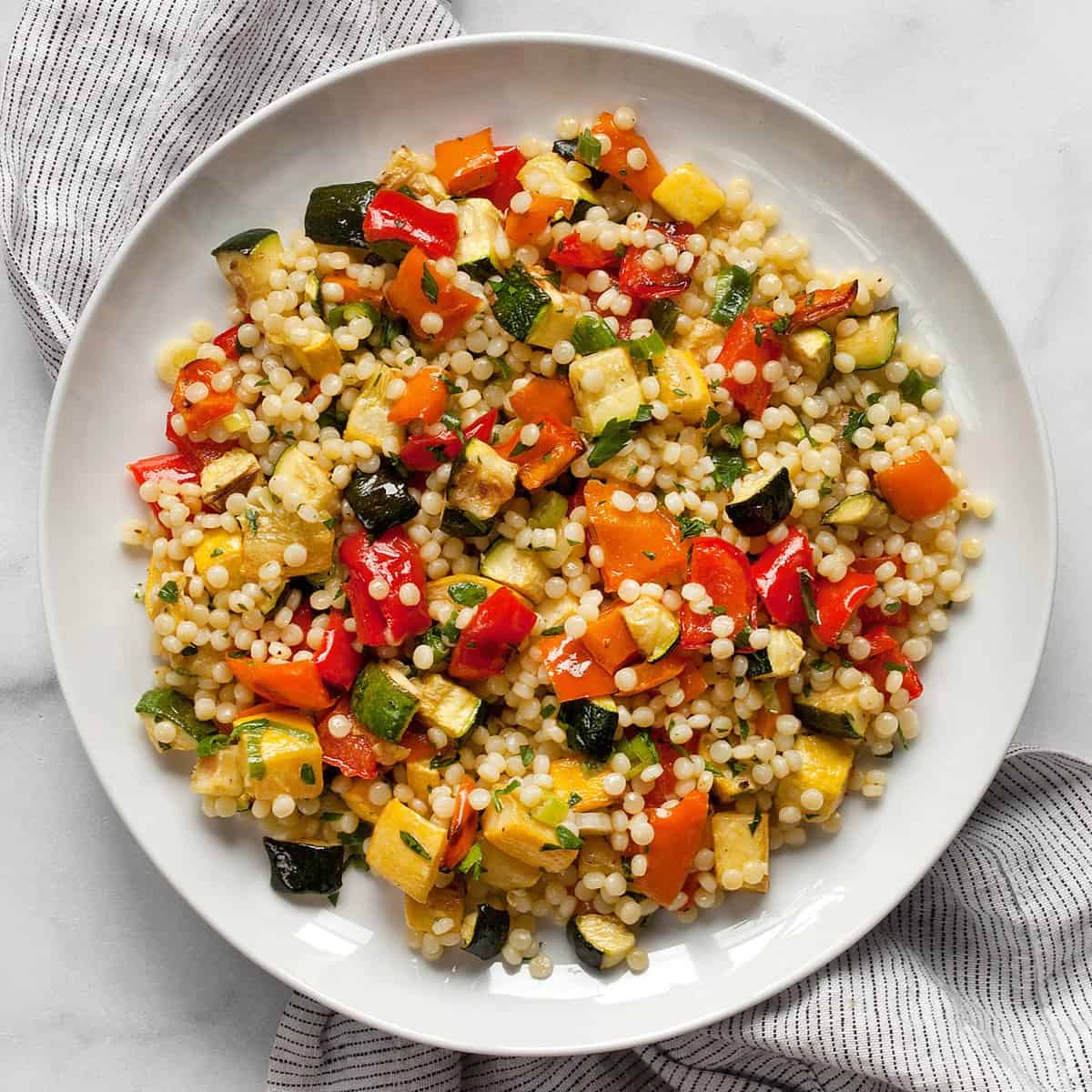 Image source: https://www.lastingredient.com/
Couscous with Vegetables can be enjoyed on its own or paired with delightful accompaniments. Here are a few suggestions to enhance your dining experience:
1. Herbed Yogurt Sauce: Prepare a refreshing sauce by combining plain yogurt with minced garlic, lemon juice, and a sprinkle of chopped fresh herbs such as dill or mint.
2. Roasted Vegetables: Roast additional vegetables like eggplant, onions, or mushrooms alongside the main dish for added depth of flavor.
3. Grilled Meats: Serve the Couscous with Vegetables alongside succulent grilled chicken, lamb chops, or beef kebabs for a complete and satisfying meal.
How to preserve correctly
If you have leftovers or want to make a larger batch of Couscous with Vegetables for meal prepping, follow these guidelines to ensure proper storage:
1. Refrigeration: Place the cooled couscous and vegetables in an airtight container. Store it in the refrigerator for up to 3 days.
2. Reheating: To reheat, transfer the desired portion to a microwave-safe dish and sprinkle a few drops of water on top to prevent dryness. Microwave on high for 1-2 minutes, stirring halfway through.
3. Refreshing: To restore moisture and fluffiness, drizzle a little olive oil or vegetable broth over the reheated couscous and vegetables before serving.
Couscous with Vegetables is a delightful and versatile dish that caters to both your taste buds and nutritional needs. With its rich flavors, vibrant colors, and easy preparation, this recipe is a go-to option for a quick and healthy meal. 
Remember to explore the exciting variations, implement secret tips, and enjoy it with delightful accompaniments to elevate your culinary experience. Whether you're a fan of Mediterranean cuisine or simply seeking a nourishing dish, this Couscous with Vegetable recipe will undoubtedly become a staple in your kitchen.
For more information and to purchase high-quality pearl couscous for this recipe, visit RiceSelect's website.