Recently updated on October 25th, 2022 at 11:01 am
September. We still enjoy the sun, flowers, and the opportunity to travel in a velvet format. Therefore, you will probably be interested in the idea of independent tours in European destinations. Use it! And don't forget a handy travel kit — you'll always need it.
Europe is a place where there is always a big pleasure to walk, watch all the surrounding beauty, and take photos. A walking tour Split in Europe offers the best option to accomplish this wonderful idea.
1. Neuschwanstein Castle, Germany
A visit to the fabulous Neuschwanstein Castle, which seems to be lost in mysterious forests in the silence of the Bavarian Alps, will be a real delight. A stunning view of it opens from the observation deck of the Marienbrücke bridge, which is located at the height of 92 meters above a gorge with a mountain river and cliffs. There are always many tourists here who want to take beautiful photos.
You can book entrance tickets for visiting the castles of Neuschwanstein, Hohenschwangau, and the Museum of the Bavarian Kings on the website. The cost of visiting Neuschwanstein Castle is €13, and the tour duration is 35 minutes.
2. Split, Croatia
Split, a vibrant harbor city, is regarded as Dalmatia's capital. The city is referred to as "the most beautiful city in the world" and "Mediterranean bloom" by its own citizens. It is situated in a gorgeous bay that straddles the Adriatic Sea and mountains. For 1700 years, the city was populated.
It can claim unique architecture and the richest cultural heritage because it was home to Romans, Croats, Hungarians, Venetians, and Austrians. Split has all the beauty and diversity of a contemporary Mediterranean city, but it also moves at a leisurely pace that is very comfortable to adjust to.
3. French Riviera
Côte d'Azur is a magical corner of France, filled with contrast and splendor. All resorts are located close to each other, so it is possible to see the sights at your leisure. The beaches are mainly municipal, equipped with everything you need, and a wide selection of water activities is presented. In the coastal area, restaurants, cafés, and taverns are open until early morning. In September, many cultural and sports events and festivals take place at the resorts.
Resorts: Nice, Cannes, Antibes, Grasse, Juan-les-Pins, Saint-Tropez, Saint-Paul-de-Vence, Mentona, Saint-Jean-Cap-Ferrat, Principality of Monaco, etc.
4. Seljalandsfoss Waterfall, Iceland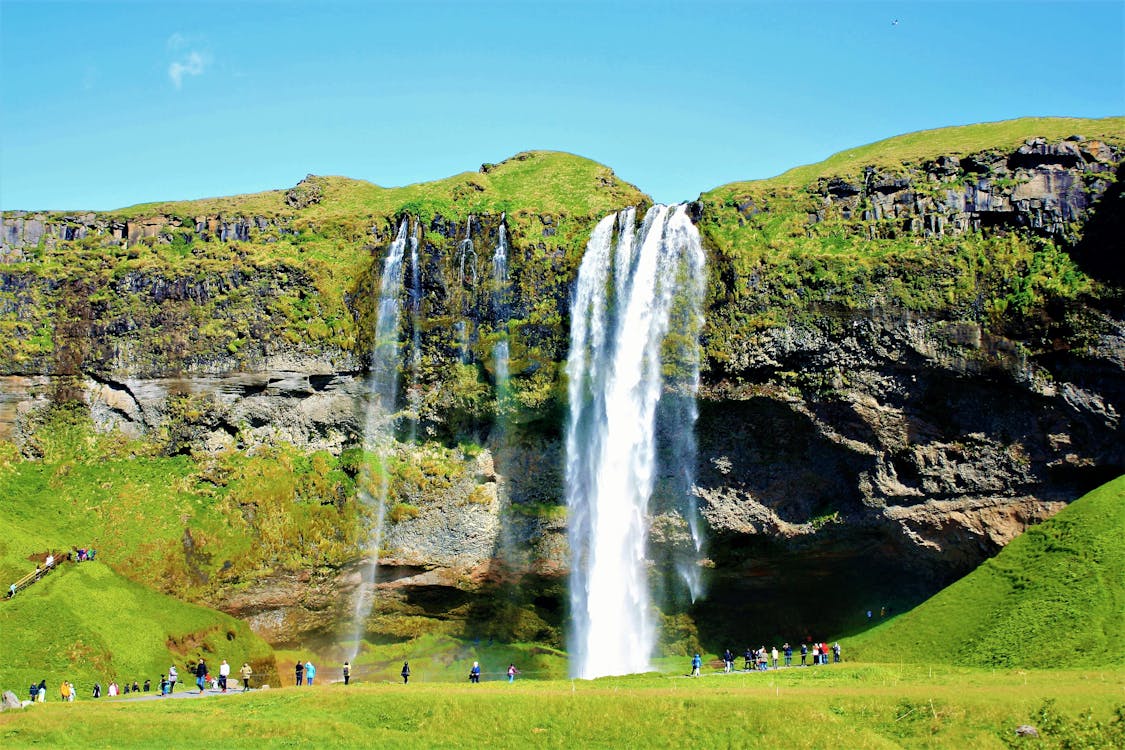 The image of the Seljalandsfoss waterfall is often found on calendars and in books about Iceland. The uniqueness of the waterfall is that you can move around and observe it from all sides, including from the reverse side of the water flow. To avoid a large crowd of tourists and to take beautiful photos, it is better to come to the waterfall in the afternoon. Take care of waterproof clothes and comfortable shoes.
5. Hallstatt, Austria
The small town of Hallstatt in the Salzkammergut region is an alpine fairy tale by the lake and a tourist benchmark in Austria. Everything is harmonious here: multicolored "doll" houses at the edge of emerald waters, clean and equipped beaches, and mountains covered with a fluffy pine forest.
You can climb the funicular to the observation deck of the Salzburg mountain, from where you will have stunning panoramic views, go down to the ancient salt mines with an underground lake, go cycling, dive scuba diving, and relax at the campsite. Local cafés will treat you with punch, mulled wine, and dishes of national cuisine.