Recently updated on October 25th, 2022 at 12:08 pm
Today we will talk about how you can secure your Wi-Fi, having a speedy and stable Wi-Fi connection is something everyone enjoys nowadays, especially when most of the devices we use most frequently depend on our Internet connection.
When people buy a new wireless router, most will just go through the quick start guide and that's it. A small number of people would actually go through the router settings and take all the necessary steps to secure their Wi-Fi router. Most wireless routers do come preconfigured but, in most cases, it isn't enough to keep you safe from neighbors using your Wi-Fi without your authorization or someone else trying to hack into your router.
Why should you secure your Wi-Fi router?
The main reason why you should secure your Wi-Fi router and protect your wireless network is that if anything bad or illegal is being done on your network it can be traced back to you.
You might have heard the story, which actually happened, where a man got arrested because of child pornography, although he never did it personally. Or someone could use your connection to download movies via torrent sites. If it comes to a lawsuit it will be with your name on it. It is also possible for someone to access and get your personal data and various accounts details stored on the devices in your network. So, although it doesn't mean this will actually happen to you, it's always better to be on the safe side.
How to secure your Wi-Fi router?
Before we start securing our router, we have to mention this. The user interface of the router settings is different depending on the router brand or model. However, everything is very similar, there are just differences in the way the same settings have been named and in which menu they are placed. For example, while one router will refer to the wireless password as Wi-Fi password, others can use the term Pre-Shared key or Passphrase.
Below video explains why and how you can secure your Wi-Fi router generally.
However, as we said everything is similar and we're going to guide you through the interface of a TP-Link Archer C9 router. Hopefully, you will find all the settings needed to be changed in order to secure your router.
But first things first
In order to get access to all the settings to secure the router we have to login to our router first. To do that we need several things:
a computer, tablet or smartphone

access to the network wither via Wi-Fi or a network cable.

the router default login details (Default IP address, username and password)
First launch the web browser installed on your device and type the default router IP in the Address bar. If you don't know the IP you can easily find it yourself using the Command prompt in Windows and the IPCONFIG command. In the results you will find the router default IP listed as Default Gateway.
After you enter the default IP you will be asked to enter the default username and password. These login details can be found on a sticker on the router or in the user's manual. Type these in and you will gain access to the router settings. If needed you can find steps by step instructions on how to login to various routers at Routerctrl.com
Let's see what can we change now.
Changes in the Wireless settings
Important note: Since you are probably using a dual-band router make sure to make the changes to both 2.4GHz and 5GHz. Just make sure to select the right one on the top-right of the settings page.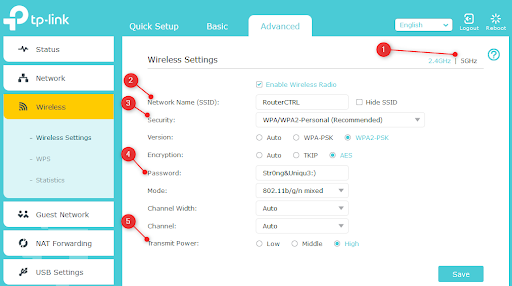 Make sure the Advanced tab is selected on the top menu. Check the menu on the left and select Wireless and then Wireless settings. Here you can change the:
SSID or Network Name
Change the default Network Name (SSID) into something unique. Most often, the router brand will be listed as a network name. If someone knows your router brand or model it will take less than a minute to find out the default login details.
Security type
Change the Security type. The best option now is to select WPA/WPA2-Personal. Version WPA2-PSK. Encryption AES.
Wi-Fi Password
Change the Wi-Fi password in the Password field. Make sure to type a strong and unique password, at least 12 characters long and made of capital and small letters, special characters and numbers. At the same time make sure it is something memorable.
Decrease Transmit Power
You don't have to bother with this feature but you really don't have to use the router at full power. If you live in a small apartment, you wouldn't like your Wi-Fi signal to be accessible from outside the apartment. By lowering the Transmit Power the signal will remain inside the apartment making it impossible for anyone from the outside to connect to the router. Of course, if you live in a big house you shouldn't touch this feature.
Don't forget to SAVE the changes.
Change the Default Router Password

Generally speaking, wireless routers come preconfigured with a default username and password. Most routers allow the password to be changed, but if your router allows you to change the router username as well, please do it. The main reason for this is that the most common usernames are admin or user. The most common password is admin, password or user. Changing these router login details will add another layer of protection to your wireless router.
You can find this feature in the System Tools menu on the left, under Administration.
Disable Remote Management
It is best to have the remote management feature disabled unless you are using it frequently. In order to understand why it is important to disable it you need to know that it basically allows anyone to access your router via the Internet. Everything that person needs to know is the router password, which by default is set to admin or password.
This feature is also located in the System Tools menu on the left, under Administration. When you get there, just scroll down a little to find it.
Disable WPS (Wi-Fi Protected Setup)
The WPS basically makes connecting to your wireless network much easier with the help of a PIN number or a physical WPS button on the router. However, if you have created a strong but memorable wireless password you really don't need this feature. And if your router allows you to disable WPS it is recommended to do it, or at least disable the PIN authentication. You can find this option in the Wireless menu, listed as WPS.
Disable UPnP
The UPnP (Universal Plug-and-Play) feature is enabled by default. The truth is that hardly anyone bothers to turn it off. However, when enabled this feature will allow your computer and other Internet appliances to discover and communicate with each other within the local network. This is perfect for malware to infect all your devices which are part of the network. There fore you are advised to disable this feature and you can find it in the NAT Forwarding menu, listed as UPnP.
As you can see, it doesn't take much to secure your router and wireless network. And we strongly recommend you to do that as soon as possible. After all you know the saying – Better safe than sorry!