Recently updated on January 21st, 2023 at 09:26 am
Many historians argue that the ancient Greeks and Romans were the ones who originated signs. They had to use pictures to identify relations and regimes, and infrastructure. Nowadays, signage is free of industrial and government use in everyday life. Paper marketing has been significantly displaced and reduced by screens. Companies are increasingly working on a paperless strategy to spread the word.
Signage has come a long way from incorporating it in hand-carved wood, vibrant paints, and gold engraving to digitally displaying it on different platforms. Many businesses use digital signage to grab people's attention, promote their company, and enlighten potential customers. So, what exactly is digital signage?
What is Digital Signage?
Nowadays, you can see digital signs almost anywhere: on the highway, in restaurants, cafes, airports, and even in the streets. The word "digital signage" is a catch-all for all these applications. Its definition and whether the term itself is even suitable to have been widely debated, yet there is no denying its presence.
Digital Signage uses dynamic text and visual messages to target customers using LED lights, LCD panels, or plasma displays. The process usually includes a computer device or player that converts the signage's contents and renders it on any boards. Different industries use digital signs, from displaying the menus on your favorite fast-food chains to cinemas showing previews of movies.
Traditional vs. Digital Signage
Businesses have shifted from traditional signage to digital counterparts over the previous decades. The answer is basic: Digital signage is more effective than conventional signs in getting attention, cutting costs, and producing an immersive and engaging experience.
On the other hand, there are cases where traditional signs are still a good option over digital signs. An example of this would be a single-use sign printed once and will never be updated. Another would be seasonal signs, printed only during the said season or occasion and nothing more.
What makes Digital Signage?
Digital signs make it easy to convey your message effectively with content produced on screens across the streets or worldwide. There are many areas and fields of work wherein digital signage solutions can be applied and used to one's advantage. These factors evaluate each signage:
Hardware – Usually consists of Screens, media players, network components, and mounts.
Software – The software used on media players
Connectivity – Refers to how the screens connect back to the content management system by cables or Wi-Fi.
Installation – Refers to the whole installation process, from site visits through the final installation
Content – Refers to producing content or purchasing new material to keep the network up-to-date and relevant.
Procurement – The channels that end users use to buy the different components of the network's digital signs
Identifying your Needs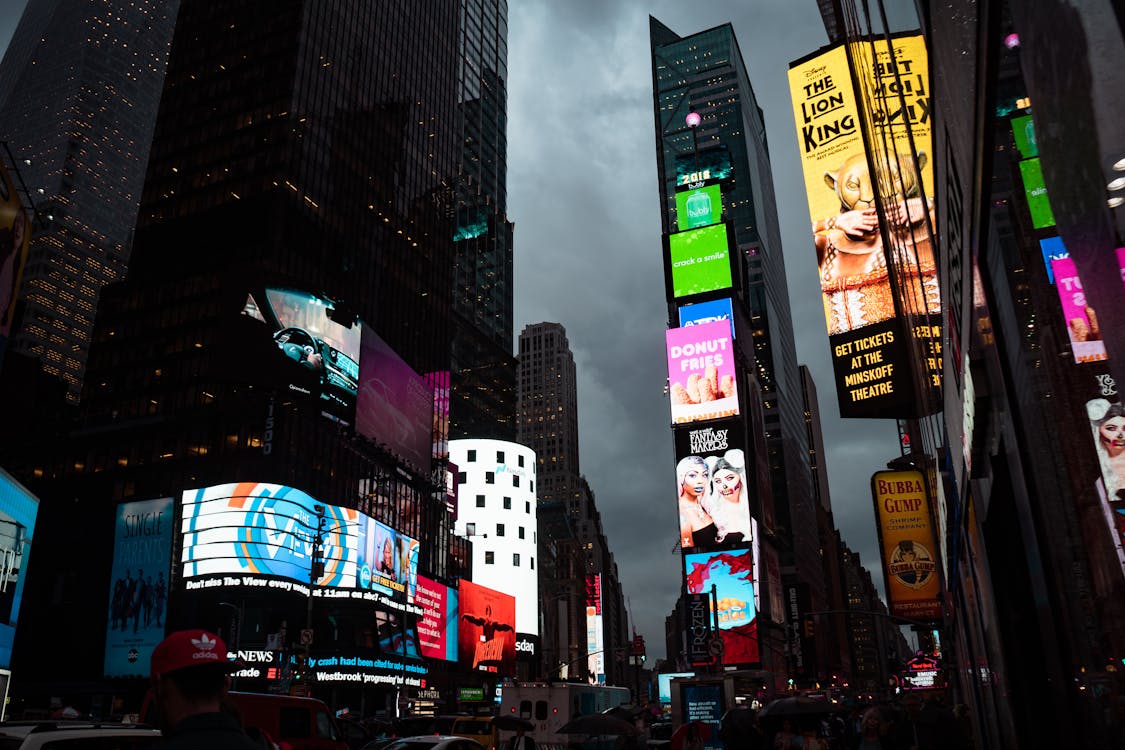 There are a few things to think about before adopting digital signage. Once you are decided, consider the following questions while planning:
How many screens do you want to install?

What kind of content would you be showing?

How much are you willing to spend?

What is the expected release date for the project?
Digital signage should be developed and carried out by experts, especially if you have a detailed scope. An installation contractor can determine whether your aims are possible, recommend the best technology, and guarantee proper setup. 
Placement Ideas and How it's Used
Businesses should know the distinction between traditional and digital signs. When is it best to use one over the other? Where do you strategically place them? Well, it may depend on the style, the setting, and the target audience. Here are some ideas on where to place them effectively and how to use them:
1. Walls and Columns
Whether you're enjoying a walk outside the city or inside malls, these are one of the most common places where you see signs. Usually placed flat against a surface or angled towards the passersby where high foot traffic is. These are used at events usually when having an LED screen hire team setting up the event walkways.
2. Kiosks 
Whether it's self-service, where you order your favorite meal, or a simple display, these units work best in highly trafficked areas or a few steps inside a store. Customers and visitors are more inclined to interact with screens as they adjust to their new surroundings.
3. Waiting Areas
Digital signs are best placed in lobbies where customers are waiting. Digital signage can include entertaining and instructional materials; it can be something other than advertisements. With interactive digital signage, it kills time when choosing content to watch, playing games, and even subscribing to newsletters (which you can use for marketing, of course). 
Meanwhile, shopping malls and hotels can use digital content to construct calendars that share upcoming events and promotions for their services or products.
4. Employee Areas and Break Rooms
Remember that digital signage can be something other than customer-facing. Rather than sending emails or written memos, you can now share updates with your employees via digital screens. Whenever they need an excellent lift-me-up, you can flash motivational quotes on the screen.
5. Museums and Exhibits
Often used as a welcome board, wayfinding tool, or digital wall for comprehensive artifact information and even to promote upcoming exhibits and call for donations. Museums use digital signage to boost the tourists' experience while optimizing staff members' daily tasks.
Ready for a demo?
Many businesses need to pay more attention to digital signage. Digital signs in today's workd of business have been proof of effective marketing and advertising. The misconception that it can be too expensive has long been debunked. Technological advancements have reduced the cost of solutions like big LED video walls, making them affordable for many companies. 
Creating the ideal digital signage environment that captures and maintains attention requires science and strategy. It's hard to decide whether to attach a screen in the corner of two walls or on an empty wall in a shop, workplace, or organization. Rest assured that every digital signage carefully planned will catch attention.
If you still need help deciding where to put your digital signs, let this article be your guide.