Anniversaries are one of the most significant events in life, and they only come once a year. It's always worth celebrating and remembering the special occasions in your life, whether it's your anniversary, the anniversary of your parents, or friends. 
Anniversary Cards are one way to show that you remember the occasion and would love to celebrate the day with your loved ones. Additionally, even the smallest gestures could convey your love and affection to your partner. More often than not, the tiniest acts mean the most as they are deemed genuine gestures.
Greeting cards can signify something other than just long paragraphs. Expressing yourself by writing short messages with deep meanings is equally heartwarming. 
1. Tips for Anniversary Greetings
A perfect anniversary card is something one may cherish. Greeting cards are specific and, at the same time, express love and affection. Here are some ideas that may help you write your special card:
2. Phrases to Start your Letter Card
Do not just mention the name of your lover. Spice up things and greet your partner with a little sweetness. You can use the phrases listed below to start your letter:
To my love,

Dear love,

To the owner of my heart,

Mi Amore,

To my sweetest girl,

To my knight,

My everything,

To my baby,
3. Romantic Phrases for Anniversary Greetings
You can add romantic and complimentary words to show your partner how much you value them. You can use these sentences to show your love:
I love you with all my heart.

I'm glad that I found you.

You are the most precious thing that happened in my life.

You bring out the best version of myself.

You are my home.

I love how I wake up in the morning and you are next to me.

I'm so lucky to have you.

You are a star that lights up my dark world.

You mean a lot to me.

You are my strength in this cruel world.
4. Cards for Wedding Anniversary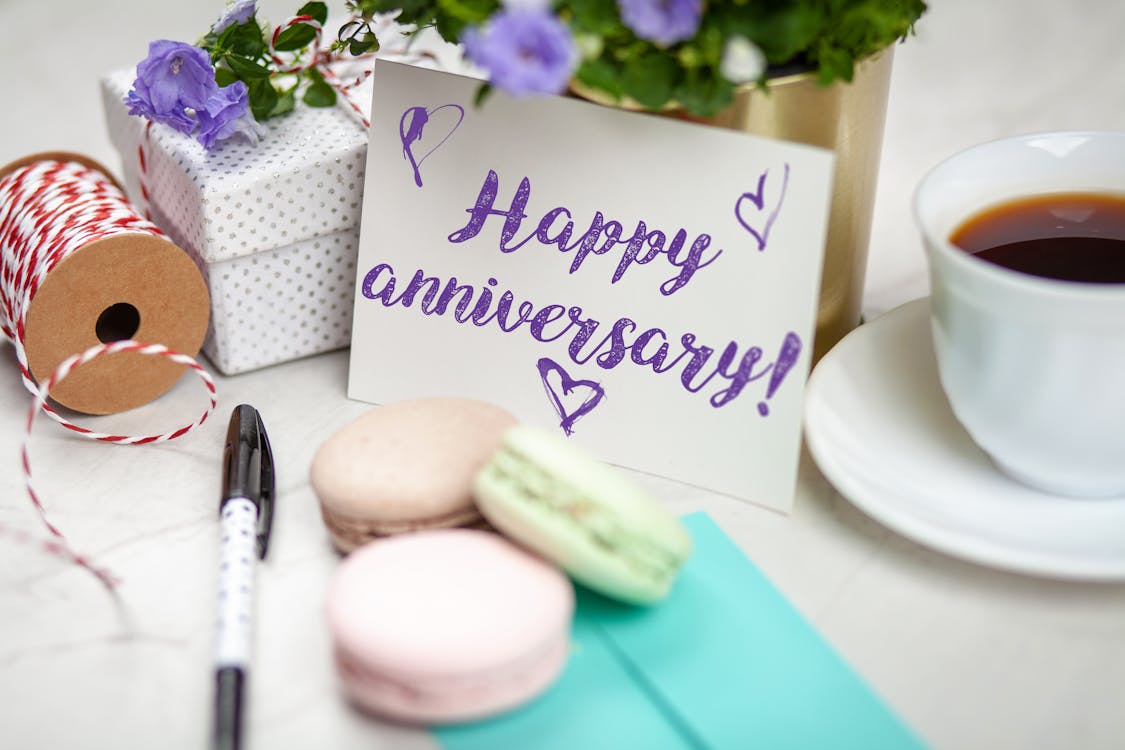 Weddings are one of the most unforgettable events for both couples. It is important to acknowledge an anniversary by greeting and providing reassurance for your partner. Consider using pet names if you have any.
Letters  for the Wife
Greeting your wife a happy anniversary is a great way to start your letter! You may also acknowledge your wife by appreciating and thanking her for everything she has done for the family,  like the following:
"Happy Anniversary! I am grateful that you're always there for me even in the most difficult moments in my life."

"You are the most lovely and caring wife! Happy anniversary!"

"As long as we're together, we can conquer all the challenges that life has given us."

"I promise to love you even after my heart stops beating"
Letter for the Husband
Reminding your husband how much you love him is like reassuring him that he is the owner of your heart. Here are some ideas to include in your draft card:
"In the past years, I've seen all your hard work and sacrifices in order to provide for our family and I thank you for that. Happy Anniversary!"

"You came into my life unexpectedly, and it turned out to be the most lovely thing that ever happened in my life. I love you and happy anniversary!"

"I love how you make me smile each morning."

"Let's cherish every moment in our life with our children."
5. Cards for a Friend's Anniversary
Anniversaries are not always for couples. You can also greet your friend on their anniversary as you were also a part of their relationship journey. Consider greeting them like these:
"I've seen you grow as a couple, which is the sweetest thing I've ever seen. Happy anniversary!"

"May your love grow stronger! Cheers to XX years!"

"I wish you two a happy marriage and long years to love!"

"You have a very successful marriage. Happy anniversary!"
6. Cards for Parent Anniversary
It is important to remember your parents' anniversary. Tell them how much their beautiful marriage influences your relationship today. You can base your greetings on these lines:
"Mom and Dad, happy anniversary! Your marriage is so beautiful that made me realize how great it is to love and to be loved."

"Happy anniversary, Mom and Dad! You are the first who taught me what real love feels like. Enjoy, love you both!"

"Thank you for giving me unconditional love, happy anniversary!"

"Happy anniversary! Your marriage is proof that love can last forever."
7. Cards for your Child's Anniversary
You may not need to greet your children on their wedding anniversary, but it may be meaningful for them to receive a letter from you with your greeting and advice.
"Happy anniversary to both of you! Continue loving each other. You may come to me for advice any time."

"We are always here to guide you, Happy anniversary!"

"We are happy to be a part of your beautiful journey in love. Happy anniversary! We love you both!"

"We are proud that we became a role model for your marriage, happy anniversary!"
8. Phrases to End your Letter Card
Here are some phrases you may use as a warm closing to end your letter card:
Love lots,

My love will forever be yours.

Love and best wishes,

You always have my heart,

Hoping to see you soon, 

Love and kisses,

Be happy, and best regards to both of you.

Wishing you lots of love and happiness.
Conclusion
One way to show appreciation to your loved ones is to greet them on their special occasions, even in the simplest way possible. Anniversaries remind us of what we've been through in the past years and are worth celebrating.
Writing a letter can help you to express your feelings or emotions to your special someone. It is less expensive than any other material gift, but it is truly the most thoughtful thing you can give to your loved ones.