Learning how to incorporate podcasts for employment training and development starts with choosing a good hosting platform. An excellent podcast hosting site must have a user-friendly interface, adequate storage, and other engaging podcasting features.
At this point, Podbean's enterprise podcast service comes to mind. This reliable hosting platform offers a cost-effective option with a free plan for starters. However, there is more to launching successful employment training podcasts than selecting the best hosting platform.
Here are 9 practical steps to utilize podcasts for employment training and development:
1. List the main talking points 
We know some podcasters would claim they can record completely off their heads. It's applaudable but not advisable. While you might not make obvious errors, there is every possibility that you omit crucial talking points.  
Therefore, the recommended practice is writing a script that contains only your main talking points. It should be a concise list of bullet points rather than writing out everything you will say in full. That's to avoid presenting the internal comms pro podcast like someone reading from a script. 
2. Have a focus point 
An engaging corporate podcast focuses on a single objective. Having extensive knowledge of the presentation topic might make it tempting to try mentioning everything you know, but that could be disadvantageous too.
You end up confusing your employees listening to podcasts at work. Instead, a proper content strategy is to pick a focal objective based on your already talking points. Stick to establishing a thorough understanding of the topic for the listener. Having an outline of the discussion also helps stick to the expected podcast duration.
3. Create a platform for feedback
One untold feature of podcasts at work is how it doesn't provide room for feedback. It's a one-way channel for employees to listen and stay updated. However, that is not great for those looking to incorporate podcasts for employment training and development.
Podcasts can only be effective for learning when you can hear from the employees. Create an online forum where listeners drop their comments and questions. You can also consider linking the podcast to the company's social media platforms.
4. Aim for excellent production quality 
Delivering poorly recorded content for employee training and development is a bad podcast content strategy. Some podcasters simply do not care because they believe the podcasts are mandatory for employees, and that's wrong. 
An excellent production quality resonates well in the ears of the listener. Therefore, endeavor to purchase the best recording equipment. Remember to edit each podcast episode before uploading. Note that editing is beyond the removal of unwanted parts or errors. It also involves the addition of proper background music. 
You might only spend a little on editing since we have a few free tools online. Another important point is setting up a standard recording room devoid of unwanted echoes and background noise. 
5. Follow broadcast schedules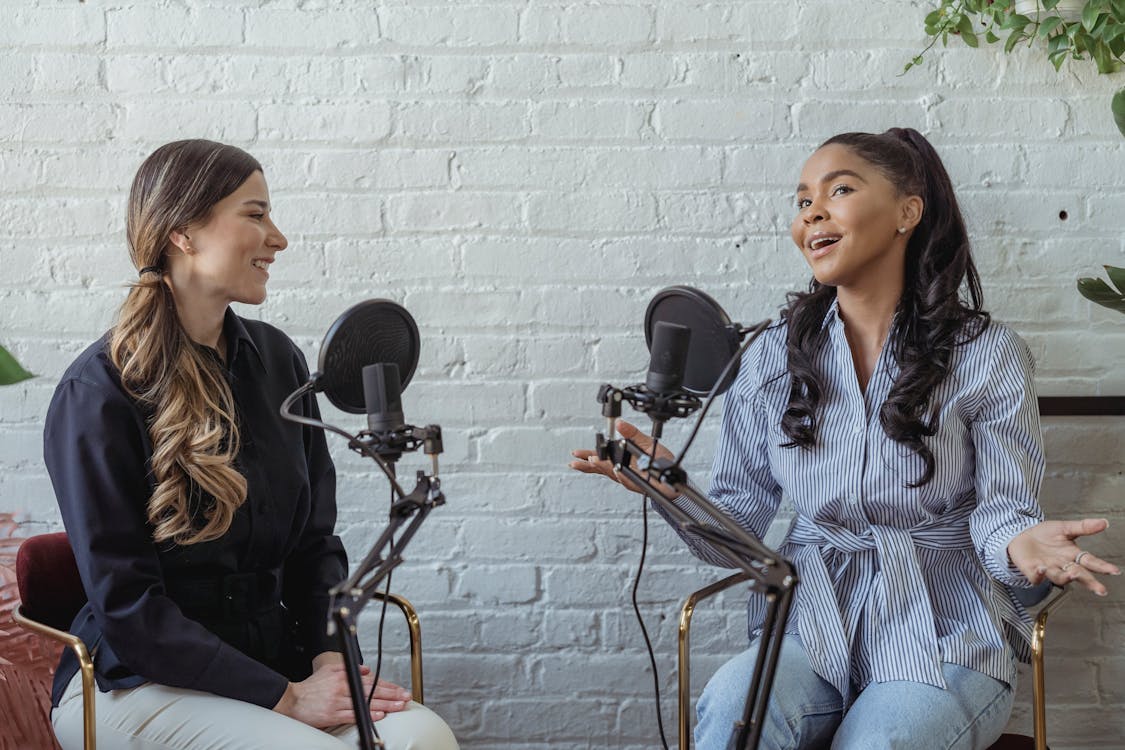 Tell your employees when to periodically expect a new episode release and stick to that schedule. Skipping internal podcast dates discourages the listeners until they lose interest. You later fail to achieve the initial purpose of starting the podcasts at work idea. 
Hence, content strategy podcasts should have fixed upload times. It allows your workers to free up their work schedule in anticipation of engaging podcast content.
6. Use practical illustrations
Inserting real-life illustrations during employee training and development podcast sessions is an additional way to connect with your staff. Sharing relevant stories or practical ideas can be so relatable that they understand the concept better than they could have read it anywhere. 
Besides, podcasts at work allow the chance to build on emotions. You can use your voice's tone to deliver the exact, intended meaning. Using practical illustrations also encourages your team to share related personal experiences that might help everyone. There are more interactions, employees mix better, and learning goals are achieved.
7. Maintain a conversational tone
Keeping a smooth, conversational tone is paramount, especially when using the internal comms pro podcast for employment training and development. Yes, you must sound professional, but always give the impression that a human is the one talking and that you perfectly understand the listener. 
It's a podcast content strategy to maintain the employees' interest and deliver engaging incorporate podcasts. Speak as you would have normally done at a physical training exercise. Don't rush things. Stay focused and help your employees/listeners maintain calm too. 
8. Invite guests to the podcast show
Another way to incorporate podcasts for employment training and development is by inviting guests or industry experts. There is always this aura that comes with listening to an invited speaker outside of the company. Even when they share similar points, they do it from different perspectives based on experience, location, or position.
However, your guest might also be an employee rather than an external guest. Have staff from another department teach the others their distinct practices. The idea is to have an engaging internal comms podcast due to increased audience participation. 
9. Evaluate analytics 
Do you know the number of your employees listening to podcasts at work? How about the average number of active listeners per uploaded podcast episode? These metrics are useful when implementing podcasts for employment training and development. 
The podcast hosting platform provides analytics that helps realize how the educational materials perform. You can even integrate it with existing learning management systems. Creating engaging podcasts is one thing and monitoring the performance of the podcast content strategy is another. 
Conclusion 
We've reached the end of this article and expect you now understand how to incorporate podcasts for employment training and development. The possibilities of engaging internal comms pro podcasts are numerous, and you can find the best way to implement the knowledge gained from this guide.
Don't hesitate to ask for feedback to ascertain how well you're doing. Remember to invite guests or industry experts to speed things up and get your employees interested. Finally, consistency is what makes the difference. Stick to podcasting schedules and quality podcast releases.