Recently updated on October 25th, 2022 at 12:09 pm
When it comes time to shop for a hearing aid it can be a little overwhelming. There are a lot of options out there and someone who just wants to make a sale is probably going to tell you their hearing aid is the best hearing aid for you even if it isn't. Being aware of what types of hearing aids are out there is the best way to make a good purchase decision.
When you start to shop for a hearing aid you have a lot of options. There are traditional buying options where you would go to a store or clinic and work directly with a consultant. That's no longer your only option however, as you can also look at buying a hearing aid online. Both options have their advantages.
No matter how you decide to buy your hearing aid you'll still want to know more about the types of hearing aids and which options might work best for you. That's where doing a little extra research can be helpful. The more you know the better off you'll be. Since you're already here and looking for information, here are five awesome styles of hearing aids you can consider.
1. Invisible In The Canal/Completely In The Canal Models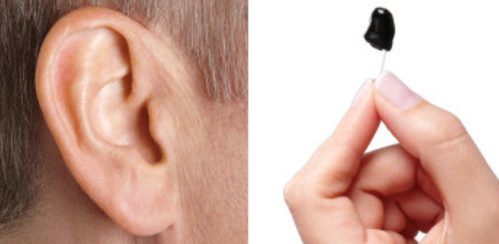 These are the most discrete options you'll find out there. Invisible in canal (IIC) hearing aids sit deeply within your ear canal. They're just barely visible externally and have to be removed with a string that you tug on to pull the hearing aid out of your ear. Completely in the canal (CIC) models are similar but sit a little farther out and are a little more visible.
Both models are good for mild to moderate hearing loss so they have a wide range of capabilities. They're great for anyone who is very concerned about how a hearing aid will look cosmetically and would rather be able to hide their hearing aid as much as possible. Because of their size, they do not tend to have external controls like volume wheels.
With either option of this style of hearing aid, you'll need to keep in mind that they're more susceptible to wax build-up and moisture damage. While the small size is great for some, if you have finger dexterity issues it could be frustrating to use. The small size also sometimes interferes with other features like reliable Bluetooth connectivity.
2. In The Ear Models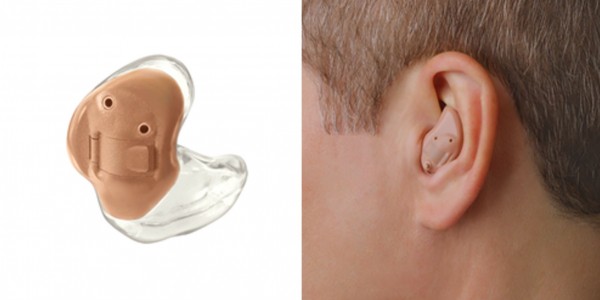 Image source: hearingsol.com
In the ear models are exactly what they sound like, (and what most people imagine when they're thinking of a hearing aid) a hearing aid that sits within your ear. They can come in half or full shell models. While half shell models take up less of your outer ear, the full shell models will take up almost your entire outer ear.
These hearing aids are larger than the in canal options and that's often better for people who cannot handle the small size. They also have external controls like volume adjustments readily available, giving them an advantage over the smaller options. Having a chance to adjust the volume easily is a big appeal for a lot of hearing aid users.
With the larger design, you also get a longer battery life which is also appealing to many people using hearing aids. You can also find these styles with more features than in canal options. If you aren't as concerned about how the hearing aid works and have issues with dexterity the ITE hearing aid styles are a good option for you.
3. Receiver In The Ear Models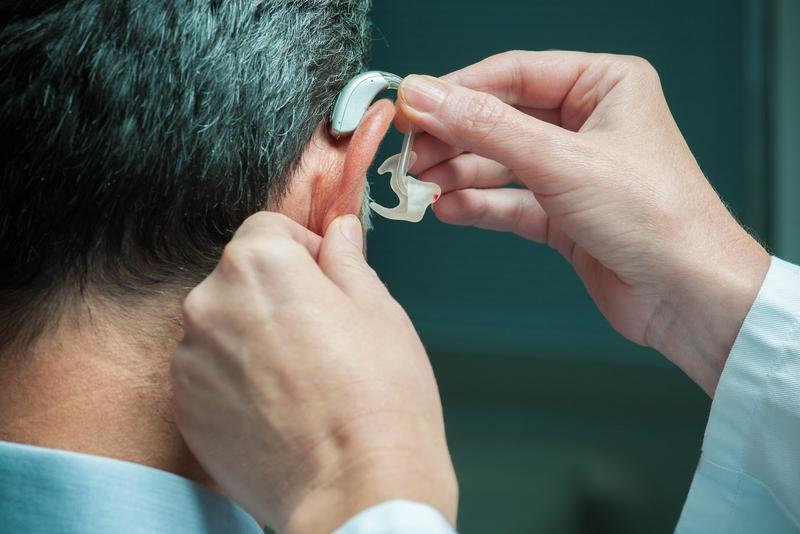 This style is a little different than the ones you've read about so far. This is a behind the ear (BTE) model style. That means part of the hearing aid sits behind your ear and part of it sits in your ear. Receiver in the ear (RITE) models have a small thread-like connection that puts the microphone and processor behind your year and the speaker in your ear.
RITE hearing aids also come in a similar style called receiver in canal (RIC) options which are a little more discrete. Similar to the IIC style you read about earlier, with the RIC option the speaker is completely inside the canal. It gives you a chance to get a hearing aid that isn't as hard to handle as the smaller option while still being pretty discrete.
RITE/RIC models are good for all types of hearing loss. They can often have an above-average sound quality and will tend to have the most extra features. While some ITE models may have Bluetooth or wireless connectivity options, almost all of the RITE models out there have wireless at this point. This is a great all-around option for anyone needing a hearing aid.
4. Behind The Ear With Earmold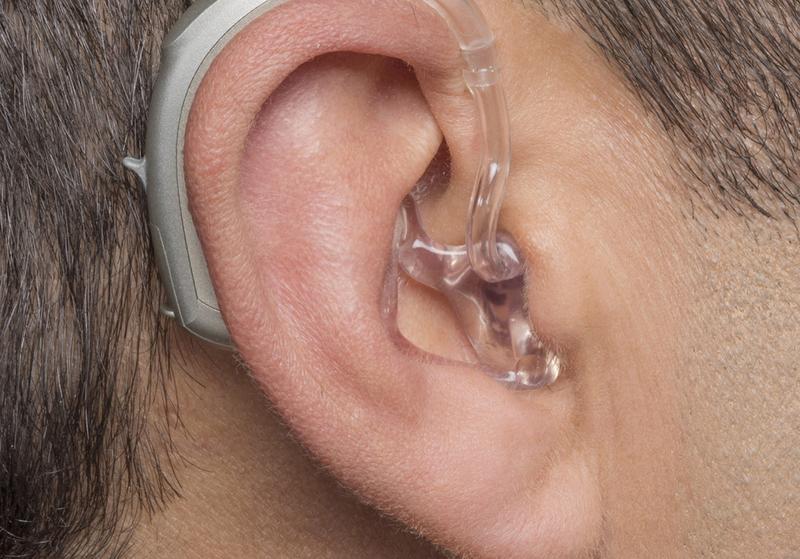 Image source: lakeenthearing.com
These are just slightly different than the RITE or RIC models. It's similar to how IIC and ITE options are different. With an earmold BTE style, you're going to have a piece of your BTE hearing aid that sits in your external ear and takes up most of the space. They're larger than RITE styles which may also sit in the external ear. 
Earmolds are usually clear but still visible so if you're concerned about how the hearing aid is going to look this may not be a good option for you. However, this particular style is great for the largest range of hearing loss. They're approved for anyone with mild to profound hearing loss while others are mild to moderate or mild to severe. 
The biggest disadvantages are going to be how it looks and how big it is. The hearing aid is larger than other styles which makes it harder to wear glasses with. Even with the larger style, it's still the best model out there for anyone who has profound hearing loss. 
5. Mini In Canal Models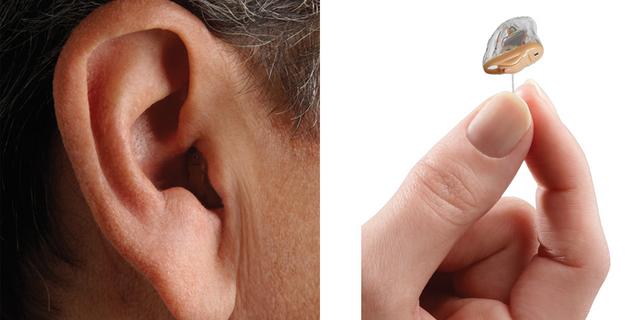 Image source: superiorhearing.com
Going back to the smaller side of things there is a step between an IIC/CIC and the fully external hearing aid. A mini in canal model (MIC) is partially outside the ear and partially in the canal. It gives you a chance to blend an ITE and CIC style. You'll still have a little bit of visible hearing aid but it won't be taking up all or even half of your external ear.
MIC models do often come with external controls and wireless options. If you're worried about a CIC or IIC being just a bit too small but you'd rather not have a full or half shell hearing aid, the MIC could be a great option for you. They also have a bit longer battery life and a few more control options like volume control and directional microphone control.
Conclusion:
Buying devices from hearing aid stores doesn't have to be overwhelming. If you keep what you've read here in mind it will help you make a good decision about your aid needs. Remember that some hearing aids are not going to work well if you have severe or profound hearing loss. If you're truly stumped ask your doctor or audiologist for suggestions.