There is nothing worse than suffering from anxiety, and whilst in some cases prescription medication may be the answer, many people prefer a more natural alternative. 
Luckily, there are a number of natural alternatives on the market today in the form of herbal teas, which are worth trying before resorting to medication. 
This article will explore some of the herbal teas on the market today that can help soothe anxiety and make you feel calmer. 
1. Chamomile
Chamomile is a daisy-like flower and is probably the widest known calming tea. 
In 2016 a study was done that concluded it significantly reduces symptoms of generalized anxiety disorder.
2. Kratom
Kratom is a plant-based substance that is less known than the other items on this list. It is available in many forms including pills, powder, and tea, and has anxiety and stress-reducing properties as well as a whole host of other benefits. 
As this is more difficult to find in health food shops than in some of its competitors, you may have to purchase online. Left Coast Kratom is a very good choice for all of your Kratom needs. 
3. Valerian
Valerian tea is often used for sleep disorders but is also thought to help anxiety and especially sleep issues related to anxiety.
It's also thought to have additional benefits such as reducing headaches and heart palpitations. 
4. Lavender
Lavender is often best associated with aiding sleep, however, in tea form, it is fantastic at promoting calm feelings and reducing stress and anxiety. 
In some studies, participants found it to be as effective as some prescription medication when suffering an anxiety attack.
5. Lemon Balm
Lemon balm is a relative of the mint plant but with a distinct lemony fragrance. It's widely used to treat anxiety, sleep, and depression and works by boosting GABA (a neurotransmitter responsible for soothing stress.)
6. Green Tea
Whilst more commonly used as a diet supplement, green tea is naturally high in L-Theanine, which is an amino acid that is thought to reduce anxiety.
7. Hops
Hops are often found in alcoholic beverages such as beer, however, it is possible to drink hops in tea form, missing out on all of the negatives of the alcohol.
When hops are drunk in this way, you may still experience that happy feeling but without the hangover. 
It is also noted that if mixed with Valerian, hops will improve sleep quality.
8. Catnip
Not just for cats! Catnip tea contains nepetalactone, which is a compound thought to ease stress and aid sleep. 
9. Breakfast Tea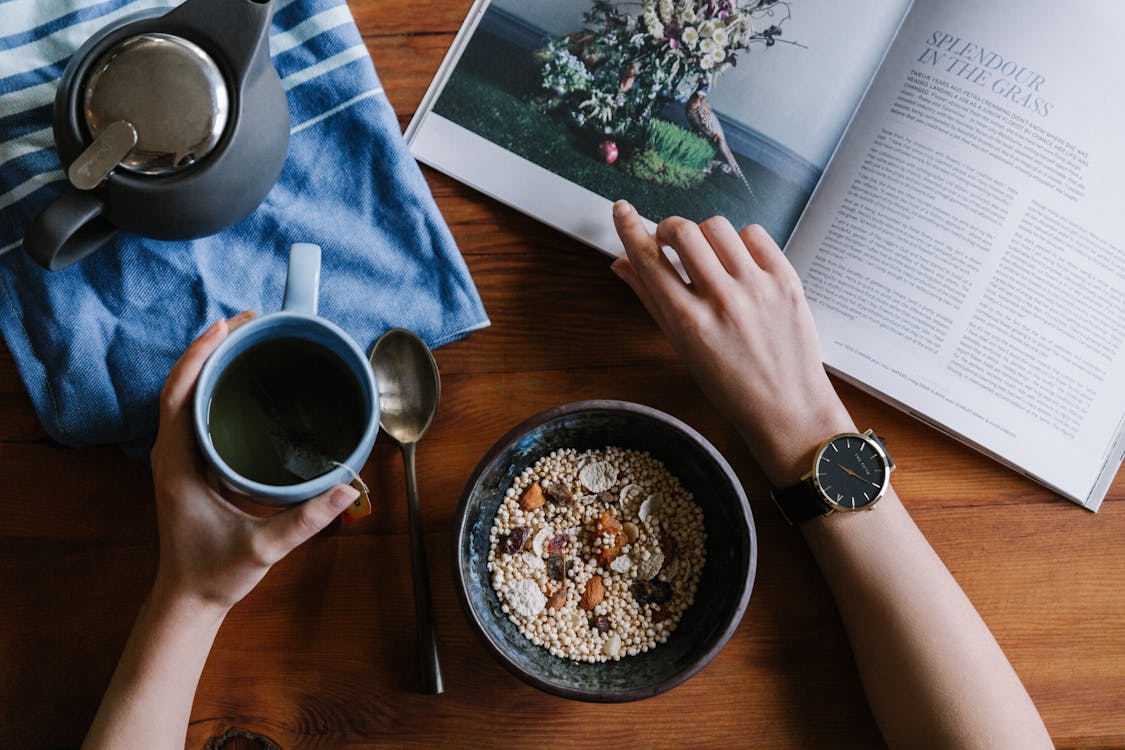 Standard English Breakfast Tea is included in the list, not because of any amino acid, compound, or neurotransmitter it contains, but primarily because it is simply a very soothing warm drink.
Sometimes just having a moment of calm with a nice cup of tea can also help eliminate anxiety.
10. Other Tips
Alongside the items on this list, you may also consider using mindfulness to help reduce anxiety. Anxiety is often caused by worrying about future events or what might happen.  
Mindfulness is the process of bringing your thoughts back into the present moment, rather than worrying about what may happen. 
You may do this with meditation, exercise, coloring, or even gaming. Any activity that means you have to focus on the here and now is considered a mindfulness exercise.
Using this technique alongside herbal tea will give you a more powerful result.
Summary
As well as reducing stress and anxiety, herbal tea also has other benefits including improved sleep, digestive issues, and even reduced blood pressure.
With so many benefits in an inexpensive, healthy, and natural option, why wouldn't you indulge in some of these delicious teas for a lovely warming drink!