Having a pregnancy-friendly diet is crucial for staying healthy and helping your baby develop in your womb. A balanced diet is also vital for supporting any treatment you are undergoing as prescribed by your foetal medicine specialist.
For nine months, your diet should consist mainly of foods rich in vitamins, minerals, protein, healthy fats, fibre, and fluids. You also have to limit your intake of fatty, salty, and sugary snacks. You still have to keep up the same diet after giving birth, although you may be allowed a few modifications. Doing so will help your body recover and give you the energy you need to nurse and care for your baby.
After giving birth or while giving birth if you got injured due to medical malpractice then you should look for birth injury attorney near me for claims. 
The ideal postpartum diet entails consuming fruits, vegetables, lean meats, high-fibre foods, and low-fat dairy products. But which particular foods should you include in your postpartum diet to stay healthy and fit as you take care of yourself and your baby? Below are the top eight:
1. Green leafy vegetables
Since nutrient-rich foods are key aspects of a balanced postpartum diet, continue your habit of eating green leafy vegetables daily. Spinach, Swiss chard, kale, and other green leafy veggies are significant sources of vitamins, minerals, fibre, antioxidants, and other nutrients that support your and your nursing baby's needs.
They are particularly rich in vitamin A, a nutrient crucial for your infant's growth, especially during their early years. Additionally, green leafy vegetables are filling yet low on calories. If you want to start losing your post-pregnancy weight in a safe, healthy way, always include these in your daily meals.
2. Cruciferous vegetables
Broccoli, cauliflower, Brussel sprouts, and other cruciferous vegetables are just as nutrient-packed as green leafy ones. These veggies are rich in vitamins A, C, and K, folate, and manganese, nutrients that are crucial for both your and your baby's health.
Cruciferous vegetables are also rich in fibre, a nutrient you need to avoid constipation – a health issue common among women who have recently given birth.
Like green leafy vegetables, these are low-fat and low-carb. They are versatile ingredients that can be used for both snacks and meals and help you start shedding some pounds in a safe way.
3. Citrus fruits and berries
Oranges, lemons, grapefruits, and other citrus fruits are excellent sources of vitamin C, a nutrient that boosts the immune system, and which will help you stay in shape as you nurse and take care of your newborn.
Aside from vitamin C, citrus fruits are rich in other nutrients that keep you healthy and energised as you go through your new routine. Like citrus fruits, berries, such as blueberries, blackberries, strawberries, and acai berries are full of essential vitamins and minerals and give you the right amount of carbohydrates to sustain your energy.
Small citrus fruits, such as oranges and berries are easy to eat and make for great snacks, so always keep a stock of them. You can also freeze them so you can make yummy and healthy smoothies within minutes.
4. Nuts and seeds
Nuts and seeds are delicious, versatile foodstuffs that you can eat for snacks or add as ingredients to various dishes. When you include nuts and seeds in your daily snacks and meals, you increase your intake of different vitamins and minerals, protein, antioxidants, fibre, and healthy fats.
Almonds, in particular, are recommended for nursing mums since they are a good non-dairy source of calcium. According to experts, breastfeeding mothers need 1,000 mg of calcium daily to have strong bones and teeth.
Sesame seeds are also packed with calcium, iron, magnesium, phosphorus, copper, manganese, and fibre – nutrients you need for maintaining a healthy body post-pregnancy. Aside from eating nuts and seeds as snacks, you can add them to salads and other dishes for extra texture, flavour, and nutrients.
5. Low-fat dairy products
Since calcium is a nutrient that you should get plenty of as you breastfeed your baby, you need to get it from other sources aside from nuts and seeds. Milk, cheese, yoghurt, and other dairy products are your best options.
Aside from calcium, dairy products are rich in vitamin D, another bone-strengthening nutrient. They also contain B-vitamins and protein. Soft cheeses and goat's or coconut yoghurt can also help you maintain a balanced gut flora and prevent dysbiosis.
To get these nutrients and more, try including at least three cups of dairy in your daily diet. Opt for low-fat products so that you can avoid packing more unwanted calories.
6. Lean meat
Lean cuts of beef, such as round steaks and roasts, are rich in iron, protein, zinc, and vitamin B12. These nutrients, plus their carbohydrate content, can help boost your energy levels, which you may feel frequently waning due to round-the-clock breastfeeding.
When shopping, opt for grass-fed beef since it has more omega-3 fatty acids. Lean cuts of lamb and pork and chicken breast are other options you can add to your postpartum diet.
7. Salmon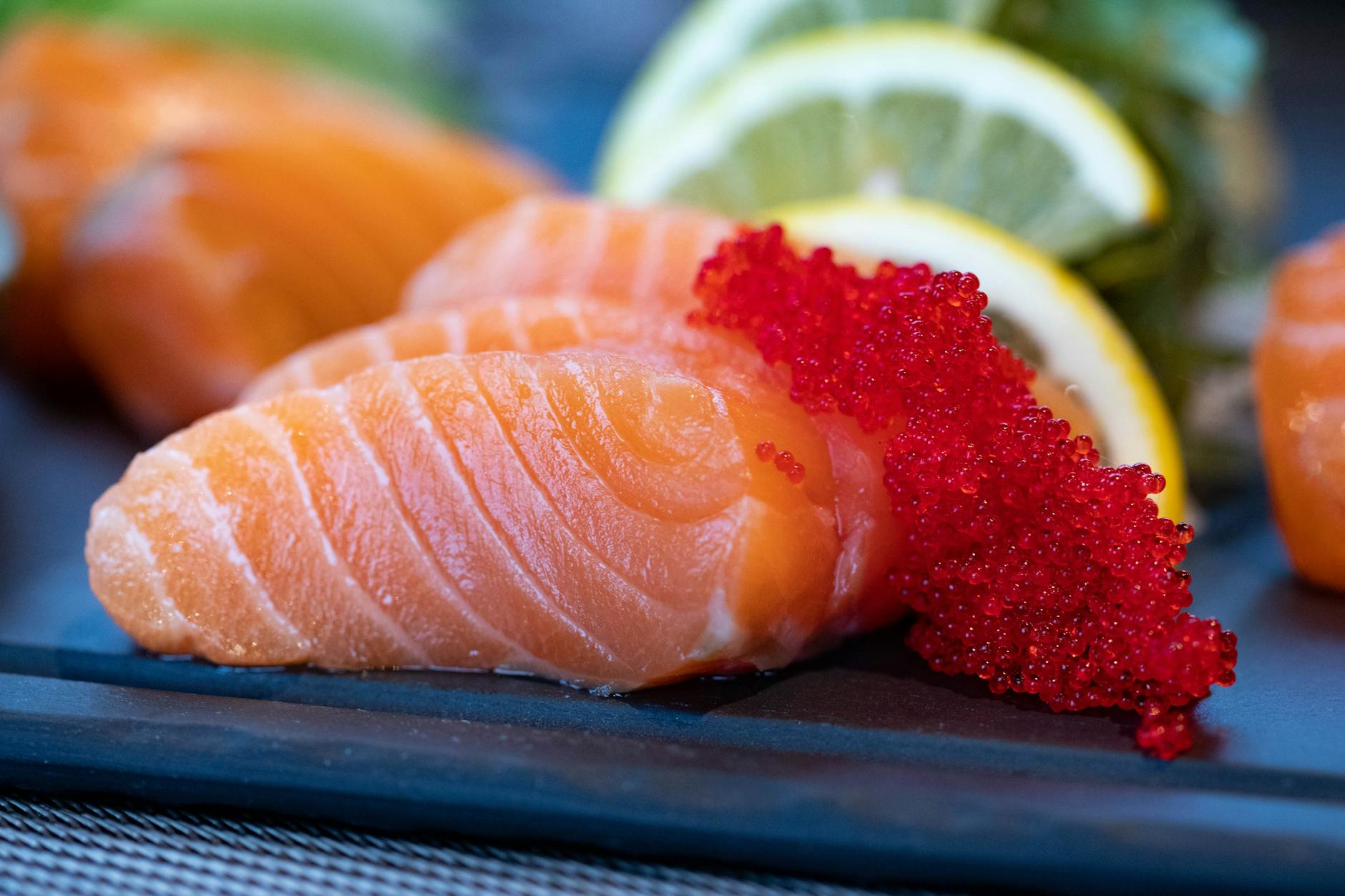 Salmon is another protein that you will do well to include in your post-pregnancy weekly meal plan. Salmon is rich in DHA, a type of omega-3 fatty acid that plays a crucial role in your baby's developing nervous and cognitive system.
All breast milk contains DHA, but you can get more and give your baby more if you eat food rich in this healthy fat. The omega-3 fatty acid from salmon can also help your mood since various studies show that it aids in treating some forms of depression, including postpartum depression.
However, since you are breastfeeding, limit your consumption of salmon to .75 pounds or 12 ounces per week to limit the amount of mercury your infant may be exposed to.  
8. Whole-grain cereals and bread
Whole-grain cereals are healthier than regular ones since they contain more nutrients than refined flour. Because of this, they make for a filling and nutritious breakfast staple that can boost your energy and keep it high throughout the day.
Whole-grain bread is also another great option for your breakfast sandwiches and snacks. They are also rich in nutrients that you and your baby need for good health. Whole-grain cereals, bread, and other products also contain folic acid, a nutrient your baby needs for their health and development.
When you increase your intake of folic acid, you give your baby more of this nutrient through your breast milk. If you are in low then you can boost your milk supply with Clookies lactation cookies. When you add fresh fruits, nuts, and milk to your whole-grain cereals and bread, you and your infant will get more nutrients to sustain your health.
If you or your infant has a health issue, your foetal medicine specialist will give you a list of foods you can and can't include in your postpartum diet. 
With a well-planned eating regimen, it will be easier for you to recover from pregnancy and childbirth. Your baby will also have all the nutrients needed for optimum growth and development.