Recently updated on October 25th, 2022 at 11:15 am
Surgical procedures are complicated that require special care and training not everyone, most people to be honest don't have. You might have seen your favorite character stitch up their own wound after a fight in an action scene, but most people are unqualified to do that themselves. Unlike many other professions that don't have dire results of having unqualified people run a procedure, medical is a field you should not be trying that in.
'How to remove surgical staples', is for example a question you should not be asking in any case. Granted it's okay to ask questions, but the wrong ones can really lead you down a wrong internet wormhole. There's too much the internet can help us with, but there's also the other side of harmful information out there that can lead to dire consequences. However, there are a few questions regarding surgical staples and what prompts their use that we are answering today.
This is to ensure that you have access to safe information sources. Trying to carry out a procedure that requires intense care and consideration can lead to dangerous results if you somehow mess up the process. Keeping that in mind, let's look at a few commonly asked questions to help you understand the primary aspects of it.
Surgical staples and their usage
Usually surgical staples are what the name suggests, they are staples used after surgery to close the incision (cut made for the procedure). The reason staples are used instead of stitches vary based on different professionals to the kind of procedure you are going through as well. There's a difference between how stitches and staples are treated after a surgical procedure as well.
Some stitches have a dissolvable quality, making the process of healing easy as they dissolve over time, while your wound heals. Staples, unlike stitches, in most cases, do not come in dissolvable form, apart from a specific type. They're simply there to hold your skin together after an incision has been made. Here are a few different types of surgical staples:
1. Plastic
The first and easy guess is plastic, which is also another common type of material used in stitches. This is usually used in case you want to avoid the scar that dissolvable stitches often leave behind. Regardless, surgical staples in plastic offer an alternative to people who are allergic to the metal version. It also helps keep the scar away.
2. Metal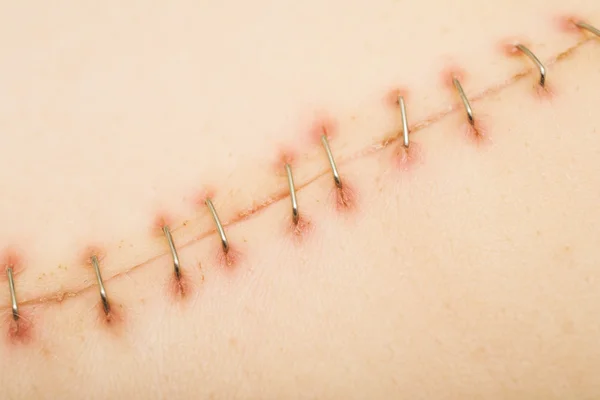 Image Source: depositphotos.com
The metal surgical staples are made of titanium which is known for its strength while maintaining a low density. Unlike popular belief, titanium is a favorable option for skin tissues, preventing infection or inflammation that often occurs with stitches too. It is however an option that needs proper care and looking after.
3. Polylactide-polyglycolide copolymer
Usually, surgical staples do not come in dissolvable options, almost always needing to be extracted once your wound is healed enough. But Polylactide-polyglycolide copolymer is a specific type used in plastic surgery that gets absorbed into your skin, leaving little to no visual scars behind.
In terms of usage, usually whenever a wound or incision is complicated or too big, surgical staples are used instead of stitches. They are also a much simpler option in terms of how the procedure works unlike stitches that need to be done manually. They are easy and simple enough while also speeding up the healing process.
Are they permanent?
The time period for surgical staples, compared to stitches, is lower in many cases. But it all also depends upon the type of incision you have had. For example, if the cut is vertical on your body, the healing is going to take more time than if it were horizontal. Therefore, the time the staples need to be on is also extended.
There are multiple things their time depends upon, from the area of your incision, the complicated or simple nature of the incision, the size and lastly type of your surgical method used on you. Despite all this, none of the staples used on your body surgically are permanent, no matter the type. They have to come out mostly when their part of the job is done.
In some cases, you might need to get them checked before it's time to take them off. This includes a case where your wound is leaking blood or puss, or if you think it is infected. Otherwise, they're good to be taken off when you feel your wound has healed enough to not reopen without their support. It can range from a couple days to a couple weeks, again depending on the factors discussed before.
How to avoid risks associated?
Regardless of how easy and convenient they are to use in procedures, you as a patient or caregiver of the patient needs to look after them all the same. This includes various reasons, but mainly to ensure they are not being infected. Other reasons or risks that may cause issues are if you notice the staples are placed incorrectly, causing an allergic reaction, or early removal of staples than necessary etc. Here's how to look after them properly:
Do not do anything your consultant doctor has not told you to do about your wound, even if it's a small thing. Follow the instructions they gave you strictly, without exceptions.

If your bandage has been removed, clean the wounded area, or if you are re-bandaging yourself use infection free products and sterile material.

Keep the bandage away from moisture or getting wet in any case when it's on, and replace promptly if it does. This is in case you are cleared from your doctor to do so.

Lastly, keep personal contact information of your consultant or the doctor who did your procedure close by in case of any unfortunate events.
To end on a high note, surgical staples are a great alternative to regular stitches in surgical procedures. They just need to be looked after carefully as is the case with any wound or incision you have after a surgical procedure. Do not try to learn 'how to remove surgical staples' on the internet or attempt any such thing on your own. Let a medical professional do what they do best.