Not getting enough sleep has been linked to heart problems, obesity, trouble focusing, and a lack of productivity. To sleep better at night, you need to start by setting yourself up for sleep success. With everything you have going on, sleep needs to be higher on your priority list.
To help you get a better night of sleep, we've rounded up seven ways to help you sleep longer and without disruptions. From sprucing up your sleep space to creating a relaxing bedtime routine, here's your go-to guide to better sleep.
1. Valerian Root
Valerian root has been used for centuries to help people sleep better. Think of it as a natural source for a melatonin alternative.
With a host of antioxidants, this natural remedy helps regulate your GABA levels. GABA stands for gamma-aminobutyric which is a messenger that sends nerve impulses to your brain.
If your GABA levels are too low, you may be more stressed and anxious. Your sleep quality could also be suffering. Valerian root inhibits the breakdown of GABA in your brain to help you feel calmer. 
The antioxidants found in valerian root also contain properties that help you relax and sleep. It may also prevent involuntary movements in your sleep which wake you up at night.
2. Watch Your Light Exposure
There is a scientific reason why you are awake during the day and asleep at night. Light helps our body regulate melatonin levels. During the day our levels are lower.
This is known as the circadian rhythm. At night our body sends signals to the brain to release more melatonin making us feel sleepier. To help our body realize it's time for sleep, turn the lights down low in the evening.
During the day, make sure to get plenty of exposure to natural sunlight. Whether it's through a window or a walk outside, the sun helps our melatonin levels stay on track later in the day.
3. Don't Drink or Eat Too Close to Bedtime
If you're having trouble sleeping watch what you're eating before bed. Unhealthy foods can sometimes cause emergency trips to the bathroom late at night. Indigestion, cramps, or stomach pains while you sleep could be caused by late-night snacks.
Alcohol too close to bedtime can also disrupt your sleep. Alcohol has been shown to disrupt melatonin levels in your brain. Drinking can also lead to sleep disruptions and snoring. 
If you want to enjoy a small snack, dessert, or drink before bed, try and stop an hour before you plan on being asleep. You'll get a better quality of sleep with more space between bedtime and dinner.
4. Create a Restful Environment
If your bedroom is also your workplace, laundry station, and TV room, it's time to shift gears. Make your bedroom a place of peace and tranquility. Try and keep your bedroom clean and free of any stressful clutter.
If your bedroom is a multi-purpose room, find a way to get clever with storage. Turn your bedroom back into a bedroom when it's time for sleep. Invest in room darkening shades or drapes to help set the tone.
If you need to block out noise, consider using a sound machine or sleep app. Make your bed a restful sanctuary.
5. Shut Off Your Screens
The most important thing you can do to improve your sleep quality is to shut off your screens. Just because you may have 24-hour access to work, email, or social media, doesn't mean you need to look at it before bed.
Place your computer away from your bed. Consider charging your phone away from your bed as well if it's too tempting to reach for it. The same goes for tablets and television.
The light from screens can mess with your melatonin levels. Try and shut down an hour before you'd like to be asleep. This will help your body know it's time for bed.
6. Prioritize Your Sleep Schedule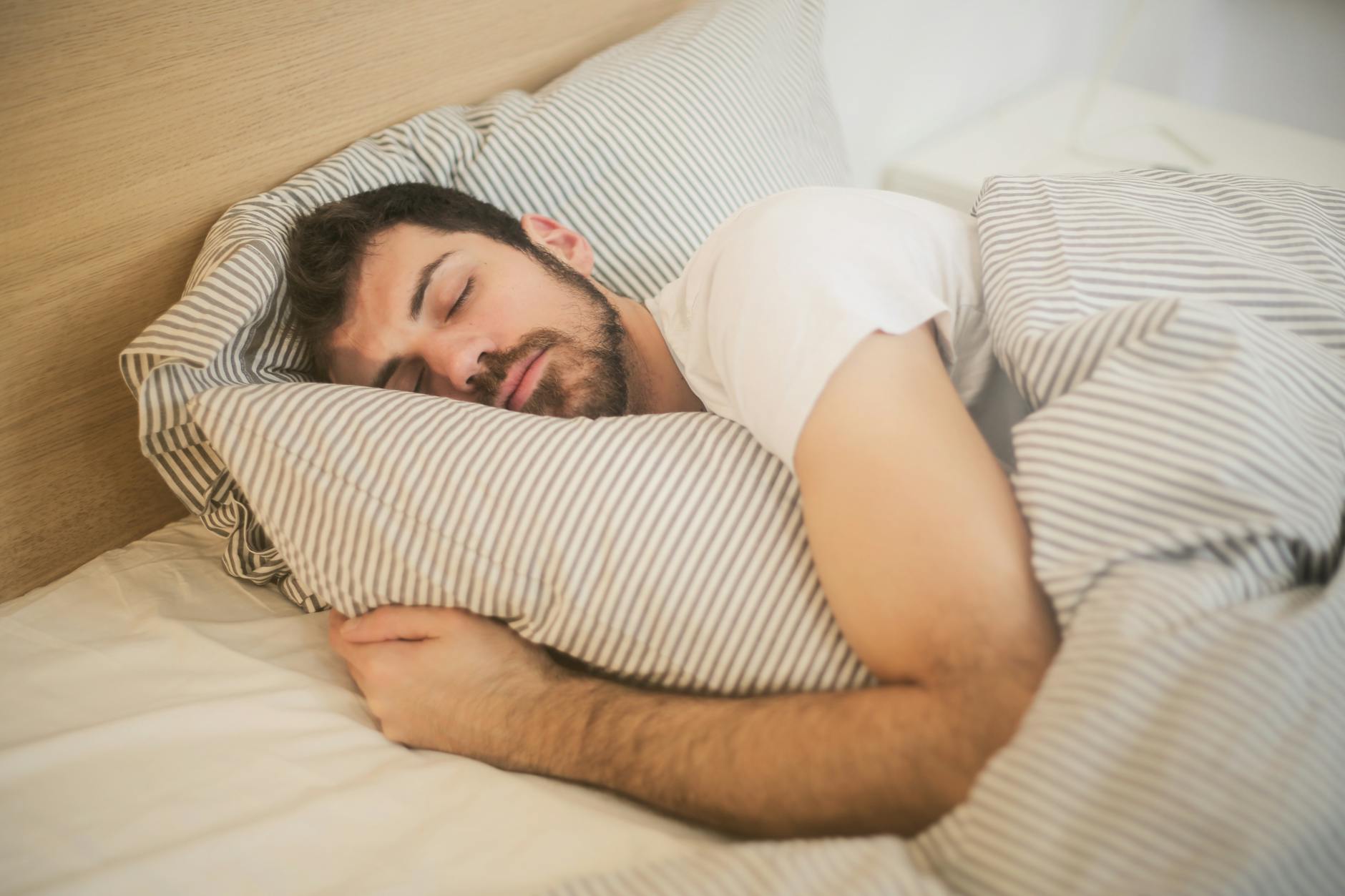 If you aren't making sleep a priority, it isn't going to be. Make sure you give yourself plenty of time to wind down before you'd like to be asleep. If your goal is to be asleep by 10:00, you can't walk into your bedroom and flip on the television at 9:58.
Try and go to sleep a little earlier each night. Start with 20 minutes and increase it from there. Remember to shut down your screens and create a more relaxing environment.
If you need to, set an alarm clock for when you'd like to be asleep. This will help you stay on track to shut down and head to bed.
7. Create a Peaceful Bedtime Routine
If you're having trouble sleeping, your bedtime routine might need an upgrade. To help your body prepare for sleep, create a peaceful routine that sets you up for a good night of sleep.
Start with something relaxing like a hot shower or warm bath. Cozy up with a book or magazine in bed with the lights on low. Stretching, meditating, or journaling can also help you center your thoughts before bedtime.
Make sure to ditch the screens and do something relaxing instead. Start early so you have plenty of time to wind down.
Sleep Better at Night
From making sleep a priority to watching what you eat before bed, these tips will help you sleep better at night. With everything going on in the world, sleep should be one of your top priorities.
Help set yourself up for success by revamping your sleep space and your bedtime routine. Make sleep a priority so you can feel better throughout the day. For more sleep tips and resources check out the health section.