Recently updated on October 25th, 2022 at 11:33 am
Despite the hit that the fashion industry took during covid, it's projected to be one of the industries that recovers the quickest. Everyone needs clothes. They encapsulate our self-image! 
It's best to make sure your clothes are serving you well by cultivating a sense of style. Manifesting your personal style is a form of self-care, and strengthens your relationship with yourself.
If your fashion style needs a makeover, finding your personal style can be daunting. There are so many clothes available, how do you pick the ones that work for you? 
If you find yourself struggling to establish your style, start with this easy guide to begin your journey. 
1. Clean Your Closet
Start by giving your closet a deep clean. A good rule of thumb is to throw out anything that you haven't worn within the last year. Also, get rid of clothes that don't fit or are uncomfortable.
Eliminate pieces you want to love, but don't actually love. These might be items that you wish you would wear, but never actually do. The closet space is better used for things you will actually wear. 
Donate your clothes or give them to a thrift shop so that they end up somewhere they are loved. 
2. Find Inspiration
Think about the fashion you like and make some inspiration boards. Look through street style, magazines, and fashion shows. Figure out the trends you like.
Don't be afraid to be bold – maybe you love the punk style, but would never wear it in your day-to-day. Still include it on your inspiration board! You can find pieces that speak to the wild styles you love while still being wearable. 
3. Describe Your Fashion Style
What words come to mind when you think of your ideal style?
Are you modern and chic? Are you elevated and professional? Are you easygoing and relaxed? 
This is also a great time to think about your lifestyle. What do you need to wear for work? Is that different from what you would wear going out on the weekends?
Answering these questions will give you a sense of where to shop, and what the proportions of your wardrobe should be. 
4. Start With the Basics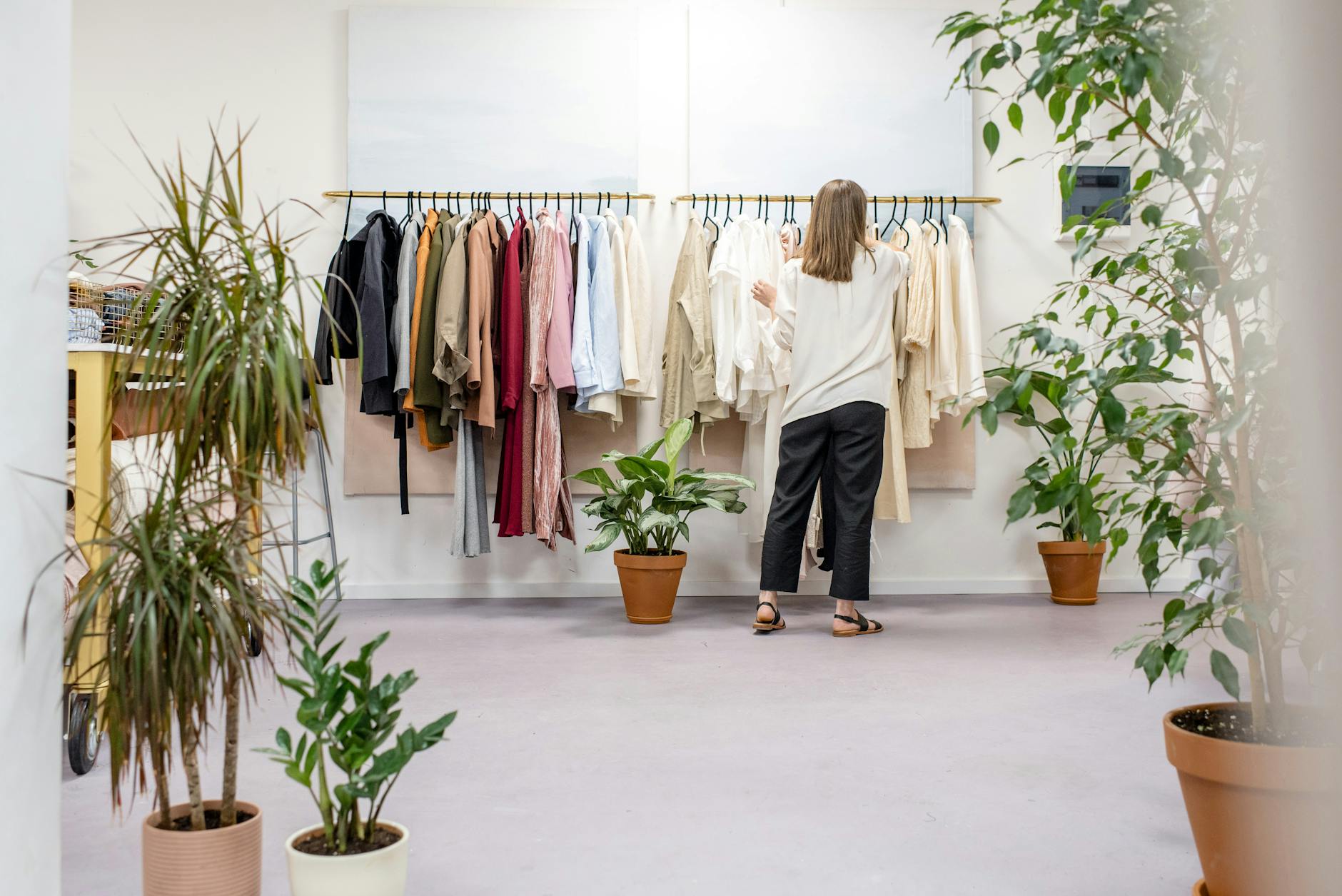 Start by investing in a set of basics for your wardrobe. Basics are clothes in classic colors and shapes. You can wear them with anything.
Once you have your versatile base for your wardrobe, you can add some accent pieces. These are bolder, special pieces that spice up your look. 
For example, jeans and a t-shirt are your basics. A cool leather jacket or buy several pieces of short-sleeve plain T-shirts in various colors to mix and match with other basics and accessories like necklace is your statement piece that elevates the look. 
Shoes can be both basics and accent pieces. Sandals styles have many reasons why to wear them. They can work for every look. Other shoe styles, like high heels, work only with some looks and lifestyles. 
5. Get Creative
Don't overthink it! Style is an extension of yourself, you can't go wrong! If you're shopping and you see something you love that doesn't fit your style label, get it anyways!
Your style is constantly evolving. Keep pushing it to see where it goes. Be brave and creative in your experiments! 
Upgrade Your Style
Your personal style can be a great source of confidence and energy. When you wear the perfect outfit, you feel you can take on the world. So try to cultivate your style so you end up with the perfect outfit every day. 
Hopefully, now you have some inspiration to create a new personal fashion style! If you're looking for more lifestyle and fashion tips, check out our blog for more advice!