Recently updated on July 26th, 2023 at 10:44 am
As of 2017, the CDC estimated that more than 100 million adults in the USA were living with diabetes or prediabetes. Of those affected, 25% and 88.4% were unaware that they had diabetes and prediabetes, respectively.
Diabetes is a disease that can ruin your life if you allow it to get out of control. Here are ten tips for controlling diabetes and preventing or managing this disease.
Have Regular Eye Examinations
Everyone who has been for an eye examination knows that the worst part of the process is having the puff of air blown into the eye. However, this is an extremely important aspect of an eye exam, especially for those with diabetes.
The non-contact tonometry (NCT) test detects the development of glaucoma — a common occurrence for those with diabetes– as well as diabetic retinopathy. This often symptomless ailment can have a degenerative effect on your vision. If you have diabetes, consider upgrading to one of HealthMarkets Vision Insurance plans to get the coverage you need to attend regular checkups.
Move More
You don't have to become a gym aficionado to experience the benefits of exercise. Make a simple goal to move more, whether it's taking a walk every day doing a short bodyweight workout each morning.
Exercising increases your insulin sensitivity, which ultimately lowers your blood sugar levels naturally. If you have mobility issues or challenges identifying the best exercises for you to control diabetes, consider working with a specialized trainer who can offer guidance and accountability.
Moving more and embracing an active lifestyle should also help you manage your everyday life, such as opening a medication bubble pack and getting around without assistance
Drink Lots of Water
Ensuring that you're adequately hydrated not only helps manage diabetes symptoms but has a number of other health benefits as well. Drinking enough water flushes toxins from the system. If you don't like the taste of tap water and are looking for other drinking water options, mineral water is a much healthier alternative you should consider. Drinking mineral water will help you reach the right amount of minerals your body needs. Adequate hydration also controls hunger cues, as the body often mistakes thirst signals for hunger.
Drinking enough water helps lower blood sugar levels and keeps the kidneys at optimal functionality.
Consider Using Medication
Talk to your doctor about using medication to control diabetes while you pursue natural, lifestyle control measures. There are various recommendations that your doctor might make based on your specific case. ACE-inhibitors, insulin shots, statins, and Aspirin are just a few of the drugs your physician could recommend.
Of course, these drugs should be used as a method of keeping you healthy while you make changes that will reduce the need for medication. Think proactive versus reactive healthcare.
Eat More Fiber
Fiber does more than keep you regular; it also plays a key role in diabetes management and prevention. Soluble fiber, in particular, helps manage blood sugar levels and cholesterol.
It's believed that LDL (bad) cholesterol binds with fiber molecules to remove them from the system during digestion. Fiber also slows the absorption of carbohydrates, creating a slower uptake of sugars. Vegetables and legumes (such as beans and lentils) are a great way to increase fiber intake. There are also supplements available to fill dietary gaps.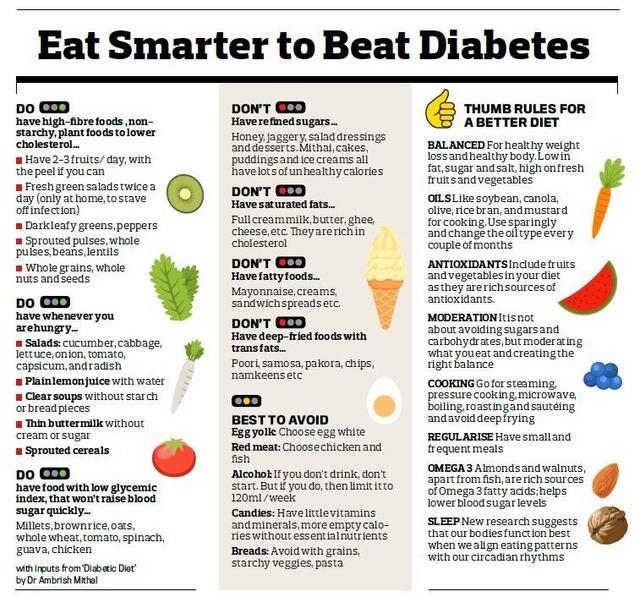 Info-graphic Source:.tosshub.com
Work with a Registered Dietician
While a general practitioner may be able to make baseline recommendations, a registered dietician is educated in disease management through nutrition. Working with an RD can help you identify which foods you should be eating when you have diabetes to help manage your symptoms.
One of the recommendations your RD will make is to decrease your carbohydrate intake and to help you choose foods with a lower glycemic index to keep blood sugar levels low.
Practice Portion Control
When it comes to managing diabetes, it's not only about what you eat; it's about how much. Practicing portion control can help you keep your blood sugar levels low. A beneficial side effect of this healthy lifestyle change is weight loss, which plays a significant role in Type 2 diabetes specifically.
The CDC recommends using "the Plate Method" for managing your portions. Fill half of your plate with non-starchy vegetables, one quarter with lean protein, and one quarter with whole grains or starchy vegetables.
Get Adequate Rest
The importance of getting enough sleep cannot be understated when it comes to control diabetes. Inadequate levels of sleep can wreak havoc on your hormonal function and digestive system. It can cause a spike in cortisol (the stress hormone) and causes fluctuations in appetite that can result in poor eating choices.
These various implications have a direct impact on managing blood sugar levels. Create a healthy sleep routine to ensure that you're getting enough rest to manage your disease.
Cope with Stress
Mental health and physical health are closely intertwined. Within the World Health Organization's constitution, they state,
Health is a state of complete physical, mental and social well-being and not merely the absence of disease or infirmity.
Stress has a negative impact on both mental and physical health. Like sleep deprivation, stress can cause hormonal fluctuations and a spike in cortisol levels. This effect will have a detrimental impact on blood sugar and insulin levels.
Exercise, sleep, and mindfulness activities like meditation can help mitigate stress levels. Prioritize self-care in your daily routine.
Monitor Your Blood Sugar Levels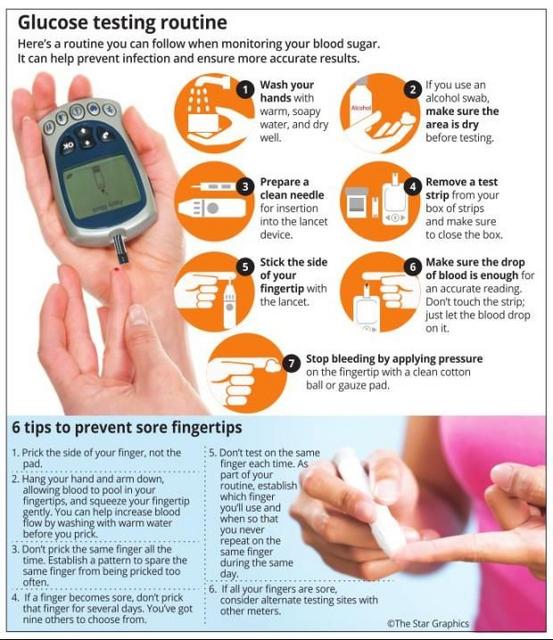 Don't skip testing your blood sugar levels throughout the day. Ideally, you'll test them as soon as you wake up and either before or after each meal or bout of exercise.
You should also develop your self-awareness for this purpose. If you're feeling a little off, don't hesitate to check your levels. Talk to your doctor about the best blood sugar monitoring tool to fit your lifestyle and how often you should be testing based on your specific case.
Take a Proactive Approach
Taking a proactive approach and following these ten tips can help you manage your diabetic symptoms and improve your quality of life. These lifestyle changes can prevent your prediabetes from developing into diabetes and reverse the effects of Type 2 diabetes, keeping it at bay for years.
Build a strong relationship with your doctor and attend your checkups regularly. Don't hesitate to call your physician if anything feels abnormal. It's better to be safe than sorry when it comes to diabetes management.