Calorie counting is the most common way that dieters manage their daily food intake. Wouldn't it be nice if we could rely on our sensible inner-voice to make healthy food choices instead? We're free to dream I guess, but my inner-voice seems to say, "that look's delicious, just have a bite" more than "I'll pass thanks, there's a healthier choice than this." And so, we put ourselves on a diet that takes much of the thinking out of our hands. No matter what the diet is, one thing is clear; the wider the variety of foods available in your diet program, the more likely you are to stick to it long term.
There are some super-restrictive diets out there that can really break you. Eating dry chicken breast and broccoli three times a day is enough to drive anyone mad. I offer you a light at the end of the tunnel. 
Would you be happy if you knew that no matter what diet you're on, there is a huge range of foods you can eat an unlimited amount of, without wrecking your progress? I hope so because that's exactly what I'm telling you. I call them guilt-free foods for this very reason.
If you were hoping I would tell you that eating 3 pounds of chocolate a day isn't going to count as cheating on your diet, I'm sorry to disappoint.
But I think there are some seriously yummy options on my list of guilt-free diet friendly foods, have very few calories, and lots of health benefits.
Also Read: Lifestyle Habits That You Should Adapt To Keep Overweight Issues at Bay
Fibrous Veggies
Vegetables are one of the healthiest ways to get fiber into your diet. There are tons of fibrous veggies you can eat unlimited amounts of guilt-free while on a diet.
Broccoli: Steamed, salty broccoli is delicious when cooked perfectly. The key is to keep them crunchy by not overcooking. You can eat a boat-load of these if you like but they are quite filling, and you can't usually eat too many.
Asparagus: My favorite way to have these is to first, steam them in a pan, empty out the water and then add a dash of soy sauce, garlic and salt before charring slightly. These are ultra diet-friendly and one of the tastiest green vegetables around.
Cauliflower: I enjoy cauliflower most in its raw form. It's excellent in a salad with other vegetables from this list. Add a fat-free dressing, and you're good to go. Healthy, low in calories and most importantly delicious.
Low calorie food you can eat everyday
There are 14 food items you can eat daily which have low calories.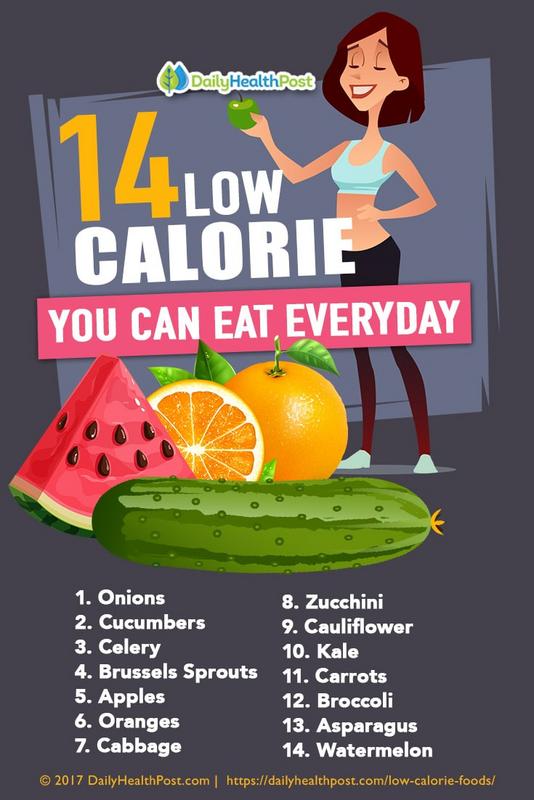 Leafy Green Vegetables
Excellent as a base for salads and a range of other things. Leafy greens usually have a subtle taste and can be added to many meals without having a negative impact on the taste. These can be eaten day-in and day-out without consequence to your diet.
Green spinach: The nutrition you get from green spinach is amazing. I enjoy wilting it inside a hot dinner to bulk it out. Eat this veggie all you like, the more the better.
Kale: This trendy green super vegetable is excellent when broken up and baked into chips. These puppies just melt in your mouth. Guilt-free chips you can eat as much of as you like while dieting?…Yes please!
Also Read: What Is The Anti-Inflammatory Diet?
Cabbage: Another veggie I love to eat raw. I cut into long skinny strips with kale and add a sour Italian style fat-free dressing, and it's delicious. Go ahead and indulge without feeling like you've cheated.
Vegetables suitable in Soups
These veggies can be eaten in many other ways but are particularly great for flavoring soups. Soups aren't the most filling meal in a diet regime so being able to bulk them out as much as you please with these vegetables is awesome. Guilt-free filling soups are the best on a cold winter's day.
Okra: Okra has a very distinct taste that is either loved or hated. Take time to understand how to prepare it, or it can have an icky slimy texture.
Chinese Cabbage: This is a great addition to any soup you might be eating in your diet. It gives excellent flavor and texture, and with next to no calories you can eat as much as you like.
Celery:Personally, I'm not a big celery fan, but this veggie has closer to zero calories, adds amazing flavor to soups, and is as guilt-free as it gets.
Salad-helper Vegetables
These vegetables can be eaten in unlimited amounts while you're on a diet and go a long way to bulking out a salad. Don't restrict yourself though; there are lots of other ways to use these vegetables too.
Cucumbers:My kids love cucumber slices especially chilled in the summer. It's a great summer snack for any dieter and can be eaten in masses completely guilt-free.
Grain Sprouts:You're likely eating lots of salads on your current diet. Add some grain sprouts for a rich nutty flavour and to get a fuller more satisfied tummy.
Also Read: Get To Know The Required Help With Your Fitness Plans
Alfalfa Sprouts:I just love the subtle flavor of Alfalfa sprouts. They add a bit of pizzazz to any sandwich, salad or soup.  Eat as much as you like knowing you're not cheating on your diet.
Condiments and Cooking Components:
One of the most challenging things about dieting is that foods can tend to be bland and dry. Being able to add condiments or extra cooking components to help with varying the flavor of your diet foods can make a big difference. Add any of the below options knowing that your diet is intact and you haven't taken so much as a step backwards.
Condiments
1. Mustard: Yellow American, Dijon and Wholegrain are all okay.
2. Pickles: A great addition to add a bit of tang to a meal.
3. Relish: Just make sure it's not an overly sweet relish. You want a relish straight from preserves.
4. Sauerkraut: This fermented condiment has excellent health benefits and should be lathered on thick wherever possible.
5. Salsa: All the Mexican food lovers will be happy to see this on the list.
Sauces
1. Chicken/Beef brew (or bouillon):The best flavour booster for meat dishes and soups.
2. Soy Sauce: Great with Asian stir fries that are a common feature in many diets.
3. Very hot Sauce (e.g. Tabasco): Get a flavor explosion by adding a hot sauce to virtually any meat or soup dish.
For Your Sweet Tooth 
You didn't think I was going to leave you empty-handed without something to temper your sweet tooth, did you? Here are a couple of things you can have when the sugar cravings get unbearable.
1. Sugar-free Jello
2. Sugar-free gum
Also Read: Paleo Diet And Its Underlying Importance
Low Calorie Fast Foods
There are some fast foods which have very low calories. Below chart mentioned few famous fast foods which have below 300 Calories.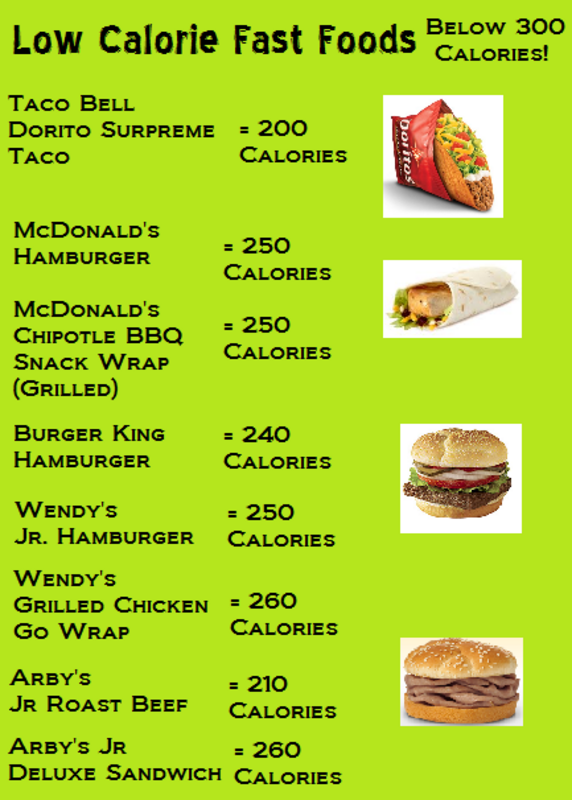 Final Wrap
There you have it my fellow struggling dieters.  A comprehensive list of foods you can eat guilt-free while on your current diet regime without losing any momentum. I hope you feel like the chains are off and you have a good chance of sticking to your diet now. Best of luck and enjoy all the endless eating.