Recently updated on June 3rd, 2020 at 07:52 pm
Netflix was founded in 1997 by Reed Hastings and Marc Randolph in Scotts Valley, California. The company's principal business is to provide video streaming on the basis of subscription. This video streaming consists of various series, originally released movies and other television drama which are widely spread through the service.
The trending Netflix has surely made its way in the heart of audience through its growing popularity. It has changed the traditional way of watching drama and has evolved giving a glimpse of what television will look around 2030. This whole new revolution is because of the internet that provides the user with its pace to watch shows according to their mood and time. With this technology, people need not need to wait for a new episode a week after instead; they can go through the next updated episode. Netflix has paved the path for producers to skip traditional methods of time slot once a week for s specific drama. Nevertheless, Netflix has also benefitted with its vast platform that does not require any recap instead it gives time according to the episode and the time it demands. Netflix also has high flexibility when compared to traditional ways of watching. With its idea of nurturing audiences, no-show or season goes off because it's less rating which is so unlike of traditional networks.
Netflix subscription plans are bifurcated into three plans namely standard definition which ranks lowest in the cost and is applicable only to a single device, next is a high definition which permits streaming on two devices while the costliest is the Platinum which allows 4K streaming over up to four devices altogether.
There is no denying the fact that Netflix has transformed the lifestyle for better. So there are lots of expectations when it comes to Netflix series. So all thumbs up for best Netflix series 2018:
1. 13 Reasons Why, Season 2
Yay! This is actually happening. The most awaited season of all time is finally here. Produced by Selena Gomez is a teen mystery where the story revolves around a girl named Hannah Baker who kills herself. Know 13 Reasons Why she killed herself from 18 May 2018.
2. Disenchantment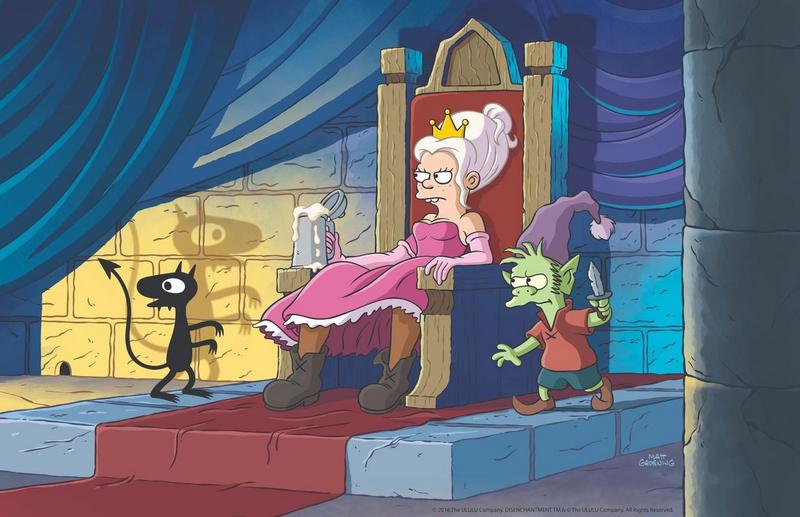 Image credit: Disenchanted/Twitter
Its a total fantasy about the losing kingdom called Dreamland. The centre character of the drama is a princess name Bean. Directed by Matt Groening this is a renowned for the movie The Simpsons.
3. Arrested Development, Season 5
The Bluths are back after a five-year-old haul. Anyone up for a guess what this hilariously dysfunctional family will show us in season 5? No doubt, yet again Tobias will do something unusual, will he? Catch the episodes from 29 May.
4. Mindhunter, Season 2
Based on John.E.Douglas, Mindhunter is a typical detective show set in the 70s. The story follows FBI agent Holden Ford which roams entire America to investigate serial killers and why do they kill people. There prevails no room for question that season will be all ahead of season 1 (fingers crossed).
5. House Of Cards, Season 6
Can't believe they made it till six! It is back on Netflix for its final showdown, expecting Claire Underwood role played by Robin Wright to be the shows main highlight. The sixth season is likely to hit Netflix in mid-winter 2018 respectively. Can't wait for the game.
6. The Innocents
Its based on Love and Power. Two young teenagers Harry and June get away from the families in order to keep their love alive. But little do they know about the extraordinary power they possess which was kept hidden from them by their families. Will love blossom or will the power they hold will separate them forever?
Enjoy this interesting journey of love and secrets with Netflix New Series.