Recently updated on June 20th, 2023 at 08:33 am
Are you thinking about buying sunglasses before the start of the summer? You're going to find that they're available at a wide range of prices.
When you buy sunglasses, you might only have to pay $20 or so for them in some cases. But you might also have to shell out hundreds of dollars in other instances for certain kinds of sunglasses.
With this in mind, you should always come up with a budget for yourself before you buy sunglasses online or in person. It'll help you avoid racking up a big credit card bill while trying to get your hands on a nice pair of shades.
There are also other things that you'll want to consider outside of price when you're shopping around for sunglasses this spring. We've put together a list of the five things you should look for when buying sunglasses for yourself below.
Use this sunglasses buying guide to track down the right shades.
1. Style
When you first begin going through the process of buying sunglasses, it's a good idea for you to learn about the different styles. There are a handful of styles that you're going to be able to choose from when you're in the market for sunglasses.
A few of the most popular styles of sunglasses are:
Aviator sunglasses

Round sunglasses

Square sunglasses

Wrap-around sunglasses

Cat-eye sunglasses
You should check out each style of sunglasses to see what it brings to the table. You should also try on different styles of sunglasses to see how they look on your face.
There might some styles that you love that just don't look right when you put them on. It's going to be up to you to determine which styles work best based on the shape of your face and your own personal preferences.
2. Size
In addition to there being a whole bunch of sunglass styles that you'll be able to pick from, there will also be lots of sunglass sizes available to you. Just like with the styles of sunglasses, it's going to be your job to figure out how big or small you want your sunglasses to be.
Some people love the look of oversized sunglasses that make it impossible to see what's going on behind them. Others want their sunglasses to be on the smaller side so that they don't make it too difficult to see what's happening all around them.
You should put on different-sized sunglasses to see which ones you like. You should be able to stumble upon a particular size that works well for you when you put sunglasses on.
3. UV Protection
When you put a pair of sunglasses on in the summertime, you're doing it to do more than just look cool. You're also doing it to set your eyes up with the protection that they need.
If you don't wear sunglasses in the summer, your eyes are going to be subjected to the sun's harmful UV rays all the time. Spending time outside in the sun without proper protection may even cause cataracts. Sunglasses guarantee almost 100% UV protection allowing shades to block all dangerous UV rays. Thus, take care of your vision by purchasing sunglasses with UV protection and prevent any common eye problems.
On the other hand, these UV rays can do damage to your eyes and cause conditions like photokeratitis. This condition is very similar to sunburn, and it can result in you suffering from symptoms like:
Pain in your eyes

Sensitivity to light

Blurry vision

Headaches

Temporary loss of vision
You can steer clear of this condition and conditions like it by putting a pair of sunglasses on when you know you're going to be spending a lot of time in the sun. You're just going to want to be sure that your sunglasses are designed to provide you with the UV protection you need. This should be something that you look for when you're buying sunglasses. Look for brands known for their commitment to quality and UV-blocking capabilities. Stores like CoolFrames and Sunglass Hut are excellent options as they carry a wide range of sunglasses from reputable brands that prioritize UV protection.
4. Color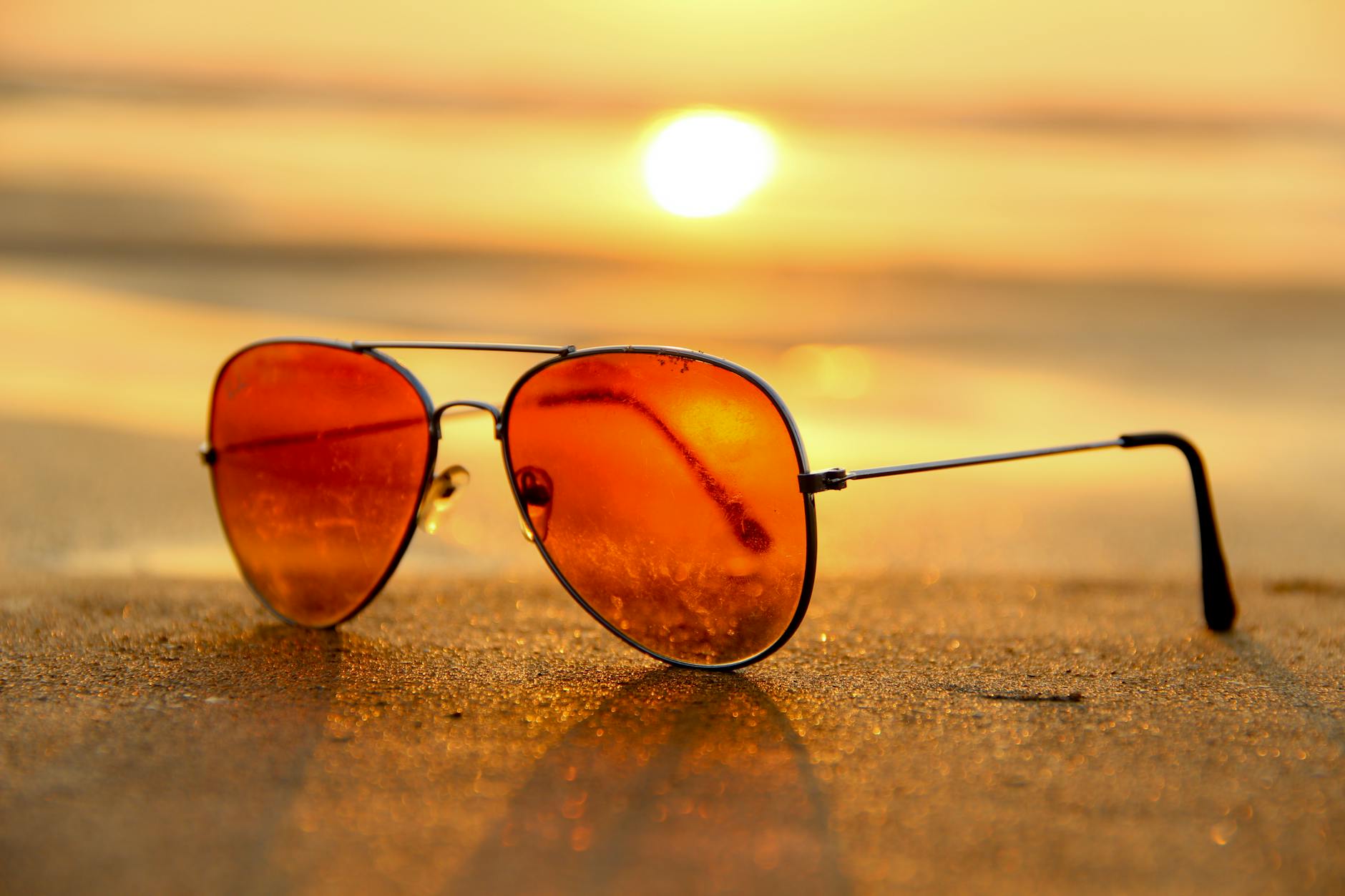 For a long time, almost all of the sunglasses on the market were black. This was, hands down, the most popular sunglass color, which is why so many manufacturers focused on making black sunglasses above all else.
These days, though, you can find sunglasses in pretty much any color that you want. These Yellow Sunglasses by Goodr are an excellent example of this. They'll make it possible for you to add a pop of color to any of your summertime outfits.
You might want to consider buying a bunch of sunglasses that come in different colors. It'll ensure that you always have a pair of sunglasses that will match whichever outfit you might put on.
5. Reputation
Prior to buying sunglasses, you should do yourself a favor and scroll through as many reviews for them as you can. You're going to be able to find out so much about a pair of shades by seeing what other people have had to say about them over time.
You should also think about reading reviews for the companies that manufacture sunglasses. These reviews will shed some much-needed light on whether or not companies have a reputation for producing high-quality sunglasses.
The last thing that you want to do is spend your hard-earned money on sunglasses that aren't going to look good or perform up to your standards. It's why you should always read through at least a few reviews for them before buying them. It'll help you steer clear of paying for sunglasses that aren't going to hold up well.
Buying Sunglasses Should Get You Excited for the Start of the Summer
Now that you know how to go about buying sunglasses, you should start shopping around for the perfect pair. There are so many great options for you to choose from, which is why it's important to begin looking for a pair prior to the start of summer.
Once you have a great pair of sunglasses picked out, you'll be all ready for summer to get underway. You'll love the way that your sunglasses look when you put them on, and you'll appreciate the UV protection that they provide for your eyes all summer long.
Want to check out some other informative articles about sunglasses? Go find them by poking around on the rest of our blog.