Nothing quite says elegance like a shiny, well-kept gold ring. The gleaming precious metal has long existed in our hearts, from simple bands to those inset with a dazzling array of gemstones. Among these cherished pieces, an 18ct gold ring stands out, perfectly balancing gold purity and durability.
But here's the million-dollar question: how do you maintain that perfect gleam? Fear not, because today, we're delving into the heart of gold ring care. With the proper knowledge, you can keep your golden treasures looking their very best for years.
Why Care for Your Gold Rings?
Gold is a relatively soft metal; even stronger alloys like 18ct gold can still suffer from daily wear and tear. They may not scratch or tarnish as easily as silver, but they still need regular care to keep their shine. Plus, looking after your rings isn't just about maintaining their beauty—it also preserves their value, making them worthwhile family heirlooms or investment pieces.
Understanding Gold Purity
Before we get into the maintenance tips, it's important to know what exactly your gold ring is made of. Pure gold is 24ct, but it's too soft for everyday wear. That's why you'll often see gold jewellery in 22ct, 18ct, 14ct or 9ct, each representing a different percentage of gold mixed with other metals for strength. For example, an 18ct gold ring is 75% gold and 25% other metals.
Regular Cleaning of Gold Rings
Your ring faces a lot, from sweaty workouts to dish soap, which can lead to grime buildup. A regular cleaning routine is essential to keep your ring sparkling clean.
1. At-Home Cleaning Routine
To clean your gold rings at home, follow these steps:
Mix a few drops of dish soap with warm—not hot—water.

Let your ring soak in the solution for 15-30 minutes.

Use a soft toothbrush to scrub the ring gently.

Rinse under warm running water and thoroughly dry with a soft cloth.
This simple cleaning routine can be performed every few weeks or whenever you notice your ring starting to lose its shine.
2. Professional Cleaning
While home cleaning is excellent for regular maintenance, having your gold rings professionally cleaned every six months to a year is beneficial. Jewellers have specialised equipment to reach those tough spots and thoroughly clean your ring.
Proper Storage of Gold Rings
Proper storage is just as important as regular cleaning. When not worn, gold rings should be stored away from other jewellery to prevent scratching. A fabric-lined jewellery box with individual compartments is a good option.
Avoid Harsh Chemicals
Common household chemicals can damage gold. Chlorine, bleach, makeup, and perfumes can discolour your ring or damage its finish. Always remove your ring when cleaning or applying makeup.
Regular Inspections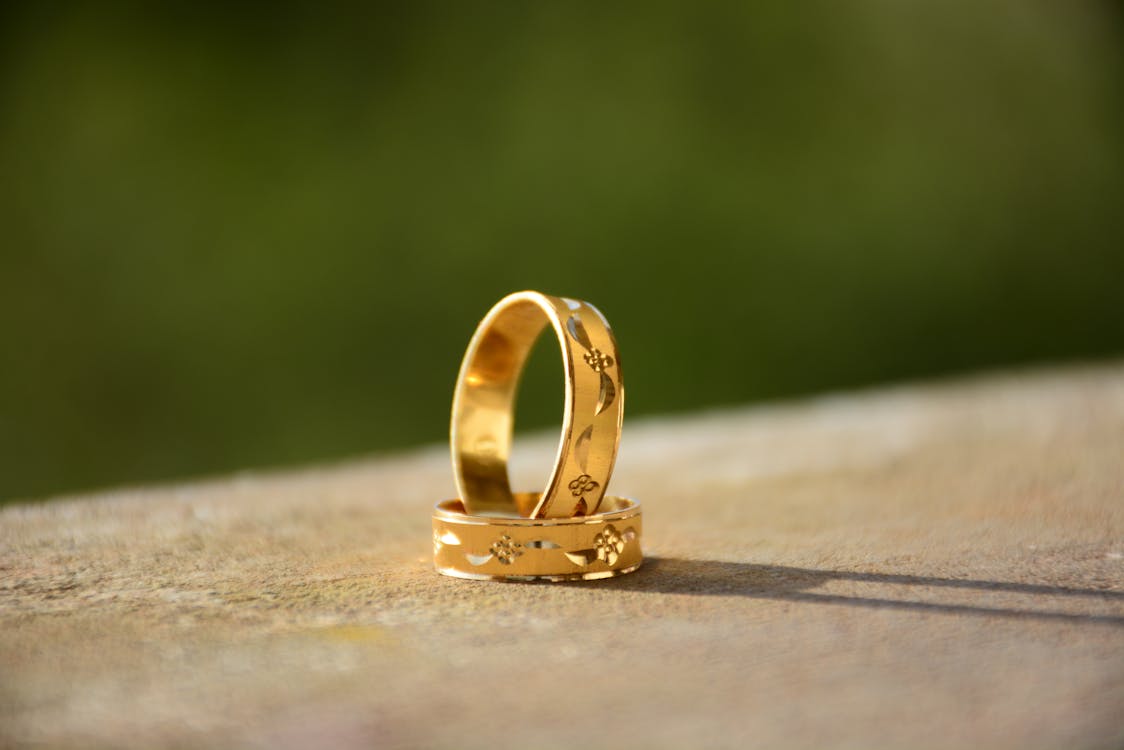 Regular inspections are a must, especially for gold rings with gemstones. Check for any loose stones or bent prongs every few months. If you spot any issues, take your ring to a professional jeweller for repair.
Polishing Your Gold Rings
Occasional polishing can help maintain the shine of your gold rings. Use a polishing cloth designed for gold to buff the surface gently. Always polish in a circular motion to prevent any scratching.
In Conclusion
Caring for your gold rings involves regular cleaning, proper storage, and frequent inspections. With these tips, you can maintain the lustrous gleam of your cherished 18ct gold ring, keeping it just as captivating as the day you first wore it.
A golden rule to remember is that your gold rings require as much care as the value they hold—nurture them well, and they will continue to shine for generations.