Are you looking for a way to keep your jewelry shining and sparkling like the day that you first purchased it? Do you want to keep it in a constant rotation, but make sure each piece is looking good as new the next time you want to wear it? 
If so, then you need to learn how to clean jewelry properly. Doing so can help your rings, earrings, necklaces, etc. maintain a youthful glow. Fortunately, it doesn't require a super elaborate process to clean them effectively.
See below for an in-depth guide on how to properly clean your jewelry and make everyone believe that your old pieces are brand-new.
Categorize Your Jewelry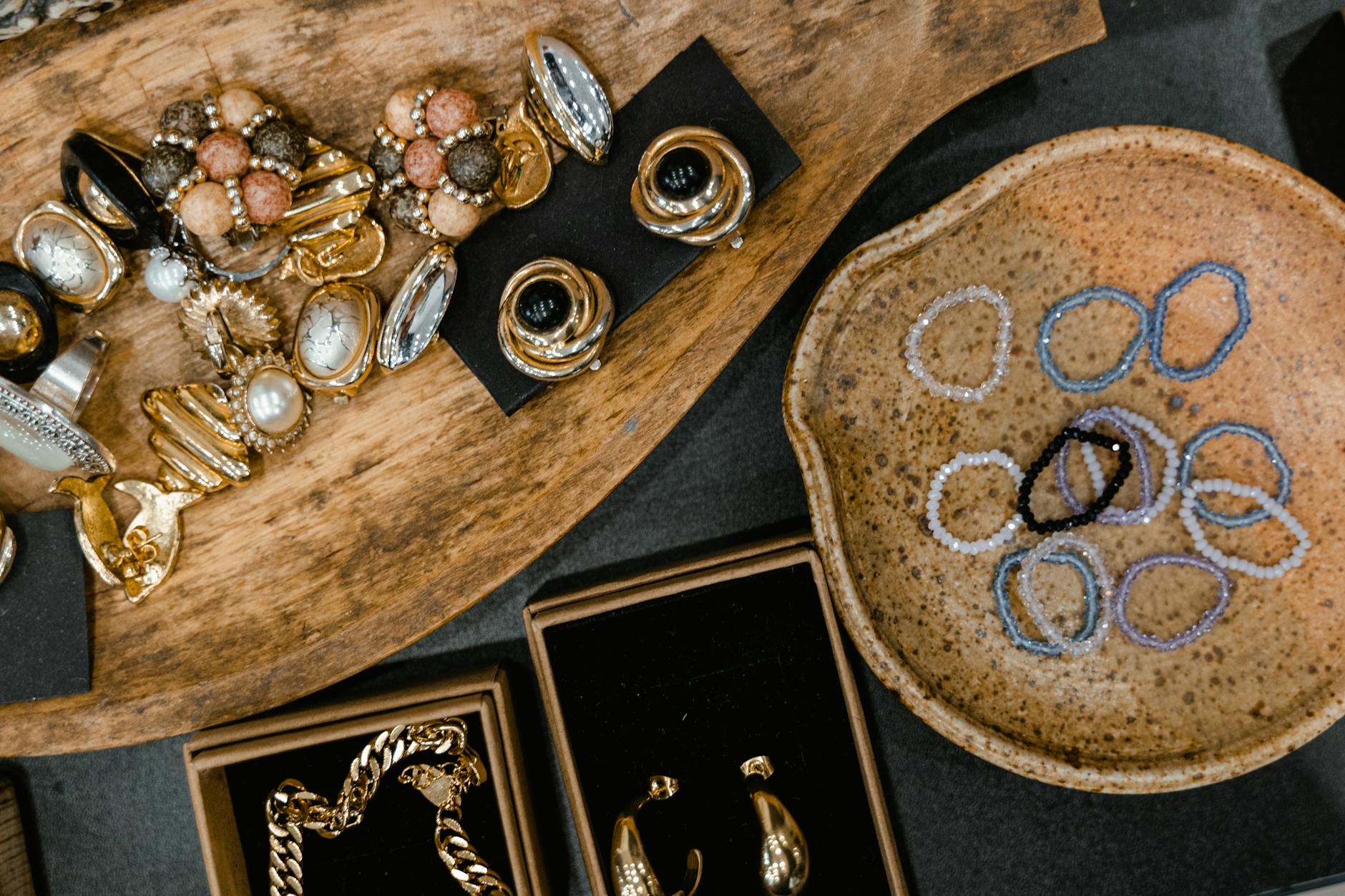 Before we go too in-depth, you should know that different jewelry types require different cleaning methods. 
It makes sense when you think about it! Gold is a completely different material than silver. It's softer, so naturally, you should take more care when cleaning it than other more durable materials.
Fortunately, you don't have to get super-specific. For example, you can clean yellow gold and rose gold the same way. 
For that reason, let's kick things off by separating your jewelry into piles of gold and piles of silver. We will cater to each of these individually to ensure that you see the best results.
How to Clean Gold Jewelry Properly
Let's start with gold, one of the most traditional and sought-after materials on Earth! You can clean your gold jewelry pieces any time you notice that they have scratch-like marks or are looking a little worse for the wear. 
There are two methods we'll cover: a once-over cleaning method and a deep cleaning method. Let's start with the former.
To perform a once-over cleaning on all your gold jewelry, start by filling a bowl with warm water (not hot!) and dishwashing soap. Mix the two until you see bubbles. 
All you have to do is let the gold jewelry sit in that solution for 15 to 20 minutes. Once it's out, grab a soft-bristle toothbrush (the one you don't plan on using to brush your teeth with) and gently scrub at the crevices in your gold jewelry. This will ensure that all grains of dirt or dust is removed.
After you've given each piece a brush, run them under warm running water and set them on a dry towel. Use a separate dry towel to pat the jewelry dry. 
If your gold jewelry needs more attention than a simple rinse, then you can use a deep clean. To do this, you'll need to purchase some ammonia.
Grab a large bowl (or bucket) and mix in a tablespoon of ammonia with one cup of water. Mix the solution. 
Place your gold jewelry pieces in the solution and let them sit for one minute. Pull the jewelry out (don't let any of it sit in the solution for longer, as the ammonia can damage the gold), and place it inside a strainer. 
Rinse the gold jewelry under warm running water and pat it dry with a towel. For an additional layer of cleaning, you can use a microfiber cloth and gently rub down the jewelry once it's completely dry. This will remove any dust or dirt clinging to the gold material.
How to Clean Sterling Silver Jewelry Properly
Just like the gold, we'll be covering two different cleaning methods for sterling silver jewelry: a once-over method and a method that offers a deeper clean.
To give your sterling silver a once-over clean, start by pouring a little bit of liquid dish soap into a warm water solution. Mix the solution until you see bubbles, then place your silver jewelry inside the bowl. Unlike with gold, you only want your sterling silver to sit for 10 minutes at most.
Once that 10 minutes is up, pull out the jewelry and gently scrub at it with a soft-bristle toothbrush. To rinse it off, run it under warm water and let it air dry. After the jewelry has air dried, take a microfiber cloth and rub the jewelry piece by piece.
If you think your sterling silver needs a deeper clean, then you'll want to be more intensive and hands-on with the cleaning. Skip the water/soap solution and immediately reach for the microfiber cloth and q-tips instead. 
Take each piece and spend 2 to 3 minutes rubbing it down with a clean, slightly damp microfiber cloth. Have q-tips available for the crevices in your jewelry that are harder to reach.
If you notice any tarnish on your stainless steel pieces (dark spots), then you'll need to go even deeper still by mixing one part baking soda with one part water. This should make a pasty consistency. 
Place that paste on your soft-bristle toothbrush, then gently use it to scrub at the tarnished areas on your sterling silver jewelry. Quickly run it under warm water and assess if the tarnish is completely removed; if not, then repeat the process until it's gone.
Once it's clean, run it under warm running water then set it on a dry towel to air dry. 
Look Forward to Clean Jewelry With These Tips
Now that you have seen an in-depth guide on how to properly clean jewelry, be sure to use this information to your advantage.
Take the time to browse our website for more articles on how to clean jewelry the right way, as well as many other topics that will help you get more out of your belongings.