Recently updated on October 25th, 2022 at 11:33 am
Planning a wedding is exhaustive. From the venue to the food to the guest list, sometimes the stress of it all takes away from the opportunity to have fun. 
But when planning out the wedding looks for your bridal party, you can express yourself as a bride or groom. A bridal party is comprised of the bridesmaids and groomsmen, flower girls, ring bearers, and maybe even your dog! The outfits you choose for each person are a reflection of you and the people you want standing by your side on the big day. 
Choosing the right look for everyone in your bridal party will set the stage for the ceremony too. With everyone up at the altar, the bridal party's outfits are emphasized and it all finally comes together. But where to start?
Bridesmaids dresses alone are trending in 100 different directions right now. To plan your whole bridal party might seem overwhelming, but start with one element and come up with a few ideas to work through. For inspiration and ideas for everyone in your bridal party, here are 10 popular trends right now!
1. Simplicity
While this depends on the type of bride you are, simplicity is undoubtedly becoming more popular. Not only in wedding dresses and at the reception but also with bridesmaids gowns and even groom's suits!
Many brides choose to go with less to cut costs, but others truly think less is more! Not only does a more elaborate outfit usually cost more, but simplicity is also comfortable and natural. If you want to feel sophisticated on your big day but still be you, consider a simpler theme for the bridal party looks. 
Since many people are acclimated to the elaborate dresses and expensive accessories, you may even take the guests off guard a bit! Simplicity is trendy, and we're seeing it everywhere right now. As Courtney Lanier Sarofim has said, "I love to look good, but it has to work with my lifestyle."
2. Mismatched Dresses
Wedding fashion changes a lot through the years; you can never expect it to be quite the same. 
For bridesmaids, another one of those trends is presenting itself in mismatched dresses. Mismatched bridesmaids dresses are popular on social media and create a cohesive but individualized look.
This completely alleviates the issue of figuring out if your bridesmaids like the style of the dress or if a certain color works for everybody because they don't all have to have the same colors, and you can switch up styles!
Whether they wear the same color with mismatched styles, the same style with different shades of color, or you want to go all out and find the perfect combination of texture and color in a variety of different dresses—you have so many options. 
3. Textured Suits
Wedding looks for grooms have stayed pretty consistent throughout the years. But recently, men have started to express their individuality and personal style more and more.
One trend we've seen a lot lately has been the velvet suit. Regardless of color, men are finding their style and confidence in these soft and sleek suits. The best part about velvet is that it does work in almost every color, and you can almost always match it to the wedding theme and color palette!
On top of the velvet trend, men are employing styles and textures from all different decades. From paisley to floral to monochrome suits, men are going all out.
4. Necklines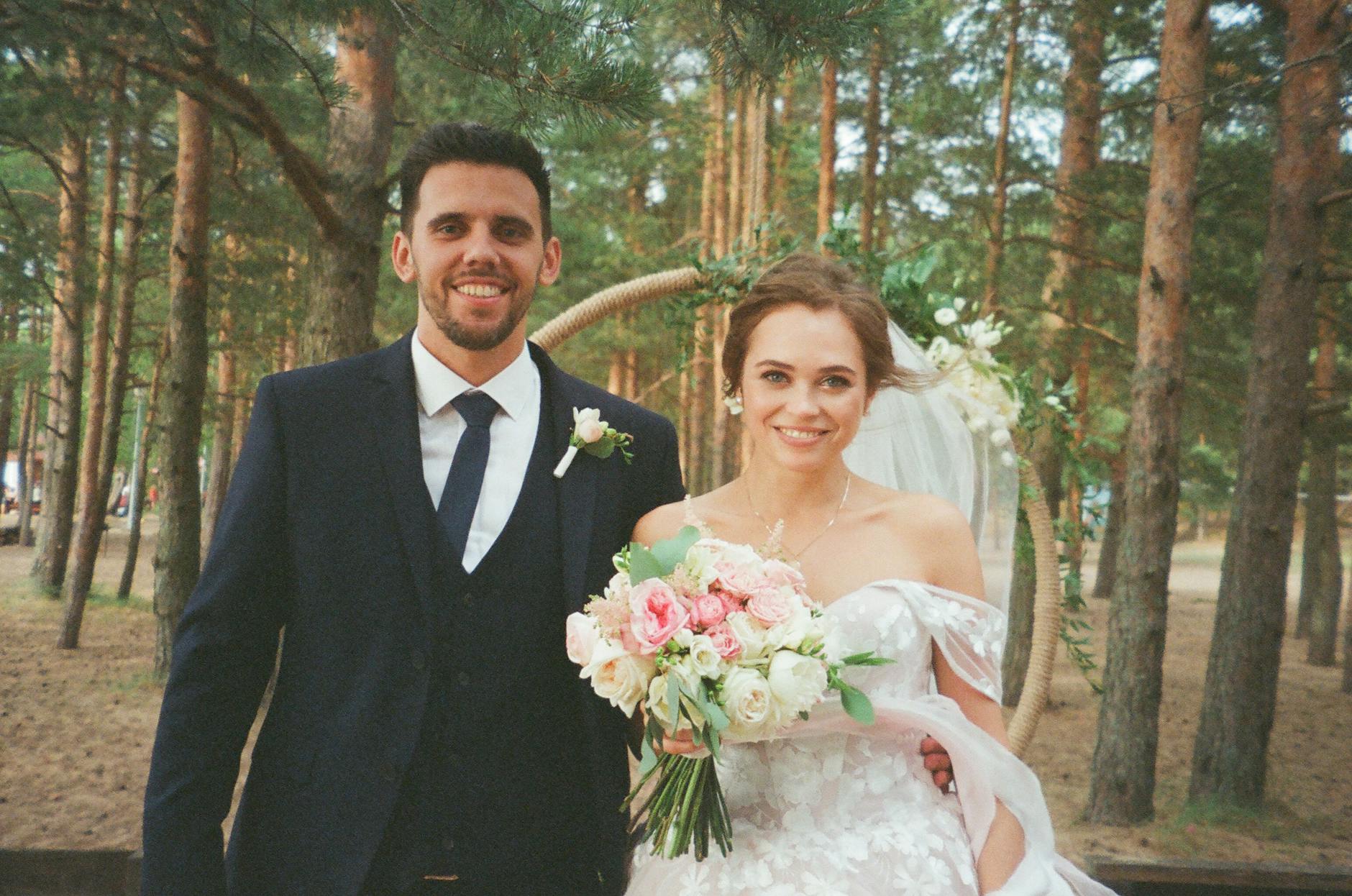 One thing to keep an eye on this season is the neckline of your or your bridesmaid's gowns. Deep Vs and cowl necks are two necklines making statements right now. 
Brides or bridesmaids can incorporate these popular necklines into their style right now. In fact, for bridesmaids, satin slip-style cowl neck dresses are becoming more and more fashionable as brides opt for minimalism and simplicity as we mentioned above. To add to that, they can be pretty affordable depending on where you get them!
You might also notice more scandalous deep V neck styles walking down the aisle too. These are sexy but still fun and can be used in a wide variety of dress styles whether you have a big tulle-filled skirt or a slim mermaid.
5. Jewel Tones
Brides are getting more comfortable with their bridal party wearing brighter colors, especially in the fall and winter when the weather is dreary or not quite so uplifting. Deep jewel tones like emerald, royal blue, golden yellows, and burnt oranges are making appearances and bringing color to weddings.
Your whole bridal party can pull these colors off if you know which ones to pick. Not only do they pop up at the alter, but you'll stand out in white between them all!
Think about using textures here too like velvet, satin, and sequins. You can have a lot of fun with jewel tones, just be careful not to make the rest of the decor too overwhelming. 
Floral arrangements also work really well with jewel tones because they pop against the color. Using white florals for the bridal party can even complement your white dress, while your colorful bouquet complements the bridal party!
6. Jumpsuits
A super trendy look that many modern brides are catching onto is jumpsuits. A classy white jumpsuit isn't quite as feminine as a fluffy white dress, but it sure is a power move! With a killer pair of heels and showstopping hair, a jumpsuit wedding look for brides can be a statement. 
Or, you can use the jumpsuit style for your bridesmaids. It's sophisticated and elegant, but can also be super colorful and comfy! Feel free to play around with necklines and textures here too! 
Navy suits for men are becoming another wedding trend staple. They bring a traditional feel, with more fun and casual look than black. But don't get it wrong, navy can still look formal and fun!
It also matches really well with most bridesmaids dresses and floral arrangements. Whether you decide on a navy suit for just the groom or the whole bridal party, you can't go wrong. This classic color brings life and vibrancy to the altar!
8. Natural and Effortless
As more of us begin to embrace natural beauty rather than a face full of makeup, effortless wedding makeup looks are becoming more popular.
Gone are the days of dramatic lashes and eyeshadow. No need to pile on the blush and contour—unless of course, that's your style, then you do you! But with great wedding photography, a beautiful dress, and an effortlessly happy couple, beauty will shine through no matter what!
You can also use this same tactic for effortless hair. Rather than filling your hair with a can's worth of hairspray, go natural, try soft curls, or do a simple up-do.
9. Incorporate Your Furry Friend
We couldn't forget one of the most important parts of the bridal party—your furry family members! Nowadays, people are making it a priority that their dogs get a chance to be a part of their big day. From including them in wedding photos to being trained as ring-bearer or flower pup, your pet deserves to look great too!
Depending on your pet's personality, you could consider a bandana, special collar, or even a flower crown. Some dogs might even love their own dress or little suit. Customizable options are also available for pet parents and can make the day that much more special!
10. Blush
If there's one trend that you could consider an oldie, but a goodie, it's the color blush. That's it, blush. Whether you prefer it for your bridesmaid's dresses, the groomsmen's dress shirts, or one of your wedding colors, blush looks great everywhere on everything.
Not only is it soft and classic, but it's also romantic and magical. It pairs beautifully with florals or as a little flower girl's dress! The possibilities are endless with this soft but beautiful color.
It also flatters most people, so you don't have to worry about unbecoming dresses or shirts being an issue.
Wedding Looks for Any Couple
Whether you're more traditional or like to try things that are out of the box, there's unique wedding looks for every couple. Playing with color, texture, and style can make for a fun and interesting looks. Which one of these trends would you try? 
We want to help you find and share the information you care about. For more fashion and lifestyle trends and tips like this, check out some more of our content!