If you operate or manage a restaurant or other entertainment venue, you will know that cleanliness is of the utmost importance, as is a quality commercial restaurant cleaning service. The focus of each clean should be on ensuring customers will feel safe and confident spending their free time within your venue. This is most easily achieved by maintaining a high level of cleanliness that keeps the venue clean whilst also reassuring them that you take the prevention of illnesses such as COVID-19 seriously and other illness hazards found in public places.
Things that need to be considered for an effective clean may differ between the dining, bar area, and kitchen. However, every activity carried out should aim to keep everyone safe and happy. Therefore, it's essential to keep your kitchen to a high standard of cleanliness for the sake of your customers and staff while adhering to the rigorous hygiene requirements within the industry. 
As the kitchen is a hub of activity and where most prep is completed just before people consume a meal, this area needs extra special attention, more than any other place in the venue. The average commercial kitchen needs to be cleaned after each service, with an additional professional regular deep clean also being carried out in tangent once the service clean-up is complete. 
1. Professional Cleaning Regularly Makes a Difference
Having your staff clean your venue is one thing – but that is not their primary job. This is where a professional clean is helpful in maintaining your venue, coming behind, and ensuring nothing is missed. Frequency is vital to ensure the effectiveness of any cleaning procedure – and having a professional clean once a month will have less impact than the cumulative effect of one or two times a week. 
In modern times, where COVID19 has changed how venues operated for a long time, more really is better and will ensure your customers feel safer. It is only mandatory to have a professional clean once every three months, but regular cleaning makes this three-month mark an easier proposition, as it is just another cleaning day rather than a big deal. 
2. Get Your Team Onboard
Ensuring everyone in the venue, whether they be management or staff, are on the same page when it comes to cleanliness makes a difference. When everyone is invested in maintaining the highest level of health and safety standards, they will care for their area every time, and that makes the end-of-day cleaning easier. This can greatly improve venue and kitchen operations and positively affect business procedures, including additional cleaning. 
3. Train Everyone Fully in Cleanliness Procedures 
Training everyone that uses the kitchen to maintain cleanliness as they go and to the correct level will help avoid cross-contamination and make the cleaning load that bit lighter. Cleaning to a high standard at the end of service shifts makes a big difference to kitchen functioning for the next day and ensures staff is not behind in opening for the day. This includes full cleaning, including degreasing and sanitizing. 
4. Use The Best Cleaning Equipment Regularly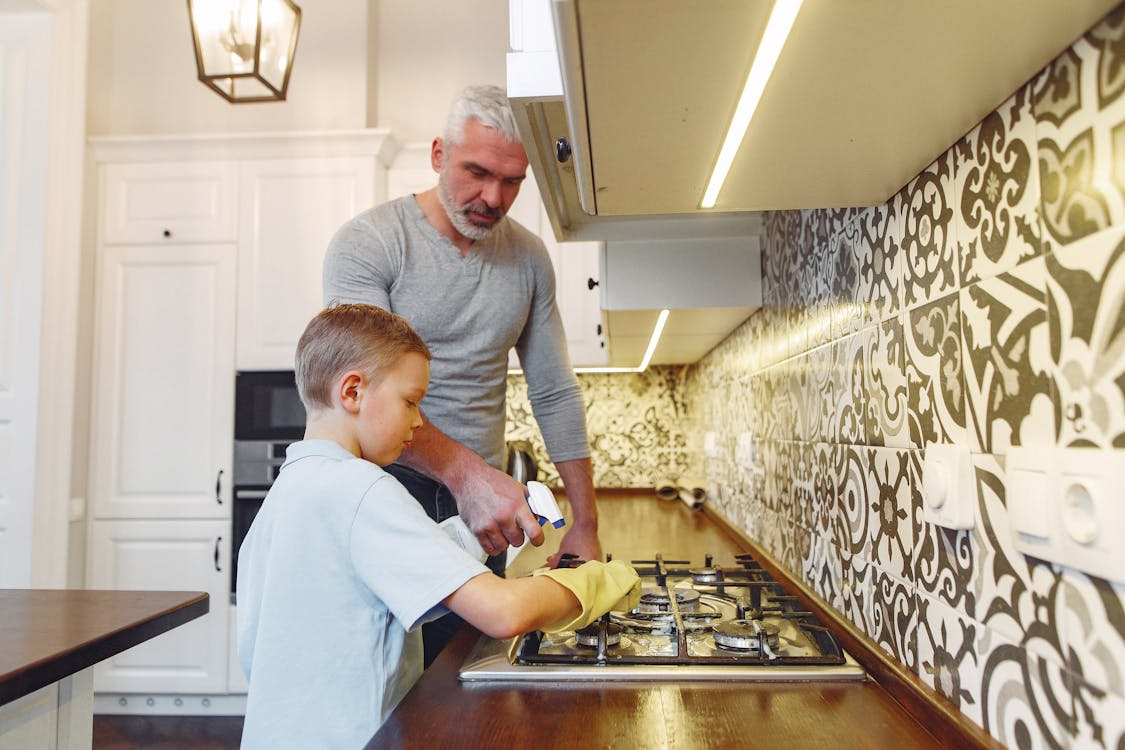 Beyond ensuring everyone is trained and onboard, cleaning frequency is the next important essential, along with the use of the correct commercial cleaning equipment, including detergent and sanitizer. A home cleaning solution will likely not be acceptable for a commercial kitchen so consider which commercial-grade products will be best and never scrimp on quality. The correct products make the job easier – but don't forget PPE was required for those who may have skin sensitivities. 
5. The Surface You Clean Needs Particular Care
Commercial grill and cooking surfaces will have different cleaning requirements depending on what they are made from and their use. Correct cleaning using appropriate products will extend their lifespan and maintain them for years of use. 
6. Sanitise Everywhere After Cleaning
While cleaning ensures hygiene, sanitizing destroys bacteria and viruses that may linger on a range of surfaces and reduces any contamination risks. This is a vital step to ensure there is no preventable viral spread in the kitchen and beyond to the customers. 
7. Ensure the Ventilation is Right
Ventilation has always been a safety requirement with a host of legalities attached, as it is a critical component to keep every venue user safe. Airflow through vents, windows, doors, and via mechanical ventilation utilizing fans and ducts will help airflow and ensure a safe and healthy restaurant environment. 
The optimal setup includes both natural and automated ventilation. In a kitchen, ideal ventilation needs some additional help, like cleaning grease and grime regularly from surfaces, air outlets, and ducts to ensure the system doesn't get clogged. The extractor above the grill needs regular checks so the restaurant doesn't fill with smoke, steam, or unpleasant smells.
8. liminate Fire Hazards
Grease and grime are fire hazards, so keeping hazardous or flammable substances off surfaces is essential to maintaining safety for all workers and venue users. It can also create an abundance of smoke if not cleared before becoming a full grease fire, which also poses risks to your staff. Regular cleaning will help avoid any issues that may arise and threaten venue safety. 
9. Professional Cleaning Will Keep Everyone Safer
Cleanliness and legal compliance are both paramount in a public-serving kitchen, especially in a high-volume one. Even making minor tweaks in your processes will dramatically improve your cleanliness and health & safety throughout your venue. However, there is a point when you need professional help to maintain standards and adhere to regulatory obligations. 
Contact Grease Gone Commercial Cleaning London to discover how we help London businesses with professional deep cleaning services that simplify day-to-day cleaning – we are experts in commercial kitchen cleaning. We are members of BESA and BESCA, so we know how important it is to have a legally compliant kitchen, so we take a bespoke approach to each commercial clean we do. Call us for a venue quote or to receive more information on our services and how we can help.