Do you love a subtle yet confident existence? If you love it, then daith piercings are for you. Nothing can be sexier and more nuanced than a pair of daith earrings. Its popularity charts have also climbed higher recently as not just women, but even men are increasingly opting for it today.
Daith is the thinnest cartilage in our outer ear. It is the area where the inner and outer cartilages converge and then merge with the pinnae (auricle or the outer cartilaginous portion of our ear). 
Piercing And Healing
Are you already wondering if a piercing in this area would be painful? The answer would be a big 'Yes.' Yes, it would be painful, and on a scale of 10, the pain you'd feel will at least be 6/10 on the scale. 
Like all other cartilage piercings, even the daith piercing would be done with a 16 gauge needle (1.2 mm). It means you would need to wear a 16 mm thick daith earring. Healing the wound would also take a lot of time since it is a complicated position. 
It would aid if you also remembered that this is where dust and dirt accumulate the most. Thus, keeping it clean is a challenging affair. Any dirt in the area while the wound is drying can cause septicemia or give way to a nasty infection.
Healing time is almost 2-4 months, but complete healing might take up to a year.
But after the wound heals, you can use all sorts of fancy jewelry unless you are allergic to them. But, the best metals for such soft spots are gold, silver, and rhodium-plated jewelry. You can also try daith earrings made of stainless steel since it is relatively inert and hypoallergenic.
The next question that comes is which type of daith earrings is best for your ears?
The easiest way to know the daith earring type made just for you would be by knowing your face shape. If you know your face shape, you can easily judge your daith earring style statement that will add elegance to your persona.
Best daith earrings for your ear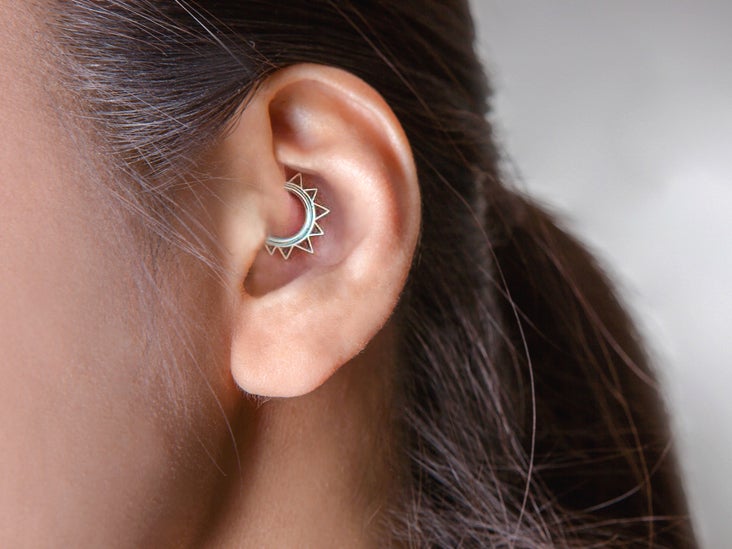 Image Source: healthline.com
For heart-shaped and round faces, try a small hoop as daith earrings for your daith piercings. Hoops with a crystal blob for daily wear and heart shaped rings for special occasions can add that extra zest you want to have every day.

Square and oval-shaped faces can go for stone studded clicker rings or barbells.

For rectangle and diamond-shaped faces, try big barbells or more oversized hoops as daith earrings. A long straight barbell can make you stand out in the crowd. Additionally, try hoops that protrude from your ears comfortably. Big faces with big ears might often get noticed, and by trying a barbell or a giant hoop, you can make them get seen in a fair way.
Alternate medicine streams recommend daith piercings for migraines and other different types of headaches. The daith piercings help relax the vagus nerve branches (longest nerve in the body) on the outer ear. 
If you plan to wear that lovely pair of daith earrings, try out our ideas for that irresistible you! Choose a design that suits your mood and shines and sparkle throughout the day.