Recently updated on October 25th, 2022 at 11:16 am
There are few pieces of jewelry that are as classic as pearl necklaces. With their beautiful shine and unmatched natural beauty, pearls can instantly elevate any look. Pearls are so timeless in fact they can be styled formal enough to wear to a business meeting or dressed down for a casual lunch. The key to wearing this classic that has stood the test of time is in knowing how to properly style the look!
Pearls have not always been accessible to the average woman, but that's about to change. If you're looking for your own realistic looking pearl necklace, look no further than Shein. With many budget-friendly pearl options that are indistinguishable from the real thing, you too can own your own statement pearl necklace without breaking the bank! Through the Shein coupon code featured on this page, you can even score a major discount on your next purchase! 
1. Get the right length
Whenever you think of a "pearl necklace" what probably comes to mind is a small strand of pearls worn closely around your neck. But there are many different lengths of pearl necklaces and each can be styled in a different way. 
16' Choker: A choker pearl necklace is a relaxed style that can easily be made casual. Pair your choker with a bardot top or halter top for a fun mix of styles or use it to dress up a pair of jeans and a blouse. 
18' Princess: Similar to a choker, a princess necklace is a great choice for those looking for a more casual look. 
22-24' Matinee: A Matinee pearl necklace can either be dressed up or down for the occasion. If the event is formal, pair this style with a little black dress for an elegant look. 
32'-33' Opera: This is the longest and most formal of all the pearl styles. You should always choose your pearl length based on your height. The longer the pearls, the more formal the occasion!
2. Minimalist Glam
One of the easiest ways to style pearls is to make them the centerpiece of your outfit. Pearls offer a unique natural beauty that deserves to be the center of attention! To wear pearls you don't have to depend on the classic pearl strand, there are many other minimalist ways that you can get the look. Pearl studs are the perfect way of polishing up any casual look while pearl pendants add a touch of a sophistication to any outfit. 
3. Classic Black and White
There is no look more classic than pairing a pearl necklace with a black statement dress. Audrey Hepburn made fashion history when she paired a 5 strand pearl necklace with her own little black dress in the 60s classic, Breakfast at Tiffany's. If the dress you're wearing is simple without lace or other frills, go for a longer strand of pearls to add a dramatic statement to your look. If your dress has lace, ruffles or any other elaborate details, stick to a choker or princess style. 
4. Have fun with color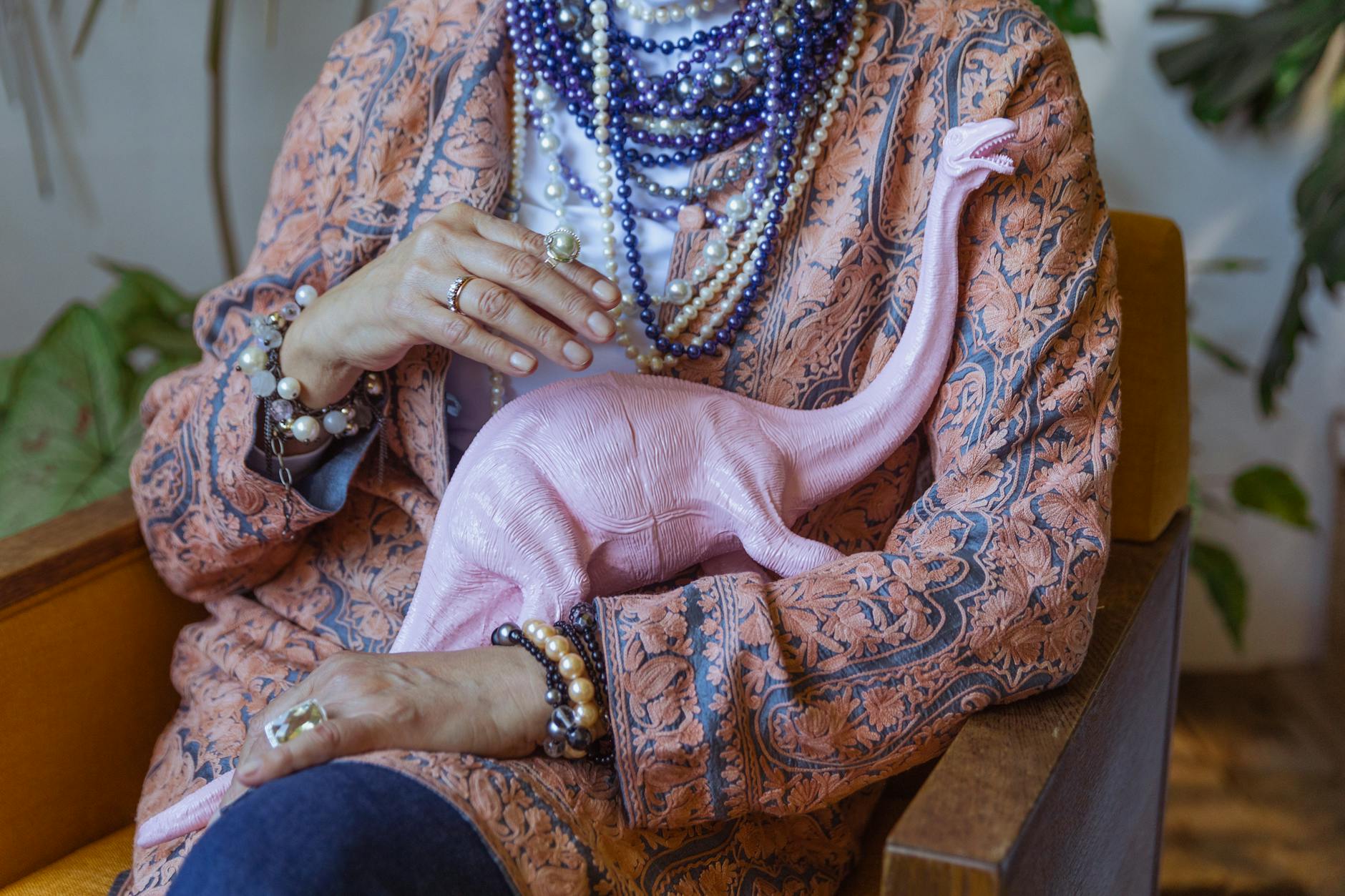 Remember, you don't have to rely on just white pearls! Pearls come in a variety of beautiful colors including gold, pink and black. If you go for synthetic pearls your colors choices are endless! Just make sure that the color you choose matches your personal style, taste and complexion. 
5. Edgy and Fun
While pearls are often considered an elegant and conservastive look, there are many ways that you can style pearls to give them a modern edge. Try combining your pearls with a leather or jean jacket for a fun play on textures while or layer multiple strands of pearl necklaces for a dramatic look.