The fact that we're separated physically doesn't mean that we can't still get together in meaningful ways. 
One way of staying social has always been getting together with groups of friends and spending time together. For most of us, human contact has been limited to one or two people at any given time for the last year, whether digitally or physically.
We're here to pitch the idea of throwing a virtual party. We'll offer tips on making the virtual gathering as great as it can be, giving you a meaningful outlet to get together with all of your friends at once. 
Let's get started.
How to Throw an Excellent Virtual Party
Throwing a virtual event can seem a little daunting, but it's actually very simple. The most important thing is that everyone has access to a computer and signs up for one of many free virtual connection platforms. 
You can choose from Zoom, Skype, Houseparty, Facetime, or Google Hangouts. While there are numerous other platforms that would work, odds are that most of your group is already fluent in one or two of the platforms above. 
The tricky part is coming up with virtual event ideas that turn your hangout into something more than a casual chat. Let's look at some of the ideas you can put forward if you're the one hosting a virtual party. 
1. Pick a Theme
Themed parties have long been something that gets people out of their shells and allows them to explore different costumes and personalities.  
Think of something that ties your friend group together. Do you all love Lord of The Rings? How about a television show that you've all been bingeing on since quarantine started?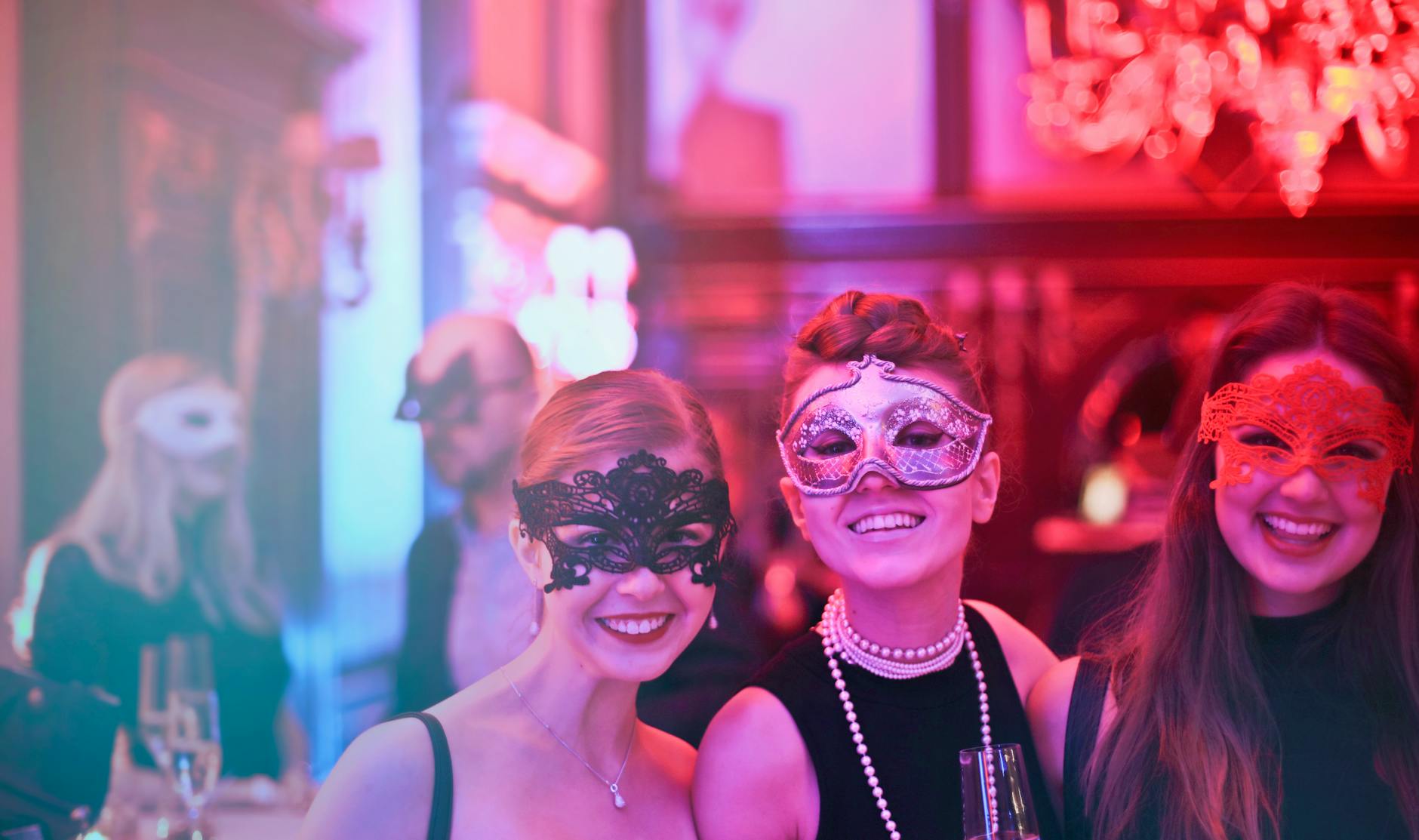 You can make a requirement that all guests have to incorporate that theme into the chat in some way. That could be a poster hanging up in the back of the video call, or maybe even a themed t-shirt. 
Whatever it is, adding a general theme to the party can make it more engaging and help you to forget that you have to be physically separated from each other. 
2. Set a Date in Advance With Invitations
There's nothing that makes a party more official than invitations. You could even send out physical invitations for your virtual party, giving a little reminder of how things once were. 
Invitations not only allow your guests to RSVP and plan for the event, but they're also an opportunity to be fun and expressive. You can incorporate your theme into the invitations if you feel like it, and those pieces of paper can serve as little pieces of memorabilia to look back on when things get back to normal. 
3. Cook a Meal Together
Food is typically a staple of any good party. Since you're not able to cook for anyone, you can make the party meaningful by suggesting that everyone picks up some ingredients and cooks the same meal for the party. 
You can either cook at the same time or in advance, but both options further tie you all together so that you're having similar experiences. 
4. Play The Same Games You Normally Would
Playing a lot of interactive games like Pictionary or charades is still possible online. 
The games we play are one of the things that have been put on hold over the last year, and it will be exciting to get back into the swing of things and enjoy an activity together. There may also be a lot of digital games that you can play together.
Try to find digital formats for board games that you like to play or even online platforms that offer new games for you all to explore together. 
If you're stumped on games to play together, consider signing up for an Online Escape Room. This is a fun way for you all to participate in something new together. 
5. Watch Something Together
As the host of a virtual event, there are only so many things that you can incorporate into your gathering before the others get bored. 
When things start slowing down, you can all choose to have a watch party on one of the various streaming services that you all subscribe to. Most large streaming platforms have the option of you and others to watch the same thing at the same time. 
If you plan to make your gatherings a regular occurrence, you can pick a show to watch one episode every week and keep the fun going. 
6. Make a Playlist 
Set the ambiance of your party with a playlist of the songs you and your friends love. 
The practicalities of getting all of the music at the same time are tricky, though. This is especially true when you have a lot of people joining the party. 
Music playing through your home speakers will naturally get picked up by your computer microphone, but that quality won't be good enough to let everyone else hear it. 
One way to try and manage this is to have everyone start playing the music at the same time, although this is a tedious thing to do and it often winds up being slightly syncopated and frustrating. A different option is to make sure everyone has headphones on and plays the music to themselves. 
Google Meet sessions have some options for streaming your music through the platform for other users. If you can figure out how to set things up, you can send the music right from your YouTube or Spotify account to play for the whole party. 
7. Make a Dress Code
If you're not into themes or you can't think of one, you can just offer up the idea of a dress code. 
You'll only see everyone from the shoulders up, so it won't require too much effort but it's nice to add a bit of class to your event. Getting a little dressed up is something that many of us haven't been able to do in a long time, so your guests might appreciate the opportunity. 
Need More Tips on Staying Social?
Staying social in a pandemic is incredibly tough. Hopefully, the ideas above will send you on your way toward a memorable party. If you need some more insight, we're here to help you work through more ideas to stay in touch with your friends. 
Explore our site for more ideas and insights into staying well through the remainder of the pandemic.