Recently updated on October 25th, 2022 at 11:15 am
When the holidays are over, it's time to take a slow start in preparing your wardrobe for fall. What products will be suitable for the upcoming cold days? Timeless, stylish, and minimalistic BIRKENSTOCK models are always the best choice. They'll never go out of fashion, and you can easily match them with various accessories, without spending a fortune to keep up with the latest trends. So let's discover the essential women's shoes for a minimalist wardrobe for fall.
1. Luton High – classic ankle boots
A beige trench coat and black ankle boots are just part of what you need to create a minimalist wardrobe for fall. And by "classic ankle boots'  we mean a comfortable black BIRKENSTOCK Luton High model, made from suede leather and cork. These mid-calf slouchy style boots provide great support, while still looking fabulous. What's more, they're very easy to put on, thanks to the handy side zipper. They also have, of course, the famous BIRKENSTOCK cork midsole, with contoured cork/latex footbed. The upper is made from suede, the sole from rubber, and the whole is German craftsmanship.  It's a supreme quality product, so you can be sure that it'll serve you for years to come. 
You can wear Luton High with a boyfriend blazer, jeans or a pencil skirt, or with leather shorts and opaque tights. Feel the total freedom!
2. Bend – casual white sneakers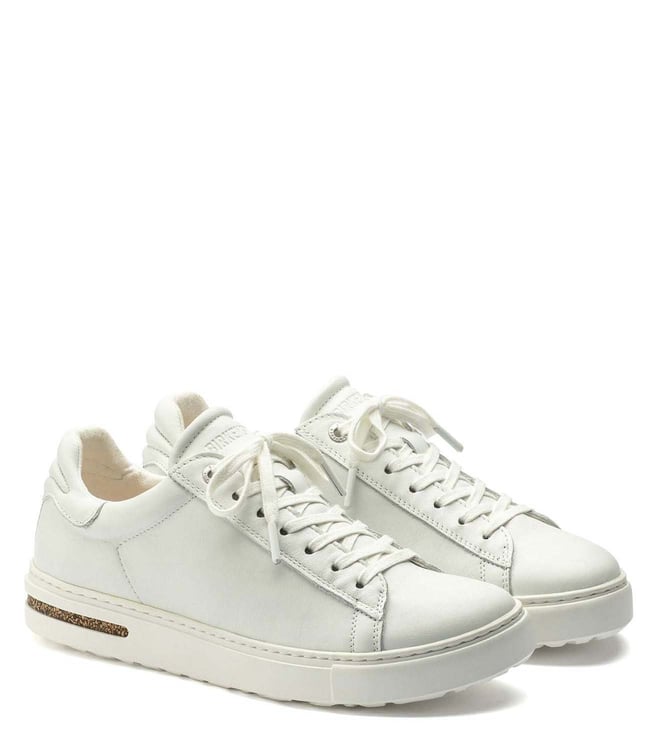 The casual white sneakers are shoes that you can wear almost all year. If you've stowed this classic in your wardrobe after summer, the good news is that it'll serve you well in the fall, too. The BIRKENSTOCK Bend low white sneakers will be a perfect asset to a minimalist fall wardrobe. The upper of this model is made of soft natural leather (top quality). Bend low shoes have an additional midsole made of PU and cork, and that's why they provide a great support, and shock absorption. Simple design will match any outfit, and microfiber lining provides optimal air flow. White sneakers perfectly match vintage style jeans, which are durable and comfortable, and it-girls love them. Such an outfit will look gorgeous on Instagram photos. 
3. Oswego – stylish leather loafers
The loafers are essentially an alternative to ballet, but in a slightly more masculine style. They go well with many fall outfits: with a midi skirt in the lead role, but also with jeans or cigarette pants. You can wear them with a trench coat or a blazer, but also with a perfecto if you wish. So which loafers will be best for fall? We advise you to choose black BIRKENSTOCK Oswego slip-on loafers. These have a unique cork PU midsole and a flexible rubber sole. With Oswego, you'll be able to stay comfortable all day long anywhere and everywhere. This model is made of premium-quality soft natural leather, so it'll be more resistant to rain and humidity than suede.
4. Boston Clog – a perfect classic for fall
With the Boston model, BIRKENSTOCK deviates slightly from the path they usually walk. Unlike the other models, the Boston is a clog and not a sandal. This shoe is nice to wear in or around the house, but is also very suitable for people who work in healthcare. Why is it a great choice for fall? Well, it'll meet your needs when it comes to spending some time in a garden. You can easily put them on within a few seconds, and go outside without losing any time.
Catch the last moments of warm sun, and enjoy a cup of tea outside your house. Also, you can pack these shoes, if you're going on an autumn trip. Wear them both during walks, or while camping in the wild. The truth is that clogs are very universal, they can be worn all year round, depending on the circumstances. Thus, it's always good to have them around. At BIRKENSTOCK shop, you'll find Boston clogs in various versions: suede taupe, brown, black, khaki, brown leather, and more.