Recently updated on October 25th, 2022 at 11:15 am
In the modern world, more people are switching to work remotely. For some, the drive to work remotely is due to the ongoing global pandemic as it necessitates them to do so. Others take it as a lifestyle, and they enjoy the possibility of working from anywhere they want. It only requires them to get internet connectivity, and they can continue working from wherever they are.
The individuals in the latter option are who we refer as digital nomads. Read on to understand more about the digital nomads and what you need to do to start the kind of life.
The Life of a Digital Nomad
As the name suggests, a nomad is an individual who moves from one place to another. On the other hand, digital entails using technology. Therefore, a digital nomad is an individual who lives in different places while working from the location. They usually have a laptop, smartphone, or other portable digital devices to aid them to continue working from where they live.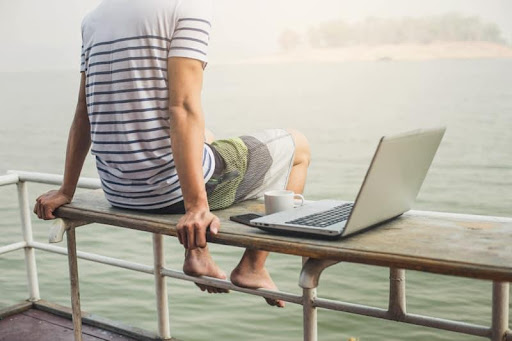 A digital nomad does not have a limit on the duration they spend in one location. It can be weeks or even months, depending on their preference. However, not all of them are similar as there are different ways a digital nomad will travel the world.
Some of the common methods include using the road, air, or sea. It can either be within a country or moving to different continents where they get to live in. Therefore a digital nomad must get nomad insurance since there are unforeseen circumstances that may arise. The initiative ensures they have peace of mind and avid spending a lot of money when the inevitable happens.
Is It Beneficial to be a Digital Nomad
Being independent in your working location is something most people would enjoy. It means there is no more traffic when moving from your home to the workplace. They have the freedom to live in the best countries for digital nomads depending on the budget. A digital nomad can select the place to live in as long there is the internet. Also, working remotely reduces the conflicts that arise from people working in a physical office. There are no brushing shoulders with colleagues or the management, making work more enjoyable. However, it is critical to have self-motivation and discipline to succeed as a digital nomad.
On the other hand, there is a lot to gain from choosing careers in this field. It allows you to experience new places and their culture. There are numerous opportunities to learn a foreign language and develop skills too. Travelling will help in expanding your worldview through the areas and people you live with.
Since the schedules of a digital nomad are not that strict, a person can schedule work for the time they are most productive. It allows the person to take time to attend to urgent matters whenever they arise. Most importantly, a digital nomad can relocate depending on the season.
Although there are numerous benefits to be a digital nomad, there are several downsides to choosing the life. Sometimes it means you do not have one place you reside, and it may get lonely at times. Also, traveling can be tasking, and you will feel tired from the practice.
Steps to Starting a Digital Nomad Life
Below are steps to help you start your digital nomad life;
Get a job that allows you to travel; there are numerous fields that can allow you to be a digital nomad. You can start an online business or be an entrepreneur. The most popular careers include being a virtual assistant, blogging, virtual consultations, and different kinds of content creation in digital media platforms like YouTube.
1. Get the resources
Although you can work from anywhere, you will need resources for the tasks. The most significant one is a laptop to help get connectivity and a smartphone for communications. Alternatively, consider the line of work to invest in the right equipment to help you make money from any location.
2. Determine the logistics
You will need money to register the business as well as ake the health and insurance covers to protect yourself. On the other hand, you have to arrange the travel logistics, including the place to reside and the meals. Ensure to do thorough planning on the logistics because it matters a lot. You have to have a suitable banking plan that allows you to access your finances from anywhere you go.
You can consider the various digital money platforms as they are usable from most places across the globe. You will only need to link the platform to your banking account. With money, you can plan and handle the logistics of being a digital nomad effectively.
Get started
With all the above in check, you can enjoy the digital nomad life. Do not wait anymore. Get started today.