Recently updated on October 25th, 2022 at 11:15 am
The primary intent of Bitcoin was to offer the public an alternative currency that could be used for everyday purchases — the same as cash in standard currencies. Initially, it could even be used to purchase some of these good holiday gift ideas.
As cryptocurrencies have increased in popularity and value, they—Bitcoin included—are subject to fluctuations in value because they're now a popular item in many investment portfolios. That being said, the asset can still be used for its original purpose—that is, to buy things.
That doesn't just include small things. This article lists some of the craziest—and pricey—purchases people have made using Bitcoin and other alternative currencies.
1. The most expensive pizza in the world
We couldn't make this list without referencing the now infamous pizza purchase of 2010 when Laszlo Hanvecz bought two large pizzas from Papa John's for 10,000. Papa John's was understandably a little confused at the purchase, given the unfamiliarity of cryptocurrencies within mainstream society in 2010, so the BitcoinTalk forum helped facilitate it.
At the time, the British foodie had paid around $25 for the 10,000 Bitcoins, which were valued at about $41 when he bought the pizza. Then a little bit of time passed. Nine months after he gave into the munchies, Bitcoin's value equalized with USD—making the Bitcoin spent on the two pizzas around $10,000. Within five years, this number increased to nearly $2.5 million. The current value of 10,000 Bitcoin sits at an unbelievable number—almost 550 million dollars!
Every year, the anniversary of the unfortunate purchase is commemorated within the cryptocurrency community as Bitcoin Pizza day, when the current worth of the Bitcoins spent is tallied. It grows exponentially with every passing year. When asked about his choice to forfeit by the New York Times, Hanyecz reminded the interviewer that Bitcoin was not considered viable a decade ago, saying, "The idea of trading them [Bitcoins] for pizza was incredibly cool."
2. Fancy-pants cars
Of all the potential ways to spend your cryptocurrency, a fancy new car seems like a pretty decent way to go. Many dealerships are now accepting the currency as a form of payment. One of the best-known examples of a car purchase made using crypto is VinWiki's chief technical officer, Peter Saddington, who bought a $200,000 Lamborghini Huracan for 45 bitcoins back in 2017. While that may sound like a good deal, the current value of 45 bitcoins sits at around 2.5 million dollars—those are the breaks when you exchange a rapidly appreciating asset for a depreciating one.
Like pizza, Lamborghini's have become a famous symbol within the cryptocurrency community. Still, Ferrari and Mercedes are not far behind, with many dealerships now accepting cryptos as a form of payment.
Cryptocurrencies also tend to perform well in innovation and technology corporations, so it makes sense that so many buyers have purchased Tesla cars with bitcoin—including the most famous purchase of the Tesla S series in 2013 for 91 bitcoins. The current value of that many bitcoins? Nearly $5 million.
3. Luxury properties
Buying a house with bitcoin is becoming more and more common. Many websites offer properties all across the world, with Bitcoin available as a payment option. Some examples of this type of purchase include an estate in Bali purchased for 800 bitcoins around a decade ago—equal to $500,000 at the time, but nearly $45 million today. Another includes around a 1.4-acre patch of land bought in Lake Tahoe, California. At the time, the 2,739 bitcoins were valued at around $1.6 million. Today? Almost $150 million.
One confirmed direct bitcoin sale includes early investor Michael Komaransky, who sold his estate in Miami for about 455 bitcoins. The 6 million dollar worth at the time of purchase in 2018 has since quadrupled to around $24 million.
4. The Last Bitcoin Supper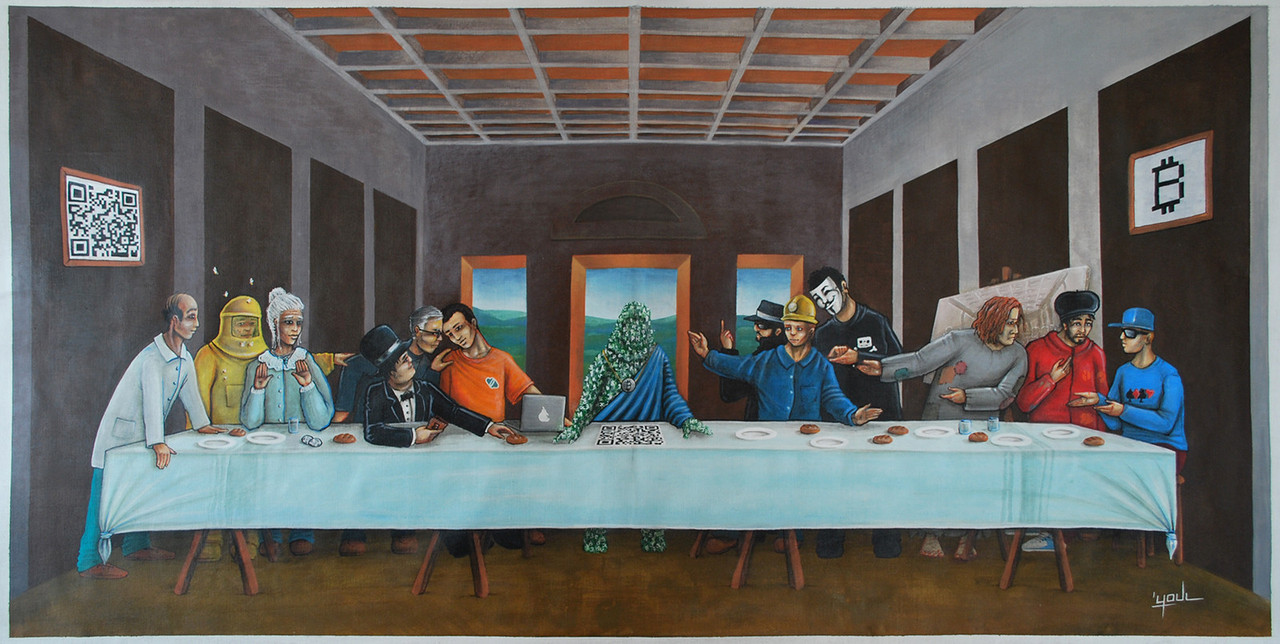 Image source: https://www.ccn.com/
The Last Bitcoin Supper is a painting by French artist Youl that portrays the Bitcoin community in Leo da Vinci's famous The Last Supper painting. It includes the currency in Christ's place at the table, and it is surrounded by a variety of illustrative figures from the cryptocurrency culture represented as various apostles.
Demand for the 140cm x 70cm painting rose when a post on Reddit introduced the work of art to the crypto community. A bidding war ensued, reaching 4.65 BTC ($2,900 at the time), making it the most expensive Bitcoin painting ever sold. Its value has now increased to nearly $250K.
5. Expensive gaming computers
Most people within the cryptocurrency community use computer graphics cards (CGCs) for things like data mining. However, they can be used for their intended purpose of computer graphics, too! They're the feature that allows some of the best gaming computers in the world to pull off some of their marvelous pictures—but high-quality systems can get pricey.
Popular retailers accept Bitcoin as a form of currency, and some of the world's best systems can be purchased for a fraction of a single coin.
6. Private jets
Long associated with the highest echelons of society's top 1%, private planes have drawn the attention of Bitcoin's new monied class. Bitcoin Foundation's Olivier Janssens was said to have started the trend, chartering an aircraft in 2014 for around 55 bitcoins. Today's value? Over $3 million.
There are a vast number of private airplane companies offering private planes in exchange for bitcoin. This community was ahead of its time, accepting payments via this currency starting in around 2013. Undoubtedly, early plane purchasers are kicking themselves for spending 80 bitcoins on what can now be bought for a fraction of that cost.
Conclusion
This list is just a small set of the crazy purchases people have made with bitcoin. The currency's appreciation has started to level off, but it's still going up with every passing year. Before you buy a product with bitcoin, be sure to ask yourself if you'll regret it five years from now!