Technological development has rapidly accelerated over the last century or so, driving societal change in various ways. The dawn of the internet was particularly seismic. Hot on its heels, smart technology is now changing how we live, interact and work. 
It's a broad and diverse category too. The catch-all term 'smart' isn't just descriptive though; it specifically refers to 'self-monitoring, analysis and reporting technology'. 
Such devices can use artificial intelligence (AI), machine learning, and so-called 'big data' to provide improved functions through a degree of cognitive awareness. Big data refers to the sea of data collected and shared by smart devices – forecasted to top 15 billion worldwide this year – to optimize their operations over time.  
So how is smart technology already being used and what are its benefits? 
Smart technology in everyday life
As mentioned, smart technology is already impacting almost every facet of our daily lives. 
In our homes, for example, smart security systems are working together to protect our loved ones and our largest investments. Sensors and cameras can monitor windows, doors and outdoor areas, alerting us to motion as well as heat, smoke, and water. 
Smart heating and cooling meanwhile enable us to tweak different spaces to our preferences and external conditions, optimizing energy efficiency. Smart kitchen devices such as fridges, ovens, coffee makers, and washers can all be customized and operated remotely, while self-driving cars may soon be sitting on our driveways. 
Smart technology is optimising many business operations too, such as building management. A recent government report found around 15% of businesses have adopted at least one AI technology, and that figure is only expected to grow. But what are the different reasons behind its adoption?
Advantages of smart technology
Smart technology has the potential to offer a myriad of benefits to different users. 
Conserving energy is one particularly important one for modern times. With soaring energy costs and growing environmental concerns, smart technology is one of the best tools available to use energy more efficiently. 
But it isn't just energy users can save. Both at home and work, smart technology reduces the time and effort needed for a wide range of tasks, often removing the need for any human input whatsoever. 
It also boosts security in some of the ways we've touched on above. By improving home and commercial building monitoring, users can reduce the risk and impact of break-ins and severe weather events.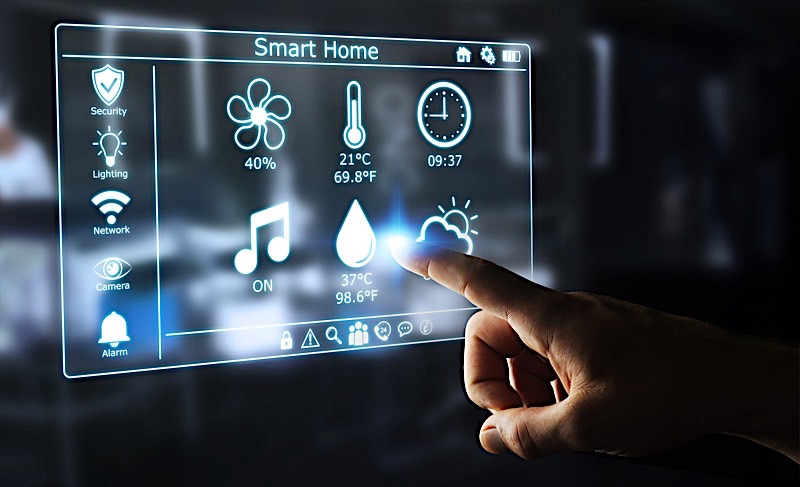 Image source: fortunebuilders.com
There are other ways it can provide reassurance too. Home and wearable technology can improve the health and independence of the medically vulnerable, giving peace of mind to loved ones and care professionals alike. 
Finally, smart technology may involve an initial investment, but it can lead to savings over time. By reducing energy usage and automating certain tasks, businesses and homeowners can minimize or even eliminate many unnecessary expenses.