Recently updated on October 25th, 2022 at 11:43 am
Single-use gloves, also called "disposable gloves," are now a common sight in public, when before 2020, they were something that only medical professionals and lab technicians typically wore. Now that more people are starting to realize that contaminated hands are a major cause of illness, the demand for disposable gloves has never been higher.
But do they really provide the kind of protection many people think? When used in the right situations —absolutely. Single-use gloves are an essential part of a medical professional's personal protective equipment, providing a barrier against fluids and contaminants and protecting both the wearer and the patient alike.
However, for folks that aren't trained doctors, nurses, lab technicians, or EMTs, single-use gloves offer more drawbacks than advantages. Most people who aren't specifically required to wear single-use gloves are much better off using an antimicrobial hand protector for day-to-day protection.
Here are a few reasons why you may want to stop wearing single-use gloves to protect yourself outside. Hopefully, these will help when you're making the decision on whether to buy disposable gloves vs reusable hand protectors.
1.) They're Not Designed for Everyday Use
Generally speaking, single-use gloves are designed to be used in controlled environments as a simple barrier to bodily fluids as well as bacteria and other relatively large microbes. While they do a great job at this, they aren't completely impervious to contamination.
Pathogens can also survive on glove surfaces since single-use gloves do not actively destroy microbes. They are also relatively fragile and will only provide adequate protection after one use.
To offset the drawbacks of disposable gloves, users need to be constantly vigilant about how they use them. An action as innocent as absent-mindedly touching one's nose or a previously clean surface can lead to contamination or infection, making them no better than bare hands for an untrained user.
2.) Improper Use Can Increase the Risk of Contamination
Single-use gloves have to be used in a very specific way to be effective. Wearers need to observe proper handwashing or sanitation before they put them on, and they have to be constantly aware of everything their gloves touch. When used in this way, they can contribute immensely to the safety of performing various medical procedures.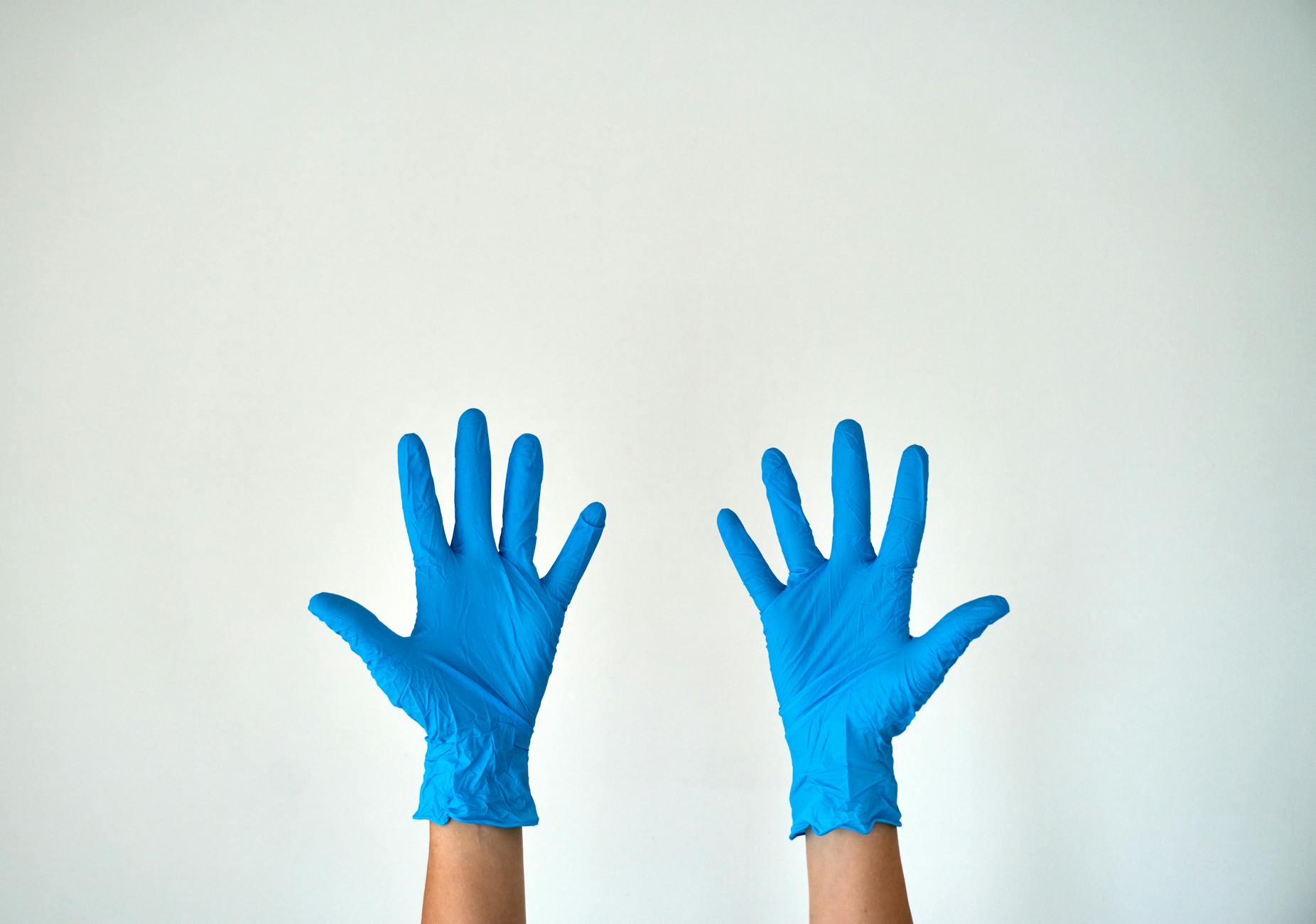 On the other hand, not using single-use gloves as designed can carry an increased risk of cross-contamination. Because they do not actively destroy microbes on their surface, contaminants can stay on them for extended periods. These contaminants can then transfer from the gloves to other surfaces, which is highly likely when they are reused.
The use of single-use gloves can be especially problematic when people without any training use them as placebos. They may neglect proper handwashing and use gloves without regard to their intended use, potentially causing worse cross-contamination than would happen if they went without them.
Reusable fabric hand protectors, on the other hand—and particularly those that have active antimicrobial properties—can destroy microbes upon contact with the surface or object being touched.
What this means in practical terms is that you won't need to be as aware of the surfaces you touch, as the hand protectors themselves work to neutralize bacteria and viruses that attach to the surface of the fabric. This means a reduced risk of cross-contamination and better ease of use, especially in day-to-day situations.
3.) They Call Attention to Themselves
Unfortunately, many people tend to be uncomfortable seeing others protect themselves. People will instantly notice if you're wearing single-use gloves when you're out in public, and this can lead to a few uncomfortable interactions. A fabric hand protector, by contrast, is much more discreet and less likely to call unwanted attention.
4.) They Have to Be Removed and Disposed of Correctly
Single-use gloves are only meant to be used once. Repeated use destroys the effectiveness of the barrier. Moreover, removing the gloves also has to be done in a specific way to further reduce the risk of cross-contamination.
Used gloves also have to be disposed of as biohazardous waste, an important step that most regular people using them are unable to do. In comparison, fabric hand protectors can be reused as often as needed.
5.) They Can Be Hot and Irritating
Single-use gloves are primarily meant to be a barrier against bodily fluids. This works on both sides, and you'll find that they can get hot and sweaty after just a few minutes. They can even cause skin irritation in some people.
Not so surprising, as they're not meant to be used all day. . In comparison, fabric hand protectors are designed to be worn all day, making them much more comfortable to use.
6.) Medical Professionals Are Running into Single-Use Glove Shortages
Lastly, we have to consider that glove shortages are affecting medical personnel, due in part to the overwhelming demand from the public in the time of a pandemic. This has started to lead to a decline in the quality of care for many patients.
If your job or lifestyle does not dictate the use of single-use gloves, it's best to stop buying them so that you won't contribute to the shortage further.
Single-use gloves are an essential piece of protective equipment, but only for the people who need them. There is a context to their use which does not match the situations many regular people use them in.
This misuse may lead to more contamination and can pose a risk to more people. For most folks that need protection on the go, reusable fabric hand protectors are the better option. Single-use gloves should be left for people that understand how and when they should be used.