Recently updated on October 25th, 2022 at 11:11 am
The words "air compressor" come with connotations: of large industrial machinery; of mess and expense; and of inscrutable engineering tasks. However, the humble air compressor is an utterly versatile piece of equipment, and not solely in the remit of trade workers. 
Air compressors have myriad uses in DIY settings and around the home, and exist in many consumer devices that we take for granted. Owning a stand-alone air compressor could make life easier in a number of ways, while air-compressor-powered tools may already do; Here are just some of the household applications that make an air compressor indispensable to your home life.
1. Pressure Washing
One of the most common pieces of household equipment to incorporate an air compressor in its design is the pressure washer. While some models use a simple water pump to generate water pressure, compressed air washers force water out via pneumatic pressure – eliminating the need for electricity to power the washer. These pressure washers can achieve well over 1,000psi, and eject water at a speed of over 200mph. Pressure washing enables homeowners to effectively scrub masonry work and paving clean, blasting away years of ingrained and baked-in dirt and returning patios to their former glory.
2. Garden Work
Air compression can be useful in outdoor maintenance past the high-pressure cleaning of surfaces; stand-alone air compressors can be used much in the same way as a leaf-blower, removing dead leaves and debris from pathways and patio areas. Changing the nozzle gives you the opportunity to dust smaller areas with more precision, blowing dust out from decking slats, or between paving slabs before re-mortaring. Air compressors can also be deployed to help in killing weeds, by propelling weed-killer over a wide area.
3. Interior Cleaning
Just as air compression can reach tough areas outdoors, it can be utilised indoors as part of your regular cleaning regimen. Compressed air can force dirt and dust out from difficult corners and behind furniture, allowing you to get even the tightest of spaces dusted and clean.
Air compression already has practical utility in electronics, as a harmless way of clearing dust from sensitive circuit boards and delicate cooling fans. As such, a compressor could be put to good use on your household electronics, removing dust and lengthening their life-span as a result.
4. Inflation
It would be hard not to include inflation on this list, being the primary use of common household air compressors such as the simple bicycle pump. Air compressors make light work of inflatable goods, saving both time and your lungs. With adjustments to the psi, compressors are suitable for blowing up everything from balloons to bouncy castles, though more practical household uses might include inflatable mattresses or car tyres.
5. Hobby Craft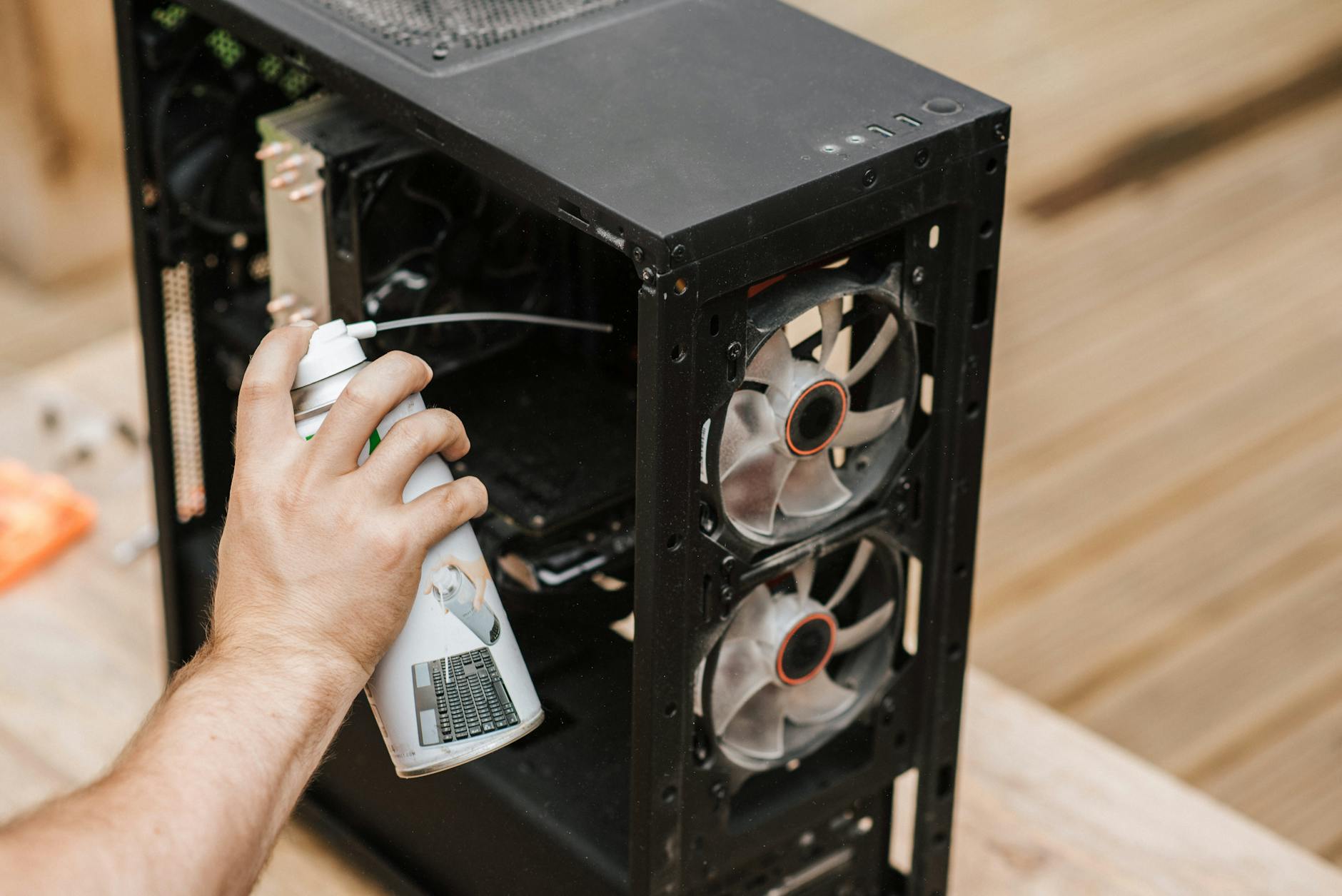 Air compression is also extremely useful in many DIY or hobby undertakings. As well as the aforementioned use in cleaning electronics, air compressors can be used for keeping work spaces clear of waste such as sawdust and shavings for carpenters and artists – and, with use of a paint spray nozzle, can make consistent painting a breeze.